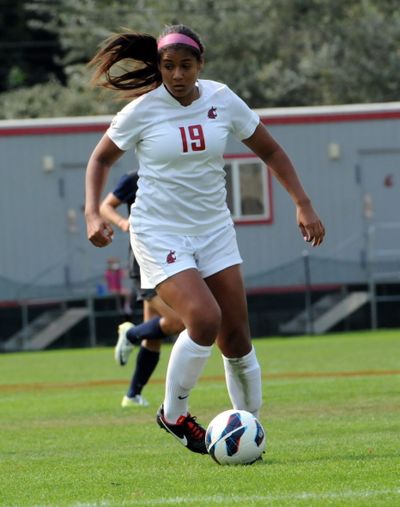 If the Washington State women's soccer program wants to move forward, Keidane McAlpine says, so will the players.
The first-year coach inherits a team that has reached the NCAA tournament three years out of the last four and returns nine starters, but wants to take the Cougars further.
"We've been a little defensive-minded, and we don't want to go away from our ability to defend, but we do want to get the players in more of an attacking mentality."
McAlpine comes to Pullman after six seasons of overseeing several different units at Auburn, which has won three straight West Division championships in the Southeastern Conference. "I was in charge of a little bit of everything at Auburn," McAlpine said.
He replaces Matt Potter, who guided the Cougars to a second-round NCAA appearance before taking the head job at Oklahoma. Last season, the Cougars had a 0.74 goal-against average, second in school history.
Last year, Washington State finished 6-3-2 in the Pac-12 Conference and 12-7-4 overall.
McAlpine is already off to a good start, beating Eastern Washington 2-0 in a scrimmage before handling Gonzaga 3-0 in the season opener last week in Pullman.
This season, the Cougars will stick with a successful 4-3-3 formation spearheaded by Jocelyn Jeffers, a sophomore from Peoria, Ariz., who led the team last year with seven goals and 19 points; and Brandi Vega, a senior from Carson City, Nev., who added six goals and 17 points.
Sophomore Nicole Setterlund will set the tone in the midfield. Senior Mariah Cameron and junior Rachael Doyle are a steady presence in the back line and sophomore Gurveen Clair returns at keeper.
Gonzaga
With eight returning starters, the Bulldogs hope to move up and contend for a spot in the NCAA tournament.
The biggest obstacle is the rugged West Coast Conference, which last year included four teams ranked in the Top 23. "Our goal," head coach Amy Edwards said, "is to finish in the top five and go to the NCAA tournament."
Last year, the Bulldogs finished 0-6-2 in the conference and 7-10-2 overall. Edwards is 23-33-3 in three seasons at Gonzaga.
Top returnees include senior forward Emma Dolcetti, the Bulldogs' second-highest scorer last year with five goals and 12 points. "We're certainly looking for her to find the back of the net," Edwards said. "She's very dangerous off crosses and corner kicks and free kicks. She's a powerful player."
Morgan Manchester, a defender from East Valley High, was a starter last year as a freshman. Other key returnees include sophomore defender Katey Pennington, junior defender Emily Eckman, sophomore midfielder/defender Kasey Rubosky and sophomore attacking midfielder Tori Lee.
Senior Susan Brown returns at keeper.
Eastern Washington
The Eagles are hoping an influx of new talent will bring improvement on and off the field.
"The whole vibe of the team has changed," said EWU head coach George Hageage, who enters his 13th season in Cheney. "You saw that this spring – the maturity and change in attitude. The younger players realized they can compete with those players who are older and stronger."
The Eagles have 18 returnees from last year's team, which went 1-5-1 in the Big Sky Conference and 2-12-1 overall.
Sophomore Cassie Black led the Eagles with six goals before an ankle injury left her at "about 80 percent," Hageage said.
Joining Black on the offensive line will be senior Kasey McNeill and junior Siara Byers, who had two goals and two assists in 2011 for the second-most points among returners.
The midfield includes Lauren Jacobsen, Brittney Conway, Danielle Jones and Haley Stading.
Among the few veteran returnees are senior goalkeeper Jamie Walker and sophomore defender Katie Cashman, who started 12 games last year.
Idaho
Behind forward Chelsea Small, the Western Athletic Conference preseason Offensive Player of the Year, the Vandals hope to break out of the middle of the WAC pack.
Small, a senior from Solana Beach., Calif., is Idaho's all-time leading scorer in goals (31), points (74), game-winning goals (12) and shots (313).
Other key players include senior goalkeeper Liz Boyden, who returns after missing most of last season with a broken leg but holds the Idaho record for starts with 55; and senior defender Lauren Layton, whose 14 career assists rank second all-time.
Three players – Small and midfielders Megan Lopez and Jill Flockhart – have started every game of their careers, 62 and counting, just 14 matches from breaking the Idaho career record.
The Vandals were picked to finish fifth in the seven-team WAC, behind Denver, Utah State, Seattle University and San Jose State.
Idaho head coach Peter Showler enters his eighth year in Moscow with a record of 40-89-8; last year, the Vandals finished 8-11-3 overall and 3-3-1 in the conference.
Whitworth
After a respectable first season, Pirates' head coach Jael Hageroot is looking for more.
Last year, Whitworth finished 8-6-4 despite a young roster, a challenging schedule and key injuries.
Ball possession and speed will be the keys to success this year, Hageroot said.
Up front, Hageroot will count on seniors Chloe Cook, Katrin Grant and Chelsea Schooler. In the midfield, seniors Mackenzie Grow and Kelsey Griswold both earned second-team All-Northwest Conference honors last year. Grow led the team with four goals and two assists.
In the back, senior Courtney Larson and sophomore Lacee Scott both started the majority of games.
It is in the defensive third of the field where the Pirates will have to overcome key losses to graduation.
For the first time in four years Whitworth will have a new goalkeeper. Three freshmen vie for the starting position – Taylor Floyd, Ashley Rothrock and Andrea Stump.
Whitworth is picked third in the NWC.
---