Sports
Advantageous Kahne wins
Confusion by Hamlin's crew opens the door
Mon., July 16, 2012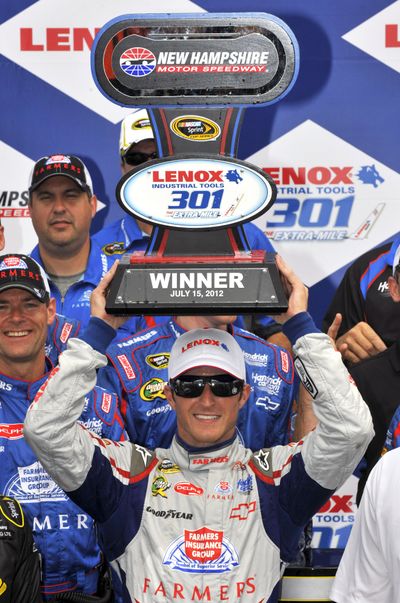 LOUDON, N.H. – The best car was rolling toward victory – until its driver and crew chief couldn't agree on how many tires to change.
Kasey Kahne capitalized on that confusion between Denny Hamlin behind the wheel and Darian Grubb in the pits to win his second Sprint Cup race of the year and make a leap toward one of the 12 spots in the Chase that determines this year's NASCAR champion.
"For those guys to miscommunicate, that helped us a ton," Kahne said. "I'll take 'em any way we can."
Hamlin's Toyota led for 150 of the 300 laps at the one-mile New Hampshire Motor Speedway on Sunday. His communication wasn't quite as good.
Kahne, who finished second two weeks ago at Kentucky to Brad Keselowski, went ahead to stay during a restart on the 240th lap when Hamlin spent extra time in the pits as his crew changed all four tires.
Hamlin wanted just two new ones.
"Darian asked me how much of the tires I felt I'd used up. I felt like I had used up a substantial amount," he said. "(I said) give me tires and no adjustments. He thought I meant four tires. Nothing's a given. Even though it looked like we had one in the bag if we took two tires, you never know."
Kahne doesn't feel he stole a victory.
"I wouldn't say 'stolen.' We ran in the top four the whole race," he said. "We were in pretty good shape, (but) if he was to keep the track position I never would have passed him."
Hamlin's longer pit stop left him all the way back in 13th place, but he kept passing cars until only Kahne remained in front. Then he simply ran out of miles and Kahne won by 2.738 seconds.
It was the 14th win of Kahne's career and first since May 27 at Charlotte. Clint Bowyer, Dale Earnhardt Jr. and Keselowski rounded out the top five.
The victory enhanced Kahne's chances of qualifying for the Chase, the last 10 races of the season in which the top 10 drivers in the point standings win automatic berths. Two additional spots go to the drivers with the most wins who are ranked 11th to 20th in points.
Kahne went from 16th to 12th, and his two wins are more than anyone in the second group of 10.
"We've been pretty tough all year, but we just haven't finished 'em off a lot of the times," Kahne said.
The win was the fifth of the year for Hendrick Motorsports in 19 races. Seven remain before the Chase begins at the Chicagoland Speedway in Joliet, Ill., on Sept. 16.
Kyle Busch, the pole-sitter, led the first 66 laps before his own costly pit stop. It took longer than usual as his crew had a problem with the right tire. Then there was more trouble – a drive-through penalty against Busch for entering pit road too fast. When he finally returned to the track, he was all the way back in 22nd place. He finished 24th.
Local journalism is essential.
Give directly to The Spokesman-Review's Northwest Passages community forums series -- which helps to offset the costs of several reporter and editor positions at the newspaper -- by using the easy options below. Gifts processed in this system are not tax deductible, but are predominately used to help meet the local financial requirements needed to receive national matching-grant funds.
Subscribe to the sports newsletter
Get the day's top sports headlines and breaking news delivered to your inbox by subscribing here.
---
Subscribe and log in to the Spokesman-Review to read and comment on this story