News > Spokane
Officers shot; suspect kills self
Man facing drug charges missed court appearance
Wed., June 20, 2012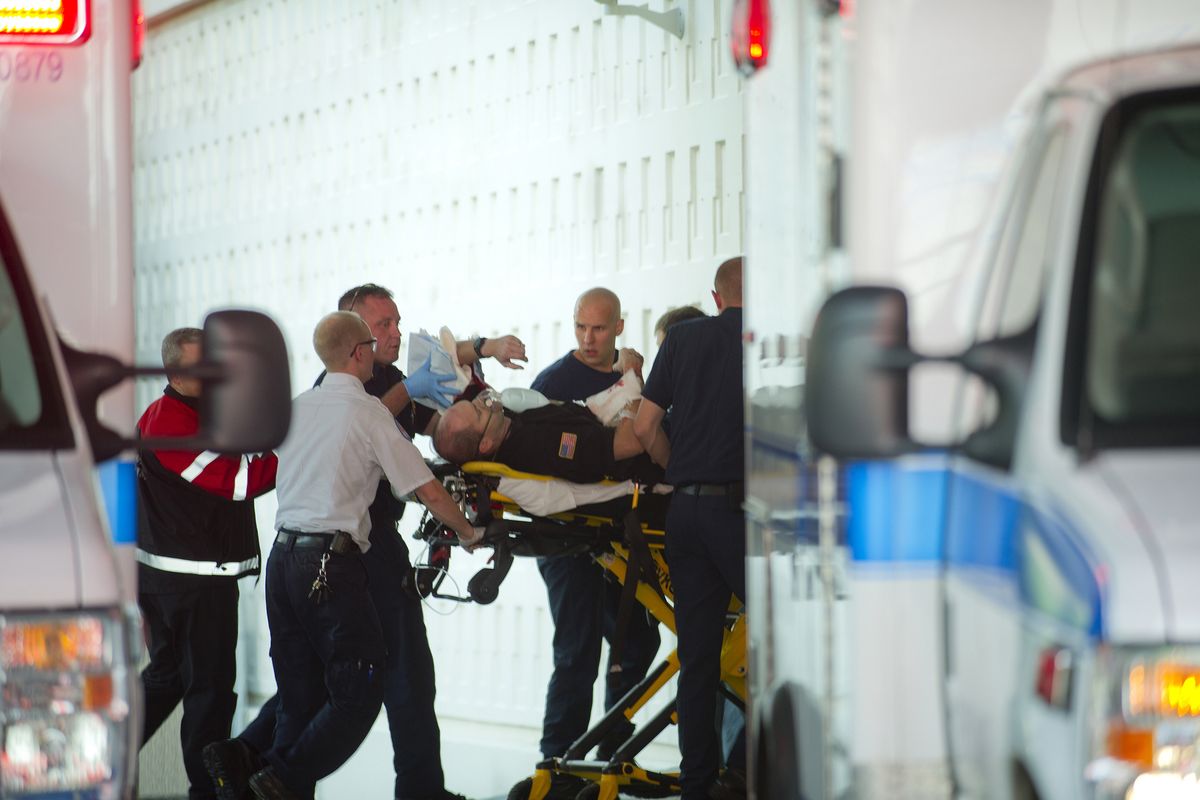 One of two wounded deputies is rolled into the emergency room at Providence Sacred Heart Medical Center on Tuesday in Spokane. (Tyler Tjomsland)
A routine traffic stop on the Newport Highway on Tuesday afternoon became a gunfight that left two sheriff's deputies wounded and set off a chaotic crime spree that stretched across most of north Spokane County.
The alleged gunman, 41-year-old Charles R. Wallace, fled the scene and led law enforcement on a high-speed chase in a sedan he carjacked after the shooting, firing repeatedly at pursuing cars before he shot and killed himself in the Deer Park area.
The deputies, described as seasoned law enforcement veterans, were in stable condition Tuesday night at Providence Sacred Heart Medical Center, where one had surgery for his wounds.
"My deputies are OK," Spokane County Sheriff Ozzie Knezovich said Tuesday evening.
Police were searching for at least two other people who may have been with Wallace at the time of the shooting. They searched several neighborhoods Tuesday evening, and a SWAT team had a standoff on the 900 block of East Princeton Avenue. However, it was unclear whether any arrests were made in connection to the shooting.
Wallace was indicted just a month ago on federal charges connected to a heroin distribution ring that authorities allege supplied at least 100 grams of the drug.
Following his drug arrest, Wallace was allowed to leave jail without posting bail May 31 for inpatient drug treatment in Spokane Valley, while awaiting trial in the heroin trafficking case. The pretrial release conditions were approved by U.S. Magistrate Judge Cynthia Imbrogno.
Reporter Meghann Cuniff discusses the shooting on KHQ.com.
On Monday, when Wallace was supposed to appear in court to discuss how his treatment program was progressing, he never showed up, according to U.S. District Court records.
Wallace in 2002 was arrested after escaping from Geiger Corrections Center. As of that year, Wallace's criminal record included 25 adult convictions for drugs, burglary, theft, forgery, assault, driving under the influence and attempting to elude police.
How it began
The incident began in north Spokane when the deputies, who patrol the north county area, pulled over a vehicle for reckless driving at Newport Highway and East Elm Street, about a half-mile north of the North Division Y.
Within 10 to 12 seconds the deputies were fired on and both were hit, said Sgt. Dave Reagan of the Spokane County Sheriff's Office.
One deputy may have returned fire, Reagan said. One of the deputies may have recognized one of the people in the suspect's vehicle, he said.
A third officer arrived moments later and called in the Code 99, for officer down.
Eyewitnesses said they heard about 10 gunshots, then saw the deputies on the ground. Paramedics arrived minutes later, and the deputies were rushed to the hospital.
The suspects fled the scene in a dark Chevrolet Tahoe, then abandoned it at North Division Street and East Graves Road, a few blocks west.
Click here to see the graphic in full-size.
Minutes later, Wallace carjacked a 2002 Honda Accord from a female driver in the vicinity, police said.
After that, reports flooded in about an erratic driver heading north on the North Spokane Corridor and U.S. Highway 2. At Deer Park-Milan Road, the suspect turned west toward Deer Park, and an officer in pursuit reported by radio that he had struck the car, but the driver was still fleeing.
"It's been a running crime scene basically since the moment the shots were fired," Reagan said.
Sheriff Knezovich said he took part in the pursuit, which involved multiple law enforcement agencies.
'What they do best'
The wounded deputies are part of a 15-man platoon under Reagan's command.
"We have not had the opportunity to talk to them other than to comfort them and ask them if there was any evidence we should be looking for," Reagan said
Reagan, who has five shifts left to work before retirement, said earlier Tuesday he had been looking through teletypes about officers killed during his career and said he thought to himself how fortunate his agency has been not to lose any deputies.
About 15 deputies and numerous other law enforcement members were at the emergency room to support the injured officers and their families.
"The deputies were doing what they do best," Reagan said, "stopping someone they believe might be a problem."
With reports from staff writers Meghann M. Cuniff, Jody Lawrence-Turner, Justin Runquist, Thomas Clouse, Shawn Vestal, John Stucke, Mike Prager and senior correspondent Bill Morlin, and staff research from Pia Hallenberg and Lisa Leinberger.
Local journalism is essential.
Give directly to The Spokesman-Review's Northwest Passages community forums series -- which helps to offset the costs of several reporter and editor positions at the newspaper -- by using the easy options below. Gifts processed in this system are not tax deductible, but are predominately used to help meet the local financial requirements needed to receive national matching-grant funds.
Subscribe now to get breaking news alerts in your email inbox
Get breaking news delivered to your inbox as it happens.
---