News
Couple meet in retirement home, marry after dating 4 years
Thu., March 1, 2012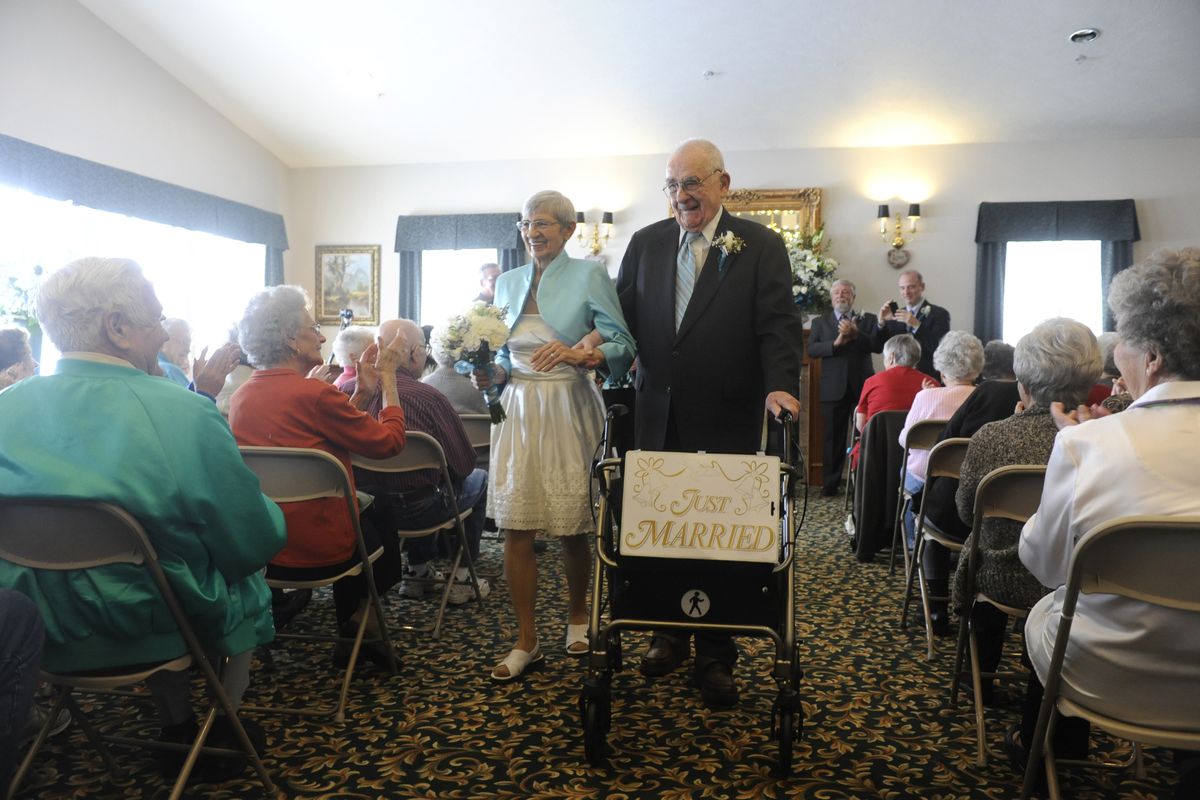 Lorraine Lanterman and Kent Collings walk down the aisle after saying their marital vows Saturday at Orchard Crest Retirement Community in Spokane Valley. She is 77, and he is 95. (PHOTOS BY JESSE TINSLEY)
Love can bloom in unexpected places. For Lorraine Lanterman, 77, and Kent Collings, 95, it blossomed at Orchard Crest Retirement Community.
"We met at the bridge table," Collings recalled.
His wife of 70 years died in 2007, shortly after they'd moved to Orchard Crest.
Lanterman was a widow. Her husband of 53 years had died. She enjoyed Collings' company. "He's good-looking and very kind," she said.
They continued to play bridge together and Collings became smitten.
"Her youth and beauty attracted me," he said. "Plus, she's a better bridge player than I am."
He looked for the perfect opportunity to ask her out, and found it at an unlikely place – a funeral. "We sat together and I asked her out."
Lanterman agreed. Their first date was dinner at the Black Angus. When asked if he kissed her good night, Collings shrugged. "I tried."
She giggled. "He tried, but he wasn't successful!"
Soon, the couple were an item, but Collings wasn't satisfied with just dating. "He proposed several times," Lanterman said. But she wasn't ready to marry again.
Her suitor remained philosophical when she turned him down. "I kind of expected it," he said. "There's a vast difference in our ages."
But he kept asking, and after four years of dating, she finally agreed to be his wife.
"Persistence, persistence, persistence," Collings said. "I had a great marriage. I think we're happier married."
Lanterman isn't exactly sure what changed her mind, but as she sat close to Collings on a sofa in the lobby of Orchard Crest, she said, "He's such a sweet guy, and I love him."
The day before their wedding Collings reflected on the changes ahead. In addition to getting a new room at the retirement community, he's acquiring a pet.
"I'm getting a cat with the marriage," he said. He paused and shook his head. "It doesn't like me."
With many second marriages, receiving approval from family members can be nerve-wracking. Indeed, Collings said his three children "weren't wildly enthusiastic, but they didn't object too strongly."
Lanterman said her two sons are glad for her. "They think she's happier since she started dating me," Collings confided.
On Saturday afternoon, that joy shone from Lanterman's face as the "Wedding March" sounded in the Orchard Crest lobby. Despite the snowstorm, the room overflowed with guests. It was the first wedding the facility has ever hosted.
The bride descended the staircase escorted by her sons. Wearing a knee-length white satin gown, topped by a turquoise jacket, and carrying a bouquet of white roses, Lanterman beamed.
The groom, flanked by his sons, didn't go unnoticed. "Oh, he's so handsome!" a guest loudly whispered. "I didn't know he was so handsome!"
Collings' daughter served as Lanterman's matron of honor.
The Rev. Patty Daniel performed the nuptials. She said, "Second Corinthians chapter five talks about our bodies getting old and decaying, but even as our bodies decay, we are renewed in our spirit." She smiled at the bride and groom. "When I look at these two, their spirits are being renewed because they've fallen in love. Isn't that crazy?"
The guests laughed, but many dabbed tears from their eyes as the ceremony continued. When the vows were completed and a final prayer said, Daniel pronounced Collings and Lanterman husband and wife.
As they made their way to the reception area, guests caught a glimpse of the sign on Collings' festively decorated walker. It said: Just Married.
Local journalism is essential.
Give directly to The Spokesman-Review's Northwest Passages community forums series -- which helps to offset the costs of several reporter and editor positions at the newspaper -- by using the easy options below. Gifts processed in this system are not tax deductible, but are predominately used to help meet the local financial requirements needed to receive national matching-grant funds.
Subscribe now to get breaking news alerts in your email inbox
Get breaking news delivered to your inbox as it happens.
---