News > Features
Starting Friday, SFCC opens its planetarium to the public
Thu., March 1, 2012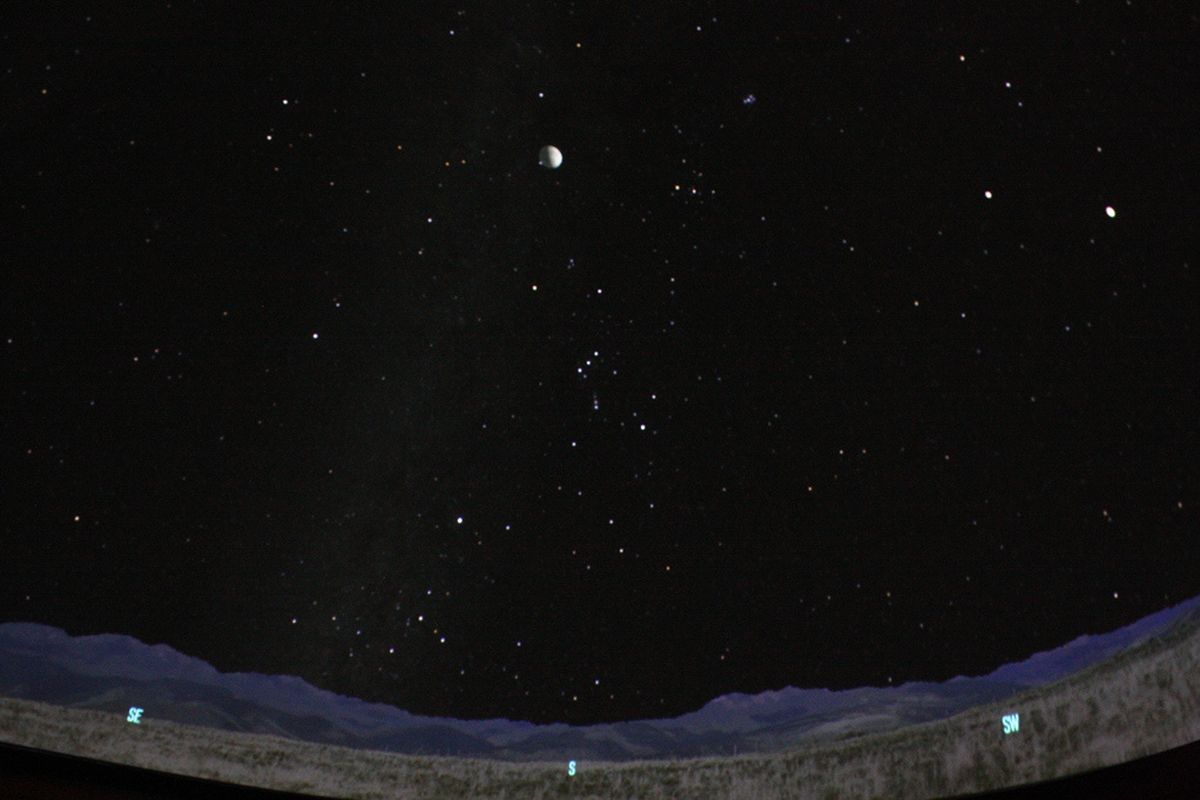 The night sky as it will appear tonight at 7 p.m. at Spokane Falls Community College's planetarium.
When John Whitmer was 11, his parents bought him a telescope. He lived in small towns as a child and fell in love with the mystery of the night sky.
He's 44 now, an astronomy instructor at Spokane Falls Community College and the director of the college's Eos Planetarium in the science building that just opened last spring.
Whitmer, along with other planetarium staffers, will share their knowledge of the sky with the public throughout the school year, starting Friday.
The planetarium will present one-hour, full-dome shows every Friday, at 5:30 p.m. and again at 7 p.m. The shows will first feature a 30-minute look at what's in that night's sky. (Not the real sky, often hard to see due to city lights or cloud cover, but a computer simulation.)
This will be followed by a documentary about stars, planets and solar systems projected on the planetarium's large, dome screen. If you hope to go see the stars at the planetarium, keep in mind:
The first three March shows are sold out
The planetarium seats just 52 people. Word spread quickly about the shows; ads in The Spokesman-Review generated hundreds of calls.
"It shows the inherent interest people have in the universe," Whitmer said. "There are so few outlets for people to satisfy their curiosity unless they have a telescope or study astronomy."
The night sky feeds our souls
"The sky gets us back to our roots," Whitmer said. "Our relationship with the skies goes back thousands of years. It's how people kept track of their lives.
"We were once so much more part of nature. We're supposed to have a connection with it. If you don't get a chance to look at the night sky, you're like a fish out of water in a concrete jungle."
Try this at home
You can buy inexpensive star charts with wheels that rotate by date, explaining what's visible that night.
Computer programs also open up the skies. For instance, with the iPad and iPhone app "Night Sky" you point your mobile device at the sky, and it reveals the planets, stars – and even satellites – in the heavens above.
Whitmer said: "If you did this five minutes a night, you'd learn a whole lot about the night sky in a few weeks."
Local journalism is essential.
Give directly to The Spokesman-Review's Northwest Passages community forums series -- which helps to offset the costs of several reporter and editor positions at the newspaper -- by using the easy options below. Gifts processed in this system are not tax deductible, but are predominately used to help meet the local financial requirements needed to receive national matching-grant funds.
Subscribe now to get breaking news alerts in your email inbox
Get breaking news delivered to your inbox as it happens.
---