News > Features
Pain reliever
'Gentle yoga' provides seniors with soothing, low-impact exercise
Tue., May 1, 2012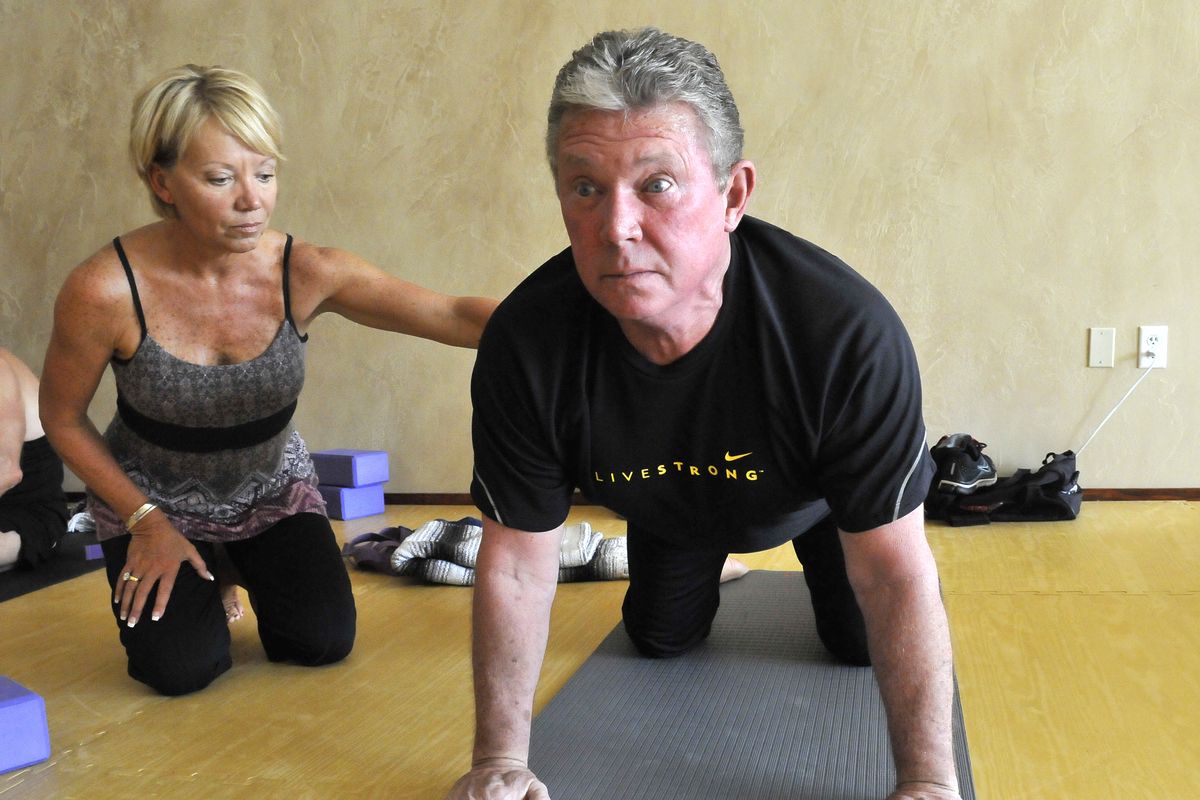 Bill Nichols gets some direction from yoga teacher Jan Long, left, before class Wednesday at The Mat, a studio in Liberty Lake. (Jesse Tinsley)
After decades of "hard livin' " – football and baseball as a young man, 23 years as a Marine pilot, serving in the Vietnam War – Bill Nichols suffers from chronic back pain.
But if it weren't for yoga, the Liberty Lake resident said, he'd be a lot worse off. Nichols, 65, credits his regular "restorative" yoga classes with keeping him on his feet even after a couple of back surgeries and a daily regimen of pain medication.
He's not alone as a person coming to yoga later in life. Because it can be practiced gently, and its exercises, or "poses," altered according to students' limitations, yoga can be an effective form of exercise for people into their 90s – even, as in Nichols' case, helping to relieve their ills.
In the Inland Northwest, teachers are taking note of older students' interest – and maybe tapping new populations to teach as more instructors become certified – offering "gentle yoga" classes and scheduling classes at senior centers and retirement communities.
"If I wasn't doing the yoga, there's no doubt in my mind I'd be in a wheelchair right now, because of my back," Nichols said.
Nichols practices at a studio in Liberty Lake. Other Inland Northwest yoga studios offer classes for Lou Gehrig's disease or cancer patients and their caretakers, for veterans, for wheelchair users. The residents at Rockwood Retirement Community can attend regular yoga classes. Participants in the SilverSneakers program – fitness classes covered by many insurers for people 62 and older – can enroll in yoga classes along with cardio and pool-exercise classes.
Reduced flexibility, muscle mass and lung capacity, along with balance problems, tend to accompany aging, said Shaina Hicks, an exercise physiologist at St. Luke's Rehabilitation Institute in Spokane who's also a yoga teacher.
"Yoga tends to address these in a well-rounded way," said Hicks, who said she works some yoga, particularly breathing and stretching techniques, into her rehab work with cardiac patients.
Yoga's adaptive quality makes it good for people with physical limitations, including seniors, said Alison Rubin, director of Spokane's Harmony Yoga studio.
"It can be practiced in a very low-impact way," said Rubin, who has been teaching in Spokane since the mid-1980s. "It's doable for an older person. There are many, many, many poses, and they can be modified in many different ways."
Topic of study
Researchers are taking note of yoga's positive effects for students 65 and older.
A 2006 study by researchers at Oregon Health and Science University in Portland found that people ages 65 to 85 showed improved balance and flexibility after six months in yoga compared with people who'd taken a walking-exercise class or been assigned to a control group.
The yoga students also showed improved "quality of life" measures, including a better sense of well-being, more energy and less fatigue.
Another study, by Veterans Administration researchers, put retirement community members age 65 and older in a 12-week yoga class. After the class, that 2010 study found, the retirees were less fearful of falling, more flexible in their lower bodies, and better at maintaining balance.
For Liberty Lake yoga instructor Jan Long, helping older students improve their balance – warding off falls – is a key goal.
"I had an 84-year-old woman who could balance on one leg" in an "airplane pose," Long said – arms extended, chest and other leg parallel with the floor.
Long, who owns The Mat studio with a partner, said her goal with seniors isn't necessarily to get them into perfect poses, much less their legs hooked behind their necks.
Instead, it's about helping students improve their quality of life and maintain independence: widening their range of motion, for example, so they can check for traffic as they're driving or reach a can stored high on a shelf.
Living better longer
Tino Jimenez has taught yoga and other fitness classes for seniors through the YMCA, the Institute for Extended Learning and elsewhere.
Maintaining – or improving – strength, balance and flexibility reflects the idea (labeled the "compression of morbidity" by researchers) that it's better to live as well as you can for as long as you can, stuffing all your worst infirmities into a short period right before you die.
"They want to do stuff with their grandkids. They want to go on vacation," Jimenez said. "They have these retirement funds they're cashing in. … They want to enjoy life."
In some cases, yoga students 65 and older are becoming accomplished yogis.
Students in Zoe Smith's gentle and senior yoga classes – taught through the Institute for Extended Learning and private studios including her own – range into their 80s, she said.
"Some of my older students are stronger or more flexible than I am," said Smith, who runs Zoga, a yoga studio in Suncrest.
Students at Harmony, Rubin's studio, range up to their mid-70s, she said, and most of the older students take "gentle" classes. But a woman in Rubin's most advanced class, in her 70s, is one of her most flexible students.
"You don't have to be super tight and inflexible just because you're getting old," Rubin said.
In December, Guinness World Records awarded Bernice Bates, then 91, the title of "Oldest Yoga Teacher." The great-grandmother was teaching weekly classes at her retirement village in Florida, wowing students with her feats of strength and flexibility.
Exercise caution
While yoga can help ease conditions that accompany aging, instructors say it's important to heed the limitations imposed by those conditions.
Yoga can benefit people with osteoporosis, Rubin said, by helping them to build bone by providing weight-bearing exercise – even if that exercise is just standing on your feet. But people with osteoporosis should avoid high-impact exercise and sudden, jerking movements.
Arthritis sufferers should move slowly and carefully, she said.
People with high blood pressure should avoid poses where their head is below their heart, said Hicks, of St. Luke's. Those with vertigo should keep a hand on a chair or a wall. No matter your injury or physical limitation, she said, your instructor should know about it: "Honor your body, and be gentle."
Nichols, the veteran, has been taking classes with Long for a decade and attends two or three times a week. He appreciates that yoga poses can be altered to fit his limitations. Because of his back, he can't do exercises that require much backward rotation or fast forward bending.
While Nichols takes medication daily to alleviate his chronic pain, yoga allows him to take less of it, he said. And while the positive effects of drugs can wear off as the side effects add up, yoga just keeps on working for him. If he misses class, he said, he starts to feel worse.
"I'd much rather do yoga than stuff all those pills down my throat," Nichols said.
Local journalism is essential.
Give directly to The Spokesman-Review's Northwest Passages community forums series -- which helps to offset the costs of several reporter and editor positions at the newspaper -- by using the easy options below. Gifts processed in this system are not tax deductible, but are predominately used to help meet the local financial requirements needed to receive national matching-grant funds.
Subscribe now to get breaking news alerts in your email inbox
Get breaking news delivered to your inbox as it happens.
---