News > Idaho
N. Idaho sheriff candidate hosts cross burning
UPDATED: Wed., May 9, 2012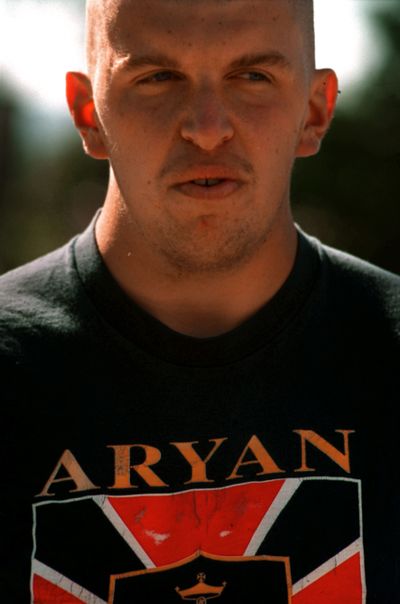 SANDPOINT — A white power activist campaigning to be the next Bonner County sheriff hosted a cross burning last week with fellow Ku Klux Klan members and is defending the ceremony as a historic Christian ritual. Shaun Winkler, 33, said mainstream society misses the point about cross-lighting rituals, seeing them only as a symbol of hate and racial intolerance. "We look at it more as a religious symbol," Winkler told the Bonner County Daily Bee. Winkler allowed media to attend the cross burning ceremony, held Friday at his property near Priest River. He said the north Idaho Ku Klux Klan holds cross burnings about once a month. Winkler said the religious component of the ceremony has roots in Scotland, where clan members used it as a means of communication. He also considers it a Christian symbol, a representation of Jesus Christ's light spreading to the rest of the world. Still, it's impossible to separate historic cross burnings from their more modern association with racism, terror and prejudice stemming from 20th century KKK activities in the South and other parts of the country, said Brenda Hammond of the Bonner County Human Rights Task Force. "It shows the need for the human rights task force has not gone away," she said. "Many of us on the task force have really regretted Bonner County's reputation for harboring racism when the vast majority of us don't think like that." Winkler also has past ties to the Aryan Nations and has taken part in racially charged protests in Kootenai County. He picketed Mexican food vendors in nearby Coeur d'Alene in 2011, and protested the annual Martin Luther King Jr. events at North Idaho College in January. Winkler is courting Bonner County voters in hopes of becoming the next sheriff and has vowed to keep his personal beliefs separate from any future law enforcement responsibilities. He has framed his campaign around the message of cracking down on methamphetamine producers and sex offenders, telling people at a candidate forum this week he favors immediate hangings for those convicted of being sexual predators. "Most people don't know that we don't just oppose the Jews and the negroes," Winkler said, according to the newspaper. "We also oppose sexual predators and drugs of any kind." Winkler is running in the GOP primary against Sheriff Daryl Wheeler and Ponderay police officer Tim Fry. The winner will face independent Rocky Jordan in the November election.
Local journalism is essential.
Give directly to The Spokesman-Review's Northwest Passages community forums series -- which helps to offset the costs of several reporter and editor positions at the newspaper -- by using the easy options below. Gifts processed in this system are not tax deductible, but are predominately used to help meet the local financial requirements needed to receive national matching-grant funds.
Subscribe to the Coronavirus newsletter
Get the day's latest Coronavirus news delivered to your inbox by subscribing to our newsletter.
---
Subscribe and log in to the Spokesman-Review to read and comment on this story