Sports
Lakeside's Clark wins fourth pole vault, sets state mark
Sun., May 27, 2012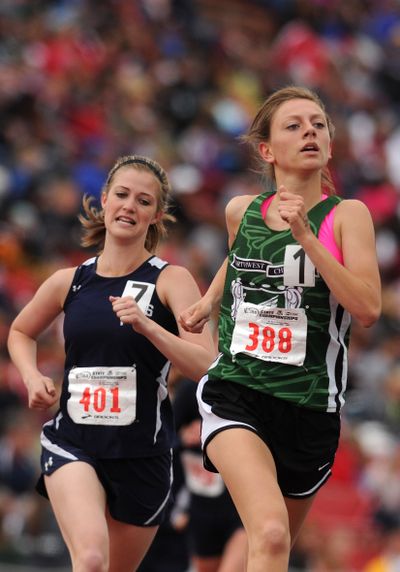 Technically, you're a record-breaker even if it's your record you shatter.
Lakeside (Nine Mile Falls) pole vaulter Anandae Clark did just that at the State 1A/2B/1B track and field championships at Eastern Washington University's Roos Field.
Last month at the Pasco Invitational, Clark set a state record by becoming the first girl to vault 13 feet. But there were still records that needed to be broken.
On Saturday, she vaulted to an all-classifications state-meet record of 12-7, besting the 12-6 set by Stevie Marshalek of Kentlake in 2003 and tied by Jennifer DeBellis of Columbia River last year. Her 12-7 mark broke the 1A meet record she set last year at 11-6.
"It's pretty special to finish my high school career where I'm going to start my college career," said Clark, who has accepted a full-ride athletic scholarship to compete at EWU.
With the title, Clark is a four-time state champ in the pole vault. So while Clark was handling business as usual, Odessa-Harrington's 4x200-meter relay team was all about firsts.
Without a senior, junior Koralynne Kuch, sophomores Hannah Schmidt and Chelsea Fisher and freshman Jordyn Tanke won the 1B event in a near photo finish by six-tenths of a second at 1 minute, 52.1 seconds.
This is the first year the O-H group has run with each other or run on any relay.
"I don't know what it is, but we just work so well together," said Kuch, the appointed spokesperson for the group. "I could tell before the race that we were all so in the moment. Our concentration was so hard I felt good we were going to win."
Later in the day, the same group – minus Fisher with the addition of sophomore Carley Williams – finished second in the 4x100 with a time of 54.46.
Here are other notable performances from Saturday:
1B: Columbia (Hunters) finished third overall with a team total of 64 points. Northport finished fifth and Odessa-Harrington was in a three-way tie for seventh place. Andrea Heinen (Cusick) won the discus with a throw of 118-03; Kaitlin Jones of Columbia (Hunters) finished second at 115-03. Kassie Guglielmino (Northport) won titles in the 100 (12.81) and 400 (1:01.46).
1A: Riverside placed sixth, Lakeside seventh, Colville eighth and Newport 10th. Arielle Walden (Newport) won the 100-meter hurdles with a time of 15.45. Chelsea Phillips (Colville) finished second at 16.02.
In the 4x100, squads from Colville, Riverside and Lakeside took top honors. Colville's Tasha Luu, Malia Luu, Mackayla McLaughlin and Chelsea Phillips won with a time of 50.36.
2B: Colfax placed fifth. Morgan Willson of Colfax won the 1,600 in 5:14.1. Anna Henry of Northwest Christian finished second at 5:21.1.
Local journalism is essential.
Give directly to The Spokesman-Review's Northwest Passages community forums series -- which helps to offset the costs of several reporter and editor positions at the newspaper -- by using the easy options below. Gifts processed in this system are not tax deductible, but are predominately used to help meet the local financial requirements needed to receive national matching-grant funds.
Subscribe to the sports newsletter
Get the day's top sports headlines and breaking news delivered to your inbox by subscribing here.
---