News > Spokane
Zehm plaque placed at Mission Park in ceremony on his birthday
Thu., Nov. 1, 2012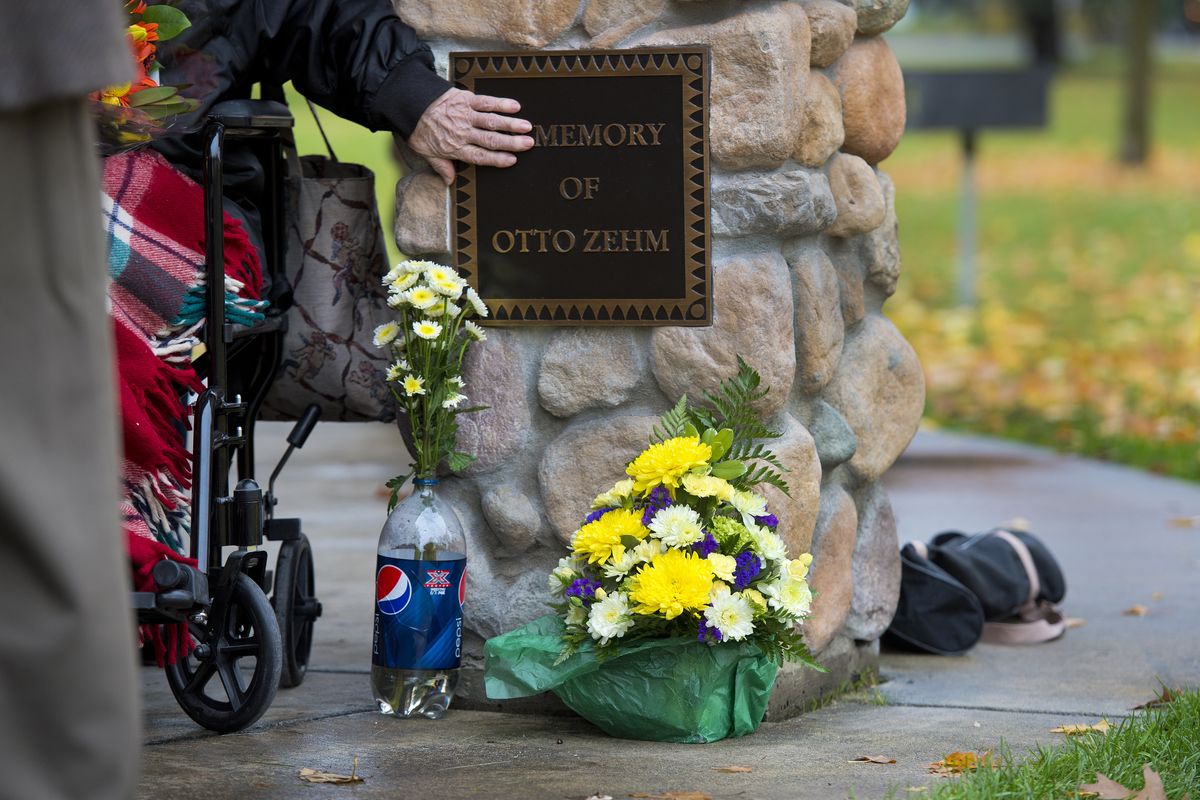 Ann Zehm pauses to reflect on her son's memorial after a plaque dedication ceremony Wednesday in Mission Park. (Dan Pelle)
Wrapped in a blanket under gray skies, Ann Zehm reached out to touch the metal plaque placed at Mission Park to honor her son, Otto, on what would have been his 43rd birthday.
The entire Spokane City Council, Mayor David Condon, police Chief Frank Straub and family gathered for a private ceremony Wednesday in the park where Otto Zehm played as a child. The plaque reads: "In Memory of Otto Zehm."
"This simple memorial is a reminder to Otto's simplicity of life," said Spike Cunningham, a friend of the family. "As human beings, we all have prejudices … and blind spots. Minimizing the value of another does not make us stronger.
"I hope that today begins a new day. Otto is gone but not forgotten."
Zehm died on March 20, 2006, two days after former Spokane Police Officer Karl F. Thompson Jr. responded to an erroneous theft call and began beating Zehm with a baton. Several other officers joined the struggle in which Zehm suffered several blows and shocks with a Taser.
The officers eventually hog-tied Zehm and placed him on his stomach. Just moments after one officer placed a plastic mask over his face, Zehm stopped breathing and never regained consciousness.
Thompson faces sentencing on Nov. 15, more than a year after a jury in Yakima convicted him of using excessive force and lying to investigators about the confrontation.
Police officials for months maintained that Zehm "attacked" and "lunged" at Thompson, who struck Zehm with a baton to avoid being assaulted by the mentally disabled janitor, who was holding a 2-liter bottle of Pepsi.
On Wednesday, Zehm's second cousin, Johanna Gallegos, placed a 2-liter Pepsi bottle containing a bouquet of mums beneath the plaque.
"The Zehm family has been a part of Spokane since the '30s. To know Spokane cares enough to do this, we appreciate it very much," she said.
Mayor David Condon spoke directly to Ann Zehm.
"As you told me, Otto was a loving and supporting son," Condon said. "He has unknowingly done us a great service. He has taught us all a lesson."
Zehm's simple message was to "praise and appreciate each other's differences," he said.
"This plaque can and will serve as a reminder to you and Otto that Spokane is a place that accepts all of its citizens. I commit to you … we will continue to live out his legacy," said Condon as he approached and embraced Ann Zehm.
Breean Beggs, who along with Jeffry Finer represented the family and estate of Otto Zehm, touched on the six-year legal fight that ended earlier this year when the city settled the civil case for $1.67 million.
The settlement called for the placement of the plaque and further training for all Spokane police officers to give them better skills to cope with mentally ill persons before situations become deadly.
"The whole city … can now move on together," Beggs said. "I want to call Otto's spirit, reminding us all that no matter how frustrated we all get, we have more in common than not."
Local journalism is essential.
Give directly to The Spokesman-Review's Northwest Passages community forums series -- which helps to offset the costs of several reporter and editor positions at the newspaper -- by using the easy options below. Gifts processed in this system are not tax deductible, but are predominately used to help meet the local financial requirements needed to receive national matching-grant funds.
Subscribe now to get breaking news alerts in your email inbox
Get breaking news delivered to your inbox as it happens.
---