News > Nation/World
Bush Sr., Gorbachev break bread in Texas
Fri., Nov. 2, 2012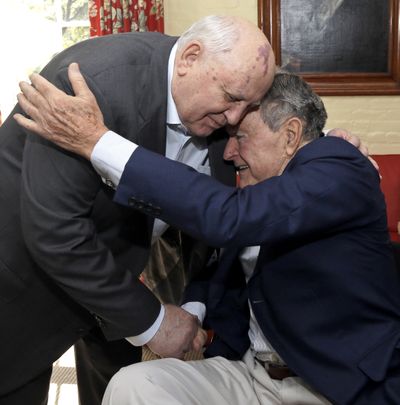 One-time world leaders George H.W. Bush and Mikhail Gorbachev are renewing their friendship.
The former American president and his former Soviet counterpart had a private lunch Thursday in Houston. Former Secretary of State James A. Baker III and former first lady Barbara Bush joined them, along with Gorbachev's daughter.
Gorbachev hugged Bush as he entered a Houston club and presented Bush and Baker with an autographed copy of a Russian-language book with Gorbachev's photo on the cover.
The then-presidents first met in 1989 in Malta, shortly after the Berlin Wall fell. They had four U.S.-Soviet summits during their time in office.
NBC concert to benefit Sandy victims
NBC will hold a benefit concert today for victims of Hurricane Sandy featuring some artists native to the areas hardest hit.
Bruce Springsteen and Jon Bon Jovi, both famously from New Jersey, and Billy Joel, whose own Long Island was hard hit, are scheduled to appear at the concert, hosted by "Today" show co-host Matt Lauer. Others taking part include Christina Aguilera, Sting, Jimmy Fallon, Jon Stewart, Kevin Bacon, Mary J. Blige, Tina Fey, James Gandolfini and Al Roker.
The NBC telecast will benefit the American Red Cross and will be shown on NBC and its cable stations including Bravo, CNBC, USA, MSNBC and E! Other networks were invited to join in, and HBO announced it will carry the event. The concert will be simulcast on Bruce Springsteen's E Street Radio on SiriusXM.
Oprah, Arianna launch joint venture
Two of the most powerful women in media – Oprah Winfrey and Arianna Huffington – are joining forces.
The two on Thursday launched "HuffPost OWN," a new section on the Huffington Post website that will feature material from the Oprah Winfrey Network and Oprah.com. The new online destination will focus on lifestyle advice and personal inspiration.
The birthday bunch
Rhythm-and-blues singer Earl "Speedo" Carroll (The Cadillacs; The Coasters) is 75. Singer Jay Black (Jay and the Americans) is 74. Political commentator Patrick Buchanan is 74. Actress Stefanie Powers is 70. Rock musician Keith Emerson (Emerson, Lake and Palmer) is 68. Country-rock singer-songwriter J.D. Souther is 67. Singer-songwriter k.d. lang is 51. Actor David Schwimmer is 46. Rapper Nelly is 38. Rock musician Chris Walla (Death Cab for Cutie) is 37.
Local journalism is essential.
Give directly to The Spokesman-Review's Northwest Passages community forums series -- which helps to offset the costs of several reporter and editor positions at the newspaper -- by using the easy options below. Gifts processed in this system are not tax deductible, but are predominately used to help meet the local financial requirements needed to receive national matching-grant funds.
Subscribe to the Coronavirus newsletter
Get the day's latest Coronavirus news delivered to your inbox by subscribing to our newsletter.
---