Sports
Apple Cup win great, but changes coming for Cougs
Sun., Nov. 25, 2012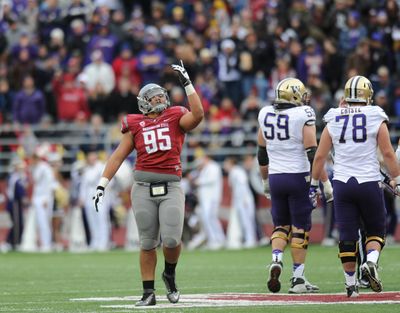 PULLMAN – The RVs still sat in Washington State parking lots Saturday, some fans still reveling in Friday's 31-28 win over Washington in another Apple Cup for the ages.
The work week doesn't start until Monday, so the oddly scheduled game allows for an extra day of celebration.
But when it ends? It ends for the players, too.
Coach Mike Leach, for one, didn't indicate that he'd spend much time basking in his team's first conference victory. There are recruits in town, for one, and flights to catch to go watch more in the coming days.
Plus: "The offseason starts on Monday," he said.
And Leach has promised repeatedly, in one iteration or another, that it will be "one for the ages," as he most recently told USA Today. The dust has yet to settle from the investigation into former receiver Marquess Wilson's claims of abuse by the coaching staff, though Leach seems confident nothing will come of it.
His focus, he says, is on the players who are still here. In theory, WSU (3-9, 1-8 Pac-12) should return most of its roster, though Leach said a few weeks ago that he expects more attrition in addition to the 19 scholarship players who have left the program since his arrival.
"We had some tough moments and had a lot of people get knocked out this year and fought through it," Leach said. "I was proud of their resiliency and (they) stayed excited to play and capped it off with this one."
There were only 13 seniors listed on the roster before the Cougars' final game. Nine of those players either started or contributed significantly this season – five on offense, four on defense – including quarterback Jeff Tuel and likely all-conference linebacker Travis Long.
There remains a possibility that Tuel could return for a fifth year. He's applied for a medical waiver from the NCAA for the time he missed due to injury during the 2011 season, but hasn't said whether he'd return even if the NCAA grants him an extra year.
If Tuel leaves one way or the other, junior-to-be Connor Halliday would be the Cougars' presumptive starter, though he'd likely face competition from redshirt freshman Austin Apodaca. WSU has also received an oral commitment from four-star quarterback prospect Tyler Bruggman of Phoenix, but it's unknown whether he'll be expected to compete for the job as a true freshman.
WSU also returns the bulk of its receiving corps, losing only seniors Gino Simone and Andrei Lintz. Barring a surprise, each of the receivers who started on Friday – Dominique Williams (who will be a sophomore), Bobby Ratliff (who will be a junior), Brett Bartolone (who will be a sophomore) and Gabe Marks (who will be a sophomore) – will return with at least two years of eligibility remaining.
The offensive line loses senior Wade Jacobson, but should return tackle Rico Forbes, who missed the entire season with a knee injury, and redshirting freshmen Eduardo Middleton, Denzell Dotson and Joe Dahl are all expected to be in the mix for playing time next season.
It's a young, promising group that is still learning to win. Friday's result should help with that.
"We have a lot of talent on this team, a lot of young talent," said senior running back Carl Winston. "I'm really excited to come back and see football on the rise and back on top the next few years. It's tough, but the good thing is I can say that I helped start it."
Defensively, WSU loses its best player in Long, plus starting defensive tackle Steven Hoffart, cornerback Daniel Simmons and backup safety Tyree Toomer. But the Cougars should return their entire linebacker corps, the rest of their secondary and the rest of a defensive line that helped WSU finish in the nation's top 20 in sacks this season.
One of Leach's most consistent themes this season is that his players are all better than they think they are.
"I'm really proud of them and kind of what we need to learn from this, a little bit, is some of this is easier than we've been making it," Leach said. "It's really just hanging together and everybody doing their part, not trying to make too much happen, everybody do their job, make the routine play and just stick in there and do it for 60 minutes and don't worry about too much until the dust clears."
Local journalism is essential.
Give directly to The Spokesman-Review's Northwest Passages community forums series -- which helps to offset the costs of several reporter and editor positions at the newspaper -- by using the easy options below. Gifts processed in this system are not tax deductible, but are predominately used to help meet the local financial requirements needed to receive national matching-grant funds.
Subscribe to the sports newsletter
Get the day's top sports headlines and breaking news delivered to your inbox by subscribing here.
---