Sports
WSU at Oregon State
Tue., Oct. 2, 2012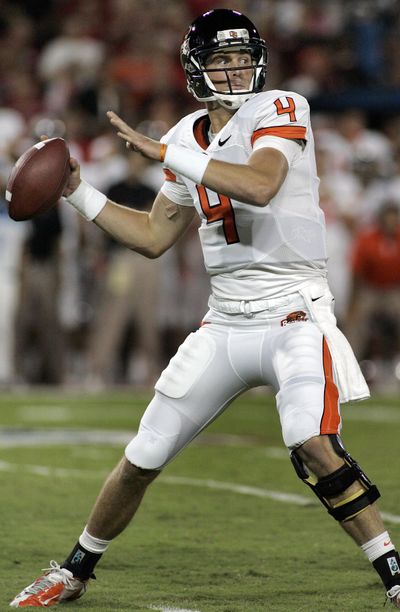 Time: 3 p.m. Saturday, Reser Stadium, Corvallis, Ore.
TV: Pac-12 Networks
Records: WSU (2-3, 0-2 in Pac-12); Oregon State (3-0, 2-0 in Pac-12)
Last week: WSU lost to Oregon, 51-26; Oregon State defeated Arizona, 38-35
Last time: Oregon State defeated WSU in Seattle, 44-21, in 2011
The line: Oregon State by 14.5
What it means for WSU: The Cougars improved their effort in a loss to Oregon, even if the score wasn't all that close. Now, WSU needs to figure out how to prevent the mental errors that inevitably lead to big plays for its opponents. The last time the Cougars went on the road against a team favored to beat them – the season opener at Brigham Young – things didn't go so well. WSU needs to prove it can execute and perform despite the circumstances. And those circumstances might not be favorable inside the notoriously unfriendly confines of Reser Stadium.
What it means for Oregon State: After winning just three games a year ago, the Beavers are 3-0 under quarterback Sean Mannion after an early-season schedule that included a home game against then-No. 13 Wisconsin, then road wins over UCLA and Arizona. In terms of point-spread, this is the first time this season OSU will be favored to win, so the Beavers will be looking to avoid a letdown of sorts after three semi-surprising wins. They've have been strong against the run and are second in the country in third-down percentage defense.
Key matchup: Connor Halliday vs. Jordan Poyer and OSU's secondary.
Poyer is the most experienced player and biggest name in the Beavers' secondary, so he might pose the biggest challenge for Halliday and WSU's receivers. But OSU's defensive backs have been tested pretty frequently through the Beavers' first four games, with Wisconsin, Arizona and UCLA combining to throw the ball nearly twice as often as they ran it. Because of that, the Beavers rank 113th in the country in pass defense, allowing a shade over 312 yards per game. In terms of pass efficiency defense though, OSU is a more respectable 55th, an indication that teams have simply preferred to throw the ball against them than try to run.
"They're a big, Pac-12 defense," Halliday said. "They'll come around and they'll hit you. They're great at stopping the run, so we're going to have to go out there and throw the ball all over them and hopefully put up some points."
Local journalism is essential.
Give directly to The Spokesman-Review's Northwest Passages community forums series -- which helps to offset the costs of several reporter and editor positions at the newspaper -- by using the easy options below. Gifts processed in this system are not tax deductible, but are predominately used to help meet the local financial requirements needed to receive national matching-grant funds.
Subscribe to the sports newsletter
Get the day's top sports headlines and breaking news delivered to your inbox by subscribing here.
---