Sports
Taking a shot at what WSU depth chart will look like
Sun., Aug. 25, 2013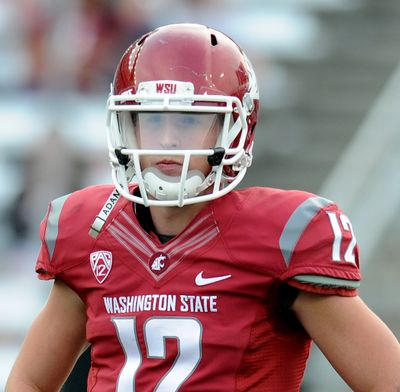 PULLMAN – To avoid all unnecessary consternation, it should be noted: This is not an official depth chart. There will be one of those before too long, because Washington State's season opener at Auburn is now just five days away. In anticipation of that game, we've decided to take our best guess at what the Cougars' depth chart might look like on that day. The biggest difference from last season is that most of these names are familiar. The Cougars played 17 true or redshirt freshmen a year ago. That isn't likely to be the case again this season. Offensively, the biggest question marks are in the receiving corps, where the top 10 are pretty well established at the four positions – it's just a matter of who sees the field most. Sophomore Gabe Marks is a likely starter, and junior Isiah Myers beings some versatility bouncing between the outside spots. River Cracraft is an impressive freshman who will play a bunch, and sophomore Brett Bartolone led the team in receptions last season. Though a two-deep is listed at each offensive line position, it should be noted that offensive line coach Clay McGuire won't go more than eight deep unless he has to. So, for example, Matt Goetz would likely fill in at either guard position, if necessary, and Zach Brevick has some versatility about him, too. The first-team defensive line has been set for some time now, though it will be interesting to see which combinations the Cougars use beyond Xavier Cooper, Toni Pole and Ioane Gauta. For this reason, those positions are listed in a relatively ambiguous fashion. Without further ado, here is our best guess as to how things might shake out once the season starts: Offense QB – 12 Connor Halliday, R-Jr. 2 Austin Apodaca, R-Fr. 10 Tyler Bruggman, Fr. RB – 34 Teondray Caldwell, So. OR 35 Marcus Mason, Jr. OR 43 Jeremiah Laufasa, R-So. XWR – 80 Dominique Williams, R-So. OR 88 Isiah Myers, Jr. OR 1 Vince Mayle, Sr. YWR – 82 Bobby Ratliff, R-Jr. OR 84 River Cracraft, Fr. 15 Robert Lewis, Fr. LT – 63 Gunnar Eklund, R-So. 69 Devonte McClain, Jr. LG – 56 Joe Dahl, R-So. 66 Matt Goetz, R-Sr. C – 60 Elliott Bosch, R-Sr. 70 Zach Brevick, R-Sr. RG – 77 John Fullington, Sr. 73 Eduardo Middleton, R-Fr. RT – 76 Rico Forbes, R-Sr. 61 Cole Madison, Fr. HWR – 19 Brett Bartolone, So. 5 Rickey Galvin, R-Jr. 85 John Thompson, Fr. ZWR – 9 Gabe Marks 88 Isiah Myers, Jr. OR 18 Kristoff Williams, R-Jr. Defense DL – 98 Toni Pole, R-Jr. 52 Darryl Paulo, R-So. DL – 95 Ioane Gauta, Sr. 92 Robert Barber, R-Fr. DL – 96 Xavier Cooper, R-So. 71 Matthew Bock, R-Sr. BUCK LB – 97 Destiny Vaeao, So. 40 Kache Palacio, So. 3 Ivan McLennan, Jr. MIKE LB – 13 Darryl Monroe, R-So. 37 Jared Byers, R-Sr. 51 Peyton Pelluer, Fr. WILL LB – 10 Justin Sagote, Sr. 33 Tana Pritchard, R-So. 8 Jeremiah Allison, So. SAM LB – 42 Cyrus Coen, Jr. OR 21 Eric Oertel, Sr. 28 Feddie Davey, So. CB – 6 Damante Horton, Sr. 25 Daquawn Brown, Fr. 29 Alex Jackson, R-Fr. SS – 30 Taylor Taliulu, So. 22 Casey Locker, R-Sr. OR 4 Anthony Carpenter, R-Sr. FS – 20 Deone Bucannon, Sr. 22 Casey Locker, R-Sr. 48 Mitchell Peterson, R-Jr. CB – 2 Nolan Washington, R-Sr. 16 Charleston White, Fr. 27 Tracy Clark, R-Jr. Specialists PK – 49 Andrew Furney, Sr. 46 Mike Bowlin, Sr. KO – 46 Mike Bowlin, Sr. 49 Andrew Furney, Sr. P – 46 Mike Bowlin, Sr. 44 Wes Concepcion, Jr. H – 2 Austin Apodaca, Fr. 46 Mike Bowlin, Sr. LS – 65 Alex Den Bleyker, Jr. 70 Zach Brevick, R-Sr. OR 55 Jared Sonneborn, Fr. PR – 23 Leon Brooks, R-Sr. 5 Rickey Galvin, R-Jr. OR 19 Brett Bartolone, So. KOR – 34 Teondray Caldwell, So. OR 5 Rickey Galvin, R-Jr.
Local journalism is essential.
Give directly to The Spokesman-Review's Northwest Passages community forums series -- which helps to offset the costs of several reporter and editor positions at the newspaper -- by using the easy options below. Gifts processed in this system are not tax deductible, but are predominately used to help meet the local financial requirements needed to receive national matching-grant funds.
Subscribe to the sports newsletter
Get the day's top sports headlines and breaking news delivered to your inbox by subscribing here.
---