Sports
Arizona State downs WSU
Cougars run cold against Sun Devils.
UPDATED: Wed., Feb. 20, 2013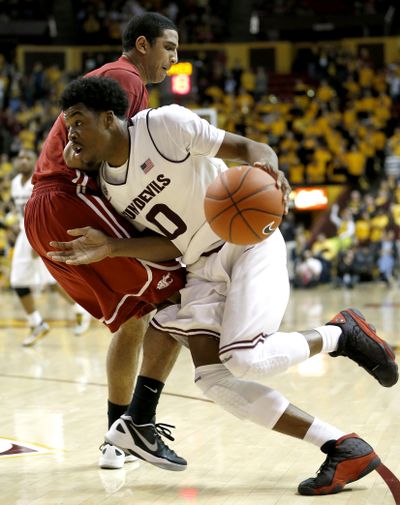 TEMPE, Ariz. – Win or lose, Washington State's annual trip to the desert is at the very least a respite from the unforgiving cold of a Pullman winter, a chance to walk around without a jacket, even. Not this year. The figurative dark cloud following this team through its star-crossed season again turned literal this week, as rain, hail and even some light snow descended upon the Phoenix area on Wednesday, making the walk to Wells Fargo Arena seem very Pullman-esque. Just like it was in Stanford, Eugene, Corvallis and even Los Angeles for a little while. And the basketball remained the same: The Cougars lost again, this time 69-57 to Arizona State before 8,236 fans who watched the Sun Devils hand the hapless Cougars their seventh consecutive loss. If it wasn't over at halftime – ASU led 36-22 then – it was ultimately decided shortly thereafter, as Carrick Felix scored eight of his game-high 23 points in the first 6:05 of the second half to stake the Sun Devils to a 46-26 lead. The Sun Devils made eight 3-pointers and shot 50 percent from the field. "We were just a little slow to shooters and the whole game they were just making 3s, all open shots that they got," WSU guard Royce Woolridge said. "Every once in a while, teams just make shots." ASU's man-to-man defense stifled WSU for much of the first half, as the Cougars shot 33.3 percent in the decisive period. They also hopelessly chased ASU point guard Jahii Carson to little avail – he scored 21 points and handed out five assists, though he was also forced into four turnovers – and lacked offensive direction with senior guard Mike Ladd again sidelined by a knee injury. Still, as has become their M.O. this season, the Cougars didn't quit. Twice they cut ASU's lead to 11 points, then twice got it to nine. But Carson's driving ability – and the Cougars' commitment to trying to force turnovers out top – created opportunities for 7-foot-2 center Jordan Bachynski to finish a few easy dunks around the rim to keep WSU at arm's length, and he has some pretty long arms. Brock Motum led the effort with 17 points. Woolridge added 16 and DaVonte Lacy scored 15. "I think our pride finally kicked in," said Lacy of WSU's ability to at least make the deficit look respectable. "I know we don't like to lose, but especially losing by that much, that's when pride kicks in and I know for a fact I don't want to lose by that much." They didn't. But the closest the Cougars got was within eight points on three occasions, never able to string enough stops together to put any real pressure on ASU. "That's who they are," WSU coach Ken Bone said. "They're just trying as hard as they can and do whatever they can to fight and scratch and get a win, but we got beat by a better team tonight." That was apparent during ASU's 25-8 run to close the first half. In that just-more-than-10-minute span, the Sun Devils (20-7, 9-5) made five 3-pointers and held the Cougars to three points over the final 6:06 of the half. "That really hurt us," Bone said. "They got on a roll and buried some shots and scored a lot within about a 3-minute period." It is of little consequence now to the Cougars that they avoided a blowout. At 11-16 and 2-12 in conference play, they must win each of their four remaining games – at Arizona, at Washington and home against UCLA and USC – to avoid setting the worst conference mark in Bone's tenure. It starts with finding some energy, which the Cougars lacked from the start Wednesday. "I just think we've got to find people that are going to do it," Lacy said. "I think the five we had in there showed that we weren't going to quit, and that's why he kept us in for so long."
Local journalism is essential.
Give directly to The Spokesman-Review's Northwest Passages community forums series -- which helps to offset the costs of several reporter and editor positions at the newspaper -- by using the easy options below. Gifts processed in this system are not tax deductible, but are predominately used to help meet the local financial requirements needed to receive national matching-grant funds.
Subscribe to the sports newsletter
Get the day's top sports headlines and breaking news delivered to your inbox by subscribing here.
---