Sports
Whits women to travel
Pirates men, however, play at home Saturday
Tue., Feb. 26, 2013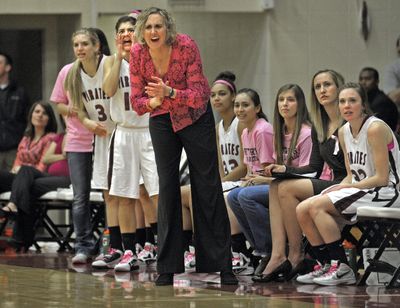 The selection show announcing the bracket for the 2013 women's NCAA Division III basketball tournament was winding down and Helen Higgs was getting a little nervous.
The Whitworth coach watched as eighth-ranked Lewis & Clark was awarded first- and second-round games on its home floor – the same court where her Pirates upset the Pioneers Saturday night, 76-61, to claim the Northwest Conference tournament championship and an automatic tournament berth.
  "I just had a feeling that they were going to send us back to Portland to play Lewis & Clark all over again," Higgs said.
And then it was revealed that Whitman would play Cal Lutheran in the second opening-round game Friday in Portland.
"I thought, 'wait a minute – they put the wrong team up,' " Higgs laughed. "They've done that before.
"And then they announced the next pairing and it was a couple teams from the South (No. 23 Ferrum and Huntingdon) and they were going to play in Atlanta and I was really confused."
Out of a field of 64 teams, Higgs' Pirates found themselves in the final pairing: Unranked Whitworth (21-6) will play 14th-ranked Emory University, the University Athletic Association champion with a 22-3 record, Friday in Atlanta.
 "I'm excited. I think it's always good to go out and play new teams," Higgs said. "The girls think it's going to be warm in Atlanta and I haven't had the heart to tell them it's snowed there recently."
Whitworth is no stranger to ranked teams, knocking off then-25th-ranked Whitman as well as No. 8 Lewis and Clark to get into the tournament. Getting three teams seeded into the tournament is rare for a conference.
"I'm not sure but what our beating Lewis & Clark helped get Whitman in," Higgs said. "It's possible that getting upset in the conference tournament would have kept (the Missionaries) out, and when we also upset Lewis & Clark, it raised them up and got them in."
Losing to the Pirates cost Whitman its spot in the D3hoops.com Top 25, and Lewis & Clark fell five spots. Whitworth received votes but remained unranked.
While Higgs made travel plans, the Whitworth men were settling in for what could become an extended home stand.
Moving up two spots in this week's D3hoops.com Top 25, the sixth-ranked Pirates will face Redlands on Saturday at 7 p.m. in a rematch of a December 19 game. Whitworth won at Redlands, 70-57.
"I'm sure we'll face a different team than the one we saw back in December," senior guard Wade Gebbers said. "They went on to win a tough (Southern California Intercollegiate Athletic Conference) championship. We can't rely on what we saw before and our coaches will have new scouting reports for us in the next day or so."
"It's going to be fun to get another crowd in here like the one we had Saturday (for the NWC championship game)," senior forward Mack Larkin added. "It's fun to have a crowd like that supporting us."
While the team understandably refuses to look past Saturday's Bulldogs, bracket watchers note the potential for Whitworth to host three consecutive tournament games. If the Pirates get past Redlands, they would play host to the winner of the first-round game between Emory, 19-6, and Randolph, 21-6, on March 9. Win that game and the Bucs would likely host the winner of a second-round game between Mary Hardin-Baylor, which received a first-round tournament bye, and the winner of an All-Texas first-round game between Trinity and Concordia.
Whitworth knocked off Mary Hardin-Baylor, 70-61, earlier this season and the Pirates stopped Trinity, 64-53, in a second-round tournament game a year ago – in a game on Mary Hardin-Baylor's Belton, Texas, campus.
After stressing that there is just one opponent, the Redlands Bulldogs, on Whitworth's radar, coach Matt Logie said the chance to host games in the first three rounds of the tournament is an honor.
Local journalism is essential.
Give directly to The Spokesman-Review's Northwest Passages community forums series -- which helps to offset the costs of several reporter and editor positions at the newspaper -- by using the easy options below. Gifts processed in this system are not tax deductible, but are predominately used to help meet the local financial requirements needed to receive national matching-grant funds.
Subscribe to the sports newsletter
Get the day's top sports headlines and breaking news delivered to your inbox by subscribing here.
---
Subscribe and log in to the Spokesman-Review to read and comment on this story