News > Features
Spotlight: Balazs, Gendron, Schindler go 'Wall to Wall' at SFCC
Sun., Jan. 6, 2013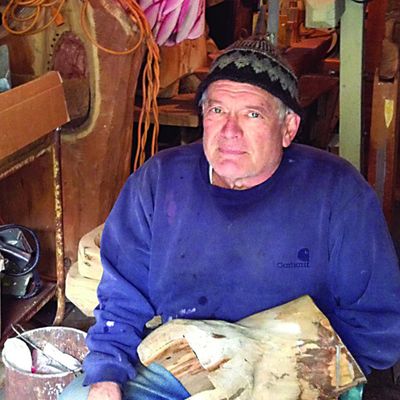 This past week, the Fine Arts Gallery at Spokane Falls Community College opened its door to a full exhibit.
Packed full.
The show features 106 pieces of work by noted Spokane artists Harold Balazs, Ric Gendron and Richard Schindler.
"The point of the show was to pack the work in," said gallery director Tom O'Day. "It is literally wall to wall. There's sort of a pathway through the space."
When asked how many pieces are features in the show, O'Day replied, "A lot." Then he counted.
"Harold has 47 pieces, and they're not small," he said, chuckling. "Ric has 29 paintings, and Dick Schindler has about 30 pieces."
It's a huge show and "I think it will be fun for people to see," O'Day said.
What makes it fun is not only the chance to see some well known local artists, but also the sheer variety of the work on display, he added.
The show's title, "Obsessive Behavior: Wall to Wall," comes from the fact that these artists' studios are always full.
"I picked these three because they have a similar work ethic," O'Day said. "A lot of people claim to be artists, but they're really just Sunday painters. And other people make lots of work, but they only make work when they have a show. All three of them, it's automatic with them. They're in the studio every day."
The show runs through Feb. 9, when there will be a closing reception from 11 a.m. to 2 p.m. in the gallery, which is located in Building 6 on the SFCC campus. This Wednesday, the artists will gather to discuss their work, beginning at 11:30 a.m. in sn-w'ey-mn (Building 24), Room 110, of the SFCC campus, 3410 W. Fort George Wright Drive.
The gallery is open Monday-Friday from 8:30 a.m. to 3:30 p.m., and on Saturdays by appointment. For information, call the fine arts office at (509) 533-3746.
Gendron's 'Rattlebone' arrives
Speaking of Gendron, one of the region's premiere painters, a copy of "Rattlebone" landed on my desk just before Christmas.
The hardback book includes images and description of the works featured in the Gendron midcareer exhibit now running at the Missoula Art Museum.
The book's opening essay, by Ben Mitchell, former senior curator at the Northwest Museum of Arts and Culture, details some of Gendron's personal and professional history: his youth spent on the Colville Reservation; his family's move, when he was 15, to Spokane; his experiences in Southern California after high school, his return to Spokane to study art.
Anyone who has exited Interstate 90 at Lincoln Street in recent years has seen some of Gendron's work – four large paintings of musicians, including a "Sgt. Pepper's"-era John Lennon, are mounted on the side of the Hotel Ruby at Lincoln and Second Avenue. The works included in "Rattlebone" are done in Gendron's bold, colorful style. He takes his inspiration from music, American Indian tradition and imagery, and even current events. The 2007 shooting of Shonto Pete, a Native American, by a drunken off-duty Spokane police officer inspired a couple 2010 paintings, "He Was One of Ours (Dodging Blue Bullets)" and "Untitled."
In June, the exhibition travels to the Tamástslikt Cultural Institute at the Confederated Tribes of the Umatilla Reservation near Pendleton, Ore. After that, it will go to the Museum of Northwest Art in La Conner, Wash., the Museum of Contemporary Indian Arts at the Institute of American Indian Arts in Santa Fe, N.M.; and to the Jundt Art Museum in Spokane, on the campus of Gonzaga University.
"Rattlebone," published by the University of Washington Press, retails for $39.95.
Making a late Splash
Symphony With a Splash will have its delayed debut on Friday.
The first event, originally scheduled in early November, was waylaid by the monthlong strike by members of the Spokane Symphony Orchestra. The concert will be from 5 to 8 p.m. Friday at the Martin Woldson Theater at the Fox.
Symphony With a Splash begins with Band, Bar and Banter, a happy hour with drink specials and small plates available for purchase. Entertainment will be provided by Milonga. The symphony, directed by Eckart Preu, then will perform an hourlong concert, with "Urban Sprawl" by Clint Needham, "Within Her Arms" by Anna Clyne, Avner Dorman's Concert Grosso and the Pulcinella Suite by Igor Stravinsky.
Tickets are $30, available at the Fox box office, 1001 W. Sprague Ave., by phone at (509) 624-1200, or via any TicketsWest outlet.
Local journalism is essential.
Give directly to The Spokesman-Review's Northwest Passages community forums series -- which helps to offset the costs of several reporter and editor positions at the newspaper -- by using the easy options below. Gifts processed in this system are not tax deductible, but are predominately used to help meet the local financial requirements needed to receive national matching-grant funds.
Subscribe to the Coronavirus newsletter
Get the day's latest Coronavirus news delivered to your inbox by subscribing to our newsletter.
---
Subscribe and log in to the Spokesman-Review to read and comment on this story