News > Idaho
New thrill ride set to open at Silverwood
Jan. 22, 2013 Updated Tue., Jan. 22, 2013 at 11:34 a.m.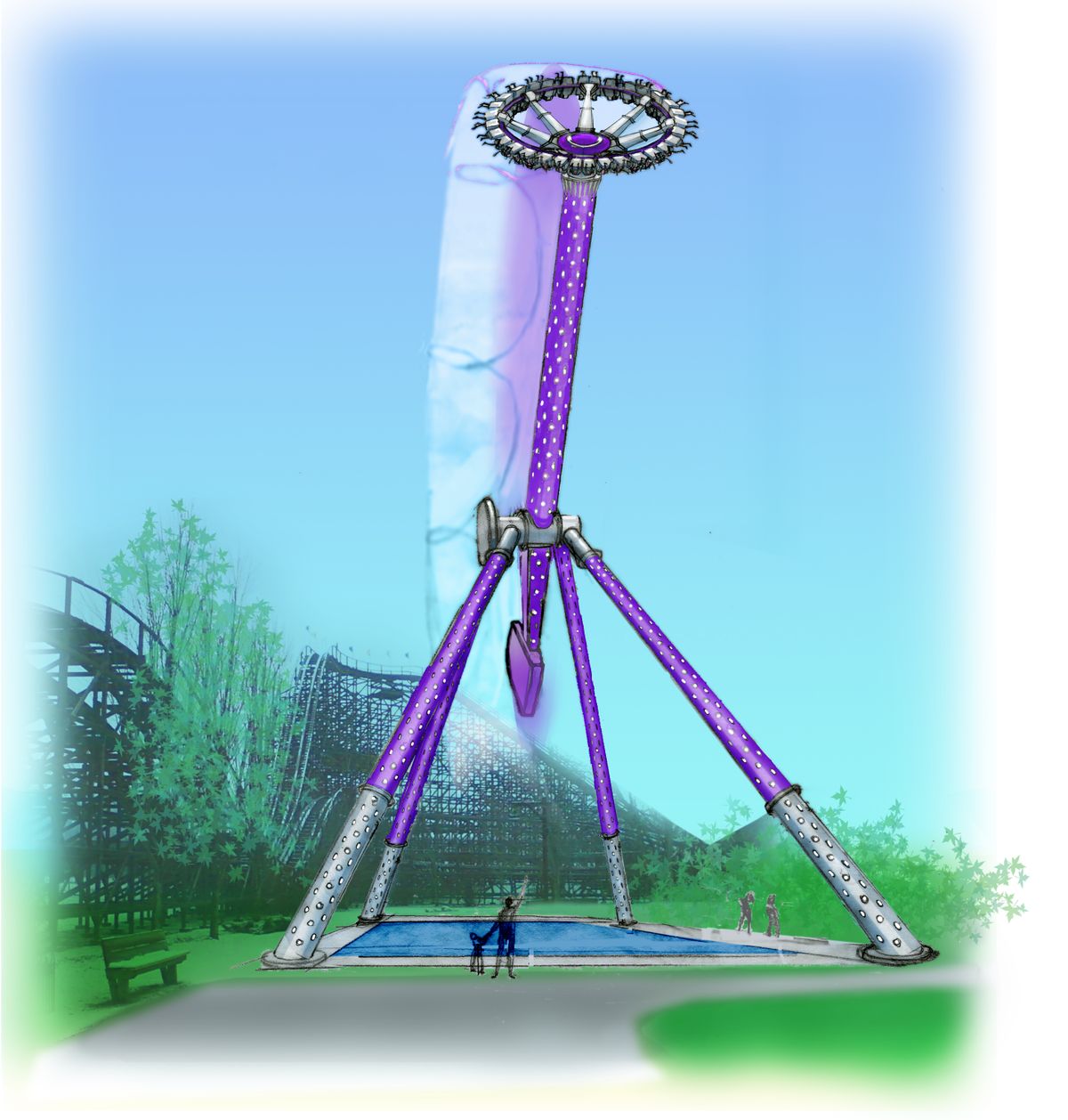 An artist's rendering of a new thrill ride set to open this year at Silverwood Theme Park in North Idaho. (Silverwood Theme Park)
Silverwood Theme Park is adding a rotating, swinging behemoth of a thrill ride that will test riders' courage and stomach strength, as well as a far gentler ride for kids and families. The park near Athol, Idaho, will spend $2.2 million on the new attractions and expects to have them up and running at the start of this season. The new addition to Silverwood's extreme rides will stand 104 feet tall – 20 feet taller than the Timber Terror coaster – and sling 24 riders upside like a catapult, while also spinning them around. "Riders are upside down, sitting in their seats, upside down again, over and over and over repeatedly," said Nancy DiGiammarco, marketing director for the theme park. Riders will experience a g-force of 3.5, and the attraction will join Aftershock, a 4.5 g-force ride, as the park's most intense experiences, DiGiammarco said. "This is going to be a real heart-pounder," she said at a news conference this morning. The ride's duration will be two to three minutes, DiGiammarco said. "I would imagine though if you were on that, two minutes is going to feel like a lifetime," she said. Silverwood will hold a contest to name the new attraction, the first of its kind in the world. It is due to arrive in mid-April for installation next to Timber Terror in coaster alley. The second new attraction, named Barnstormer, is a biplane-themed family ride seating 20, including adults. It will join other attractions for younger riders in Garfield Summer Camp. The new thrill ride will cost $2 million to build, ship and install. It's coming from Italy in five shipping containers, Silverwood said. Barnstormer will cost $200,000. It's expected to arrive by truck from Scotch Plains, N.J., next week. "A big investment, but we feel that there is going to be a huge impact as far as the park is concerned and our attendance this year," DiGiammarco said. She anticipates the new attractions will result in a 5 percent increase in park attendance. The largest theme and water park in the Northwest, Silverwood will open in May for its 26th season.
Local journalism is essential.
Give directly to The Spokesman-Review's Northwest Passages community forums series -- which helps to offset the costs of several reporter and editor positions at the newspaper -- by using the easy options below. Gifts processed in this system are not tax deductible, but are predominately used to help meet the local financial requirements needed to receive national matching-grant funds.
Subscribe now to get breaking news alerts in your email inbox
Get breaking news delivered to your inbox as it happens.
---