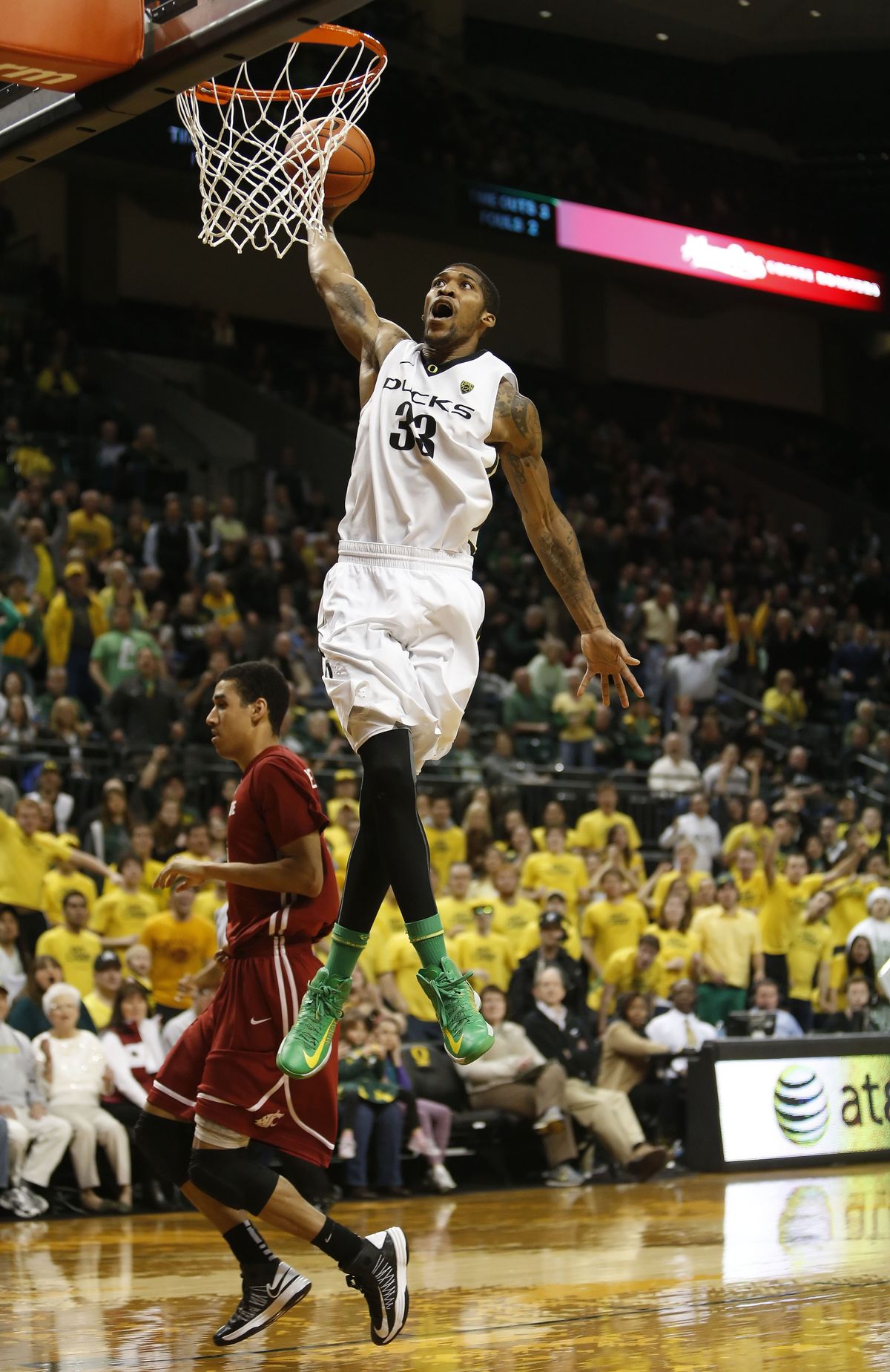 EUGENE – You could see it first in the way Washington State missed its 3-pointers, all of the 11 the Cougars attempted in the second half. Many were short.
You could see it next in the way WSU missed its late-game free throws, five in the final 4 minutes. A lot of those were short, too.
And for the fifth time this conference basketball season, despite leading by 10 points at halftime against the Pac-12's hottest team, you could see it in the end on the scoreboard, too.
The Cougars simply came up short in every sense at Matthew Knight Arena on Wednesday night, succumbing 68-61 to the No. 16 Oregon Ducks before 6,946 observers who remained nervous for much longer than most anticipated.
WSU made 7 of 13 from 3-point range in the first half, a big reason why the Cougars led 39-29 at halftime after one of their best 20-minute periods of the season.
Then, as they have so many times already this year, they crumbled down the stretch.
The reason? Coach Ken Bone said he isn't certain it's fatigue, but after the way the Ducks' smaller guards and quick, athletic forwards pressured and pressured and pressured the Cougars in the second half, that might be a logical conclusion.
Evidence: Senior point guard Mike Ladd scored 14 points, grabbed six rebounds and dished five assists in the first half. In the second, he committed five turnovers without gaining an assist, and missed five of his eight free-throw attempts.
"They got some small guards but they're pretty quick, especially guarding," said Ladd, who finished with 19 points and played 34 minutes. "They make you work. And that slows us down offensively and it kind of makes you tired."
Maybe that's why WSU didn't make a 3-pointer in the second half. And maybe, too, why Oregon grabbed 12 of the second half's first 13 rebounds, holding WSU scoreless for nearly 5 minutes while reeling off a 9-0 run.
"They kind of set the tone in an aggressive fashion and gained the momentum," Bone said. "And we never really rebounded from that."
They didn't rebound much after halftime. WSU outrebounded Oregon 20-16 in the first half. The Ducks held a 21-13 edge in the second, including 7-4 on the offensive glass.
Oregon (17-2, 6-0 Pac-12) eventually took its first lead with 11:45 to play thanks to two free throws by E.J. Singler, who scored 10 of his 19 points during a 3-minute stretch in the second half. Those free throws marked the third consecutive Ducks possession that resulted in points produced by an offensive board.
"When you think you're playing great D for 34 seconds, the shot goes up and they get the ball, you know?" said senior forward Brock Motum, who scored 14 points on 4-for-11 shooting. "Another 35 seconds you have to play, and it's just tough when you have a couple of repeats on their offense."
The Cougars didn't wilt, grappling their way to a 53-52 lead with 7:38 to play. But the Ducks' pressure defense that led to 15 WSU turnovers and two shot-clock violations helped them score baskets on consecutive trips to go up by four.
WSU (10-9, 1-5) cut it back to two after a Motum basket and a pair of free throws from DaVonte Lacy.
Then it all unraveled. Motum missed the front-end of a one-and-one with WSU trailing by four points and 3:42 remaining. Ladd missed a pair of free throws a minute later with a five-point deficit. He also missed two more in the final 1:10, and if not for Royce Woolridge's uncontested dunk with 6 seconds left and the outcome already decided, the Cougars would have gone the final 5:25 without a field goal.
"We were in decent shape, but that's when we've got to be able to execute things and, again, make free throws," Bone said. "We weren't able to do it."
---