Sports
Gonzaga's women can count on Palmer
Wed., March 20, 2013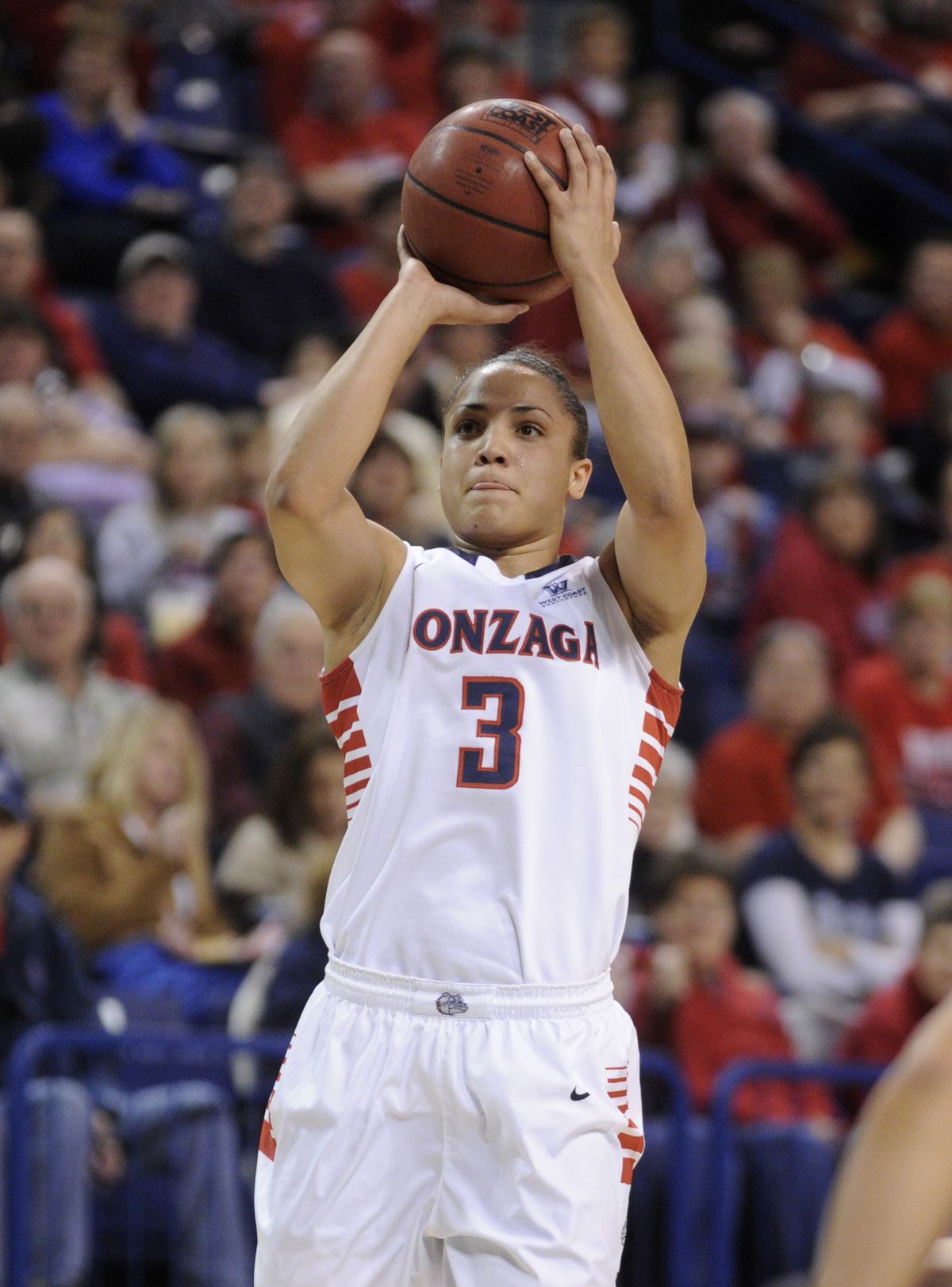 Teammates on Gonzaga's NCAA-qualifying team are comforted knowing Haiden Palmer has their back. (Colin Mulvany)
Gonzaga's Most Valuable Player appreciated the timely support from Gonzaga's Most Valuable Player.
As last week's West Coast Conference tournament championship game approached, the Gonzaga women's basketball team faced the prospect of playing without conference MVP Taelor Karr, who had injured her back during a semifinal win over BYU.
Karr, GU's senior leader, answered the call and scored 14 points during the 62-50 NCAA tournament-qualifying win over San Diego. But Karr's concerns about her injury had been alleviated because she knew the Bulldogs had someone who could serve as substitute leader.
GU junior guard Haiden Palmer scored 18 points in the title game and earned the
tournament's MVP award. Palmer, the Bulldogs' season scoring leader, finished the two games in Las Vegas with 27 points, 10 rebounds and eight steals.
The effort helped propel GU to its fifth consecutive NCAA tournament appearance. The 12th-seeded Bulldogs (27-5), riding a 15-game winning streak, will meet fifth-seeded Iowa State (23-8) at 1:15 p.m. Saturday at McCarthey Athletic Center.
"Haiden stepped up against BYU and San Diego," Karr said. "She did all the little things – scoring, playing hard on defense, being there to pick everybody up, so I'm glad she got that recognition. … She always has your back."
Palmer said she appreciated the award, but she was more excited about the team's accomplishment.
"We wanted to play hard for (Karr) and kind of rally around her," Palmer said.
Palmer has scored 1,155 points in 97 games during a career that started at Oregon State in 2009-10. After sitting out a season because of NCAA transfer rules, she has averaged 12.4 points per game during both seasons with the Bulldogs.
Palmer went to OSU from Vista del Lago High of Moreno Valley, Calif. She became one of 17 OSU players in five seasons to leave the program of coach LaVonda Wagner, who was later dismissed when an investigation revealed that she ran a "controlling, abusive environment."
Palmer found exactly what she was looking for in Spokane.
"I love that we have such a great fan base and that we get to play in front of so many people who care about us as people and players," Palmer said.
Karr called Palmer the team's "rock" and said her demeanor perfectly blends humor, quiet confidence and encouragement.
"I've said it before, but she's the best person I've played with throughout the years," Karr said.
Palmer, the Bulldogs' steals leader and third-leading rebounder, also takes pressure off the Bulldogs' forwards and posts.
"For the inside players, she opens up a lot of things," GU sophomore forward Sunny Greinacher said. "The way she plays, people have to guard her, have to focus on her, and help out on her a lot, which opens up a lot for the other players."
Local journalism is essential.
Give directly to The Spokesman-Review's Northwest Passages community forums series -- which helps to offset the costs of several reporter and editor positions at the newspaper -- by using the easy options below. Gifts processed in this system are not tax deductible, but are predominately used to help meet the local financial requirements needed to receive national matching-grant funds.
Subscribe to the sports newsletter
Get the day's top sports headlines and breaking news delivered to your inbox by subscribing here.
---