News > Pacific NW
Wash. I-5 bridge collapse caused by oversize load
May 24, 2013 Updated Fri., May 24, 2013 at 9:06 a.m.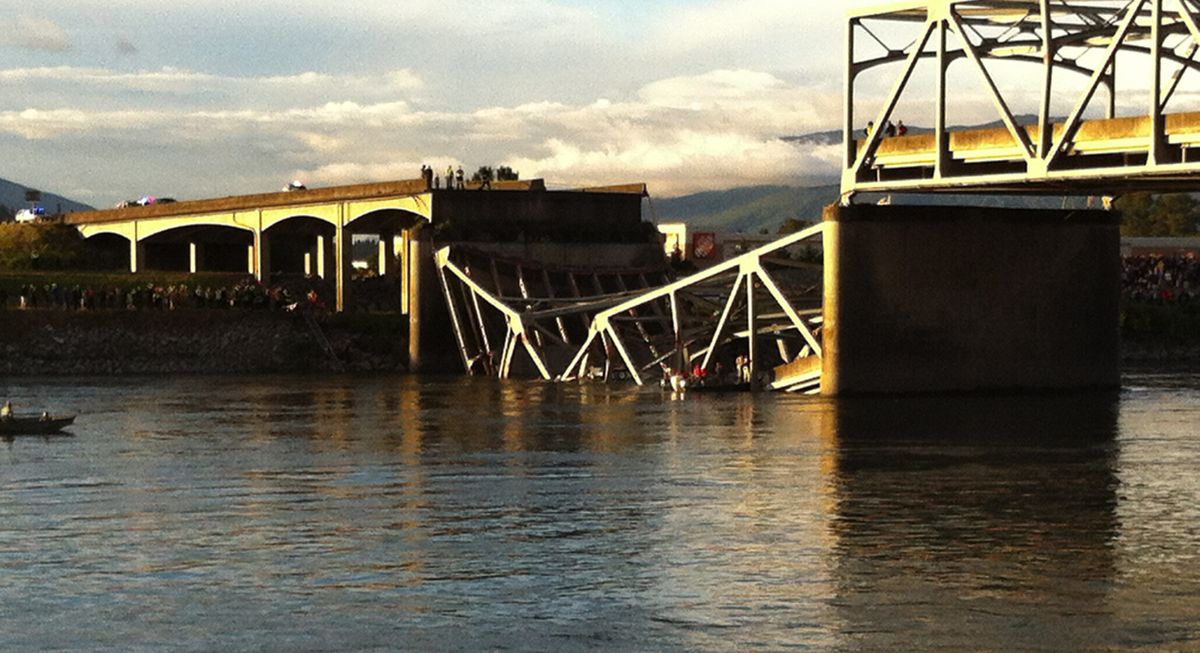 People look on after the Interstate 5 bridge collapsed over the Skagit River in Mount Vernon, Wash., Thursday, May 23, 2013. (Rick Lund / The Seattle Times)
MOUNT VERNON, Wash. — A truck hauling a too-tall load of drilling equipment hit an overhead bridge girder on the major interstate between Seattle and Canada, sending a section of the span and two vehicles into the Skagit River. All three occupants suffered only minor injuries. It happened about 7 p.m. Thursday on the north section of the four-lane Interstate 5 bridge near Mount Vernon, about 60 miles north of Seattle and 40 miles south of the Canada border, and disrupted travel in both directions. Washington State Patrol Trooper Mark Francis told the Skagit Valley Herald the driver works for Mullen Trucking in Alberta. The tractor-trailer, which was marked as an oversize load, was hauling a housing for drilling equipment Vancouver, Wash., he said. The top right front corner of the load struck several trusses on the north end of the bridge, Francis said. An accident report said the driver was William Scott, of Spruce Grove, Alberta, near Edmonton. He voluntarily gave a blood sample for an alcohol test and was not arrested. Initially, it wasn't clear if the bridge just gave way on its own. But at an overnight news conference, Washington State Patrol Chief John Batiste blamed it on the too-tall load. The vertical clearance from the roadway to the beam is 14.6 feet. "For reasons unknown at this point in time, the semi struck the overhead of the bridge causing the collapse," Batiste said. The truck made it off the bridge and the driver remained at the scene and cooperated with investigators. Two other vehicles went into the water about 25 feet below as the structure crumbled. Three people were rescued and were recovering Friday. Traffic could be affected for some time. The bridge is used by an average of 71,000 vehicles a day, so the roadblock will cause a major disruption in trade and tourism between Seattle and Vancouver, British Columbia. The Washington Transportation Department has set up detours. The closest bridge nearby is mostly used for local traffic between Mount Vernon and Burlington. The department also is recommending detours using Highway 20 and Highway 9 that add tens of miles to a trip. Drivers are urged to avoid the area if possible, especially over the Memorial Day weekend. Francisco Rodriguez, of Burlington, looked at the damage Thursday evening and realized the area has lost an important transportation link. "Well, very important, I mean everybody goes through here, everybody goes to Canada, Canadian side. Myself, I drove it every day, twice a day," he said. Dan Sligh and his wife were in their pickup on Interstate 5 heading to a camping trip when a bridge before them disappeared in a "big puff of dust." "I hit the brakes and we went off," Sligh told reporters from a hospital, adding he "saw the water approaching … you hold on as tight as you can." Sligh, his wife and another man in a different vehicle were dumped into the chilly waters of the Skagit River. Sligh and his wife were taken to Skagit Valley Hospital with non-life-threatening injuries. The other man was reported in stable condition at United General Hospital in Sedro-Woolley, hospital CEO Greg Reed said. Sligh said his shoulder was dislocated in the drop into the water, and he found himself "belly deep in water in the truck." He said he popped his shoulder back in and called out to his wife, who he described as being in shock initially as they waited for rescuers to arrive in boats. The bridge was inspected twice last year and repairs were made, Transportation Secretary Lynn Peterson said. "It's an older bridge that needs a lot of work just like a good number of bridges around the state," she said. Transportation officials are working on plans for either a temporary or permanent replacement, she said. The National Transportation Safety Board was sending an investigative team. Jeremiah Thomas, a volunteer firefighter, said he was driving nearby when he glimpsed something out of the corner of his eye and turned to look. "The bridge just went down, it crashed through the water," he said. "It was really surreal." Deyerin said the water depth was about 15 feet, and the vehicles half-visible in the water likely were resting on portions of the collapsed bridge. Crowds of people lined the river to watch the scene unfold. "It's not something you see every day," said Jimmy O'Connor, the owner of two local pizza restaurants who was driving on another bridge parallel to the one that collapsed. "People were starting to crawl out of their cars." He said he and his girlfriend were about 400 yards away on the Burlington Bridge when they heard "just a loud bang." "Then we looked over and saw the bridge was down in the water," he said. He pulled over and saw three vehicles in the water, including the camping trailer that landed upside-down, he said. The bridge was not classified as structurally deficient, but a Federal Highway Administration database listed it as being "functionally obsolete" — a category meaning that the design is outdated, such as having narrow shoulders and low clearance underneath. The bridge, which was inspected last August and November, was built in in 1955 and had a sufficiency rating of 47 out of 100 at its November 2012 inspection, Transportation Department spokesman Noel Brady said Friday. The state average is 80, according to an Associated Press analysis. Washington state was given a C in the American Society of Civil Engineers' 2013 infrastructure report card and a C- when it came to the state's bridges. The group said more than a quarter of Washington's 7,840 bridges are considered structurally deficient or functionally obsolete. The bridge was 1,112 feet long and 180 feet wide, with two lanes in each direction, Brady said. There are four spans, or sections, over the water supported by piers. The span on the north side is the one that collapsed. It's a steel truss bridge, meaning it has a boxy steel frame. The mishap was reminiscent of the August 2007 collapse of an I-35W bridge in Minneapolis that killed 13 people and injured another 145 when it buckled and fell into the Mississippi River during rush-hour. Sligh was thankful. His wife was "doing OK" and he had "lots of cuts," he said. "You're kind of pinching yourself and realize you're lucky to be alive."
Local journalism is essential.
Give directly to The Spokesman-Review's Northwest Passages community forums series -- which helps to offset the costs of several reporter and editor positions at the newspaper -- by using the easy options below. Gifts processed in this system are not tax deductible, but are predominately used to help meet the local financial requirements needed to receive national matching-grant funds.
Subscribe now to get breaking news alerts in your email inbox
Get breaking news delivered to your inbox as it happens.
---