Sports
Vandals' Epps ups ante with great play
Petrino: 'We've got to find a couple more guys like him'
Fri., Nov. 1, 2013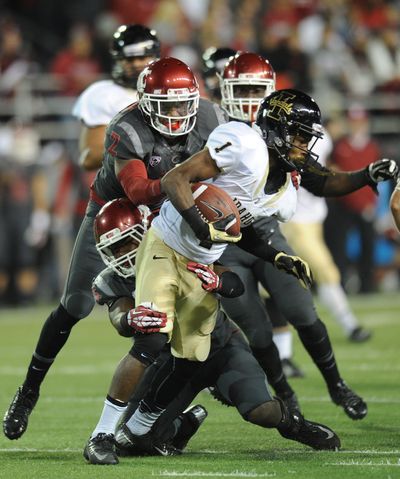 MOSCOW, Idaho – On a sunny morning in August, just after he had given his coaches and teammates of sign of things to come with 10 catches in Idaho's first fall scrimmage, Dezmon Epps was asked about his game-altering speed.
The small wide receiver from Sacramento, Calif., told reporters, matter-of-factly, how he and teammate Richard Montgomery consistently run 4.3-second 40-yard dashes. He even had run a 4.29.
"I might run a 4.4 on an off day," he said.
Epps wasn't going out of his way to draw attention to himself. He was just stating facts. And the fact is, during a mostly dreary rebuilding season for the Vandals, Epps has been a breakout skill-position player that's traditionally been hard for Idaho to find.
He leads Idaho with 51 catches and 582 receiving yards, and he's tied for 31st in the FBS with 6.4 catches per game.
Last week against an Ole Miss defense with blue-chip recruits at almost every position, Epps looked like he would fit in just fine in the SEC – or any other elite FBS conference. He had five catches for 89 yards, and his 62-yard touchdown catch was an offensive highlight in a game with few of them for the Vandals (1-7).
To Epps, it was just another opportunity to showcase his quickness and knack for finding spots on the field to get open. But to coach Paul Petrino, Epps' performance last week and throughout the season has been a revelation.
"We've got to find a couple more of guys like him this year in recruiting," Petrino said. "That's a guy (who) definitely can probably play at any level he wanted to and just got lost in the shuffle, and I'm glad we found him."
If Epps were 2 inches taller or 20 pounds bigger, Petrino and his staff would likely have had no chance in netting him this offseason from the City College of San Francisco. He's listed at 5-foot-10 and 170 pounds, but he's closer to 5-9 – and 170 pounds might be generous, too.
His size, though, was a nonfactor to Idaho's first-year coaches.
"He's short, and some programs won't touch short receivers," Vandals offensive coordinator and receivers coach Kris Cinkovich said. "Here, we'll take them if they have that speed and elusiveness that he has, like Richard Montgomery has."
Epps said he had offers from Fresno State, Illinois, Bowling Green, Utah State and others. Yet, after a number of schools that were pursuing him fired their receivers coaches, he felt comfortable with Cinkovich and signed with UI.
He didn't arrive in Moscow until just before fall camp in early August, meaning he missed spring camp and summer workouts and all the advantages that come with an early arrival. Nonetheless, Epps was an immediate upgrade because of his speed and play-making ability, and he's been the Vandals' most consistent performer on offense.
Epps was added to the Biletnikoff Award watch list after just three games. His goal is to be one of the top 25 receivers in the country over the next two years. He wants to lead the Sun Belt in receiving when Idaho rejoins the conference next season.
"He's a very confident kid, and very competitive," Petrino said. "Usually if you're really competitive, you practice hard because you don't like for somebody to beat you in practice. That's the key. That's what we've got to get – 11 of those on both sides of the ball."
Cinkovich still sees parts of Epps' game that he can improve – his route running, his ball skills on intermediate and deep routes and, most noticeably, his strength.
"But I think he's got the work ethic that he'll make the strides necessary to be a great, dominant receiver," Cinkovich said. "He's not quite there yet, but I think he's going to get there."
Local journalism is essential.
Give directly to The Spokesman-Review's Northwest Passages community forums series -- which helps to offset the costs of several reporter and editor positions at the newspaper -- by using the easy options below. Gifts processed in this system are not tax deductible, but are predominately used to help meet the local financial requirements needed to receive national matching-grant funds.
Subscribe to the sports newsletter
Get the day's top sports headlines and breaking news delivered to your inbox by subscribing here.
---
Subscribe and log in to the Spokesman-Review to read and comment on this story