Dancer working to keep ballet career on point
Despite setbacks, Mick now touring with Eugene company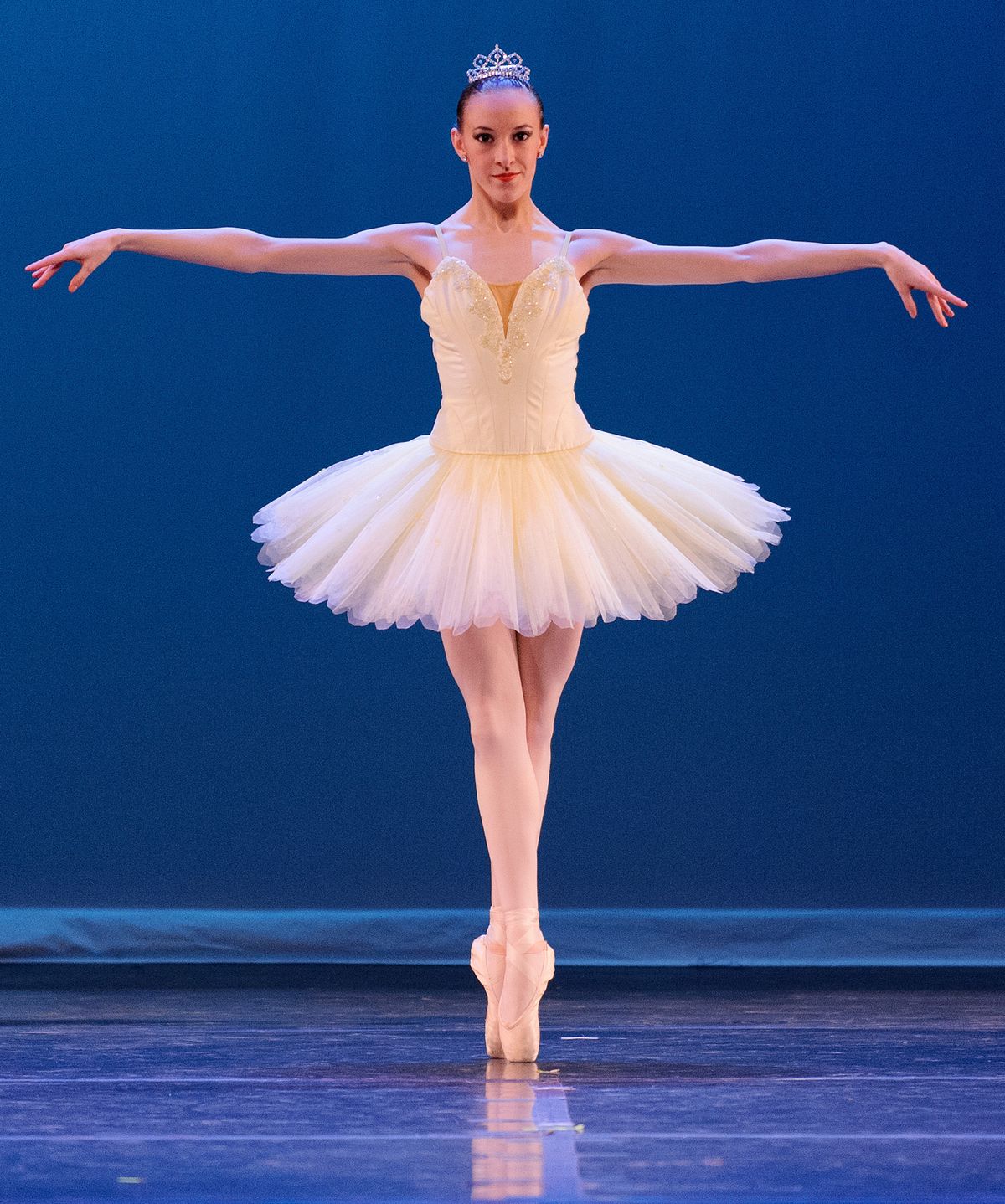 Elizabeth Mick waited until her senior year at Lewis and Clark High School to get serious about dancing as a career – late for a ballerina, she said.
She's 5-foot-4 – on the short side for a ballerina.
At a performance competition, a nationally respected dancer advised Mick to find another vocation. At a summer dance program, Mick said, a ballet mistress told her that she had a beer belly, that her technique was atrocious, and that her dance teacher "deserved to be slapped."
Not the sort of news a ballerina likes to hear.
To say she was excited about her performances this week and next month as part of the Eugene Ballet's touring production of P.I. Tchaikovsky's "The Nutcracker" would be understatement.
"I'm overly excited," said Mick, 21, who's an "aspirant" in the ballet – part of an intensive training program for dancers working toward dance careers.
Mick is a maid in the party scene, a pirate mouse and a flower in three scenes and an understudy in a fourth. The roles – and her spot in the Eugene Ballet's program – represent a high point in a career path marked by hurdles.
Mick joined the Eugene program just weeks after undergoing surgery for a golf ball-size cyst in her ankle that developed after a sprain that left her seeing stars and forced her to leave early from the Pittsburgh Ballet Theatre's Graduate Program.
"She never, ever quits," said Ceci Klein, of Hayden, the now-retired ballet instructor who took on Mick as a student after she graduated from high school. "She has succeeded only because of her determination."
The Eugene Ballet has grown from a community group to a professional company that has performed more than 100 ballets in more than 30 states as well as overseas. It's crisscrossing Washington, Oregon and Idaho to deliver 24 performances of "The Nutcracker" in a monthlong tour, including last Tuesday at North Idaho College's Schuler Performing Arts Center. It will return to the area Dec. 16 to perform at the Panida Theater in Sandpoint.
Mick received an email informing her of her acceptance to the aspirant program in April.
"I fell to the floor crying because I was so happy," she said. "I felt like it was such an accomplishment, that I was finally going somewhere with my dance career."
Mick took her first dance class at age 3 in Germany, where the military stationed her father. She took more classes in Texas and New Mexico, but consistent training was hard to get as the family moved around before settling in Spokane in 1999.
Mick continued to take dance classes and competed in Musicfest Northwest, where she got the advice to ditch dance – advice that Melanie Sexton Mick credits with prodding her daughter to work harder.
"My daughter, at that point, said, 'Watch me,' " said Sexton Mick, of Spokane. "That was the real catalyst for her, that someone told her she couldn't do it. She decided they were wrong, and she got very serious."
After graduation, Mick attended an intensive summer training program in Wisconsin, where she got the news about her alleged beer belly and other flaws – not an entirely bad experience, because "that lady really opened my eyes," Mick said. When she left Spokane for the program, she thought she was pretty good, relatively speaking. "And when I got there, I was like, 'Nope, I really am not.' "
Back in Spokane, she spent an intense year studying with Klein in Coeur d'Alene.
Mick later traveled to the Pittsburgh program, which is where she sprained her ankle, slipping and falling as she came out of a turn. She stopped dancing for two months as her ankle healed – having to sit and watch without dancing hurt more than her ankle, she said – but the pain continued even then. She had to leave Pittsburgh early.
Back in Spokane again, doctors discovered she had a ganglion cyst, caused when fluid leaks from a joint into surrounding tissue. Terrified of surgery, Mick had the cyst drained a couple of times and spent a year trying home remedies, including hot soaks in buckets of Epsom salt and water.
Meanwhile, she resumed classes with Klein. The longtime instructor – who retired after 23 years with the Ballet School of Coeur d'Alene – had started training Mick by teaching her the basics, putting her in classes alongside 8-year-olds.
Klein compared a dancer without a "proper base" to a pianist who plays by ear. If the pianist – lovely as their playing might sound – ever wanted a job, she said, they'd have to study the notes.
"Classical ballet requires that kind of structure," Klein said. "You have to build a strong foundation, and the strong foundation is all geared for the body to work from the floor and up and with placement. This is what Lizzy didn't have. She didn't have the ability to work through the floor."
As she studied with Klein, Mick said, dancing started to make sense.
"Ceci helped me by putting images in my mind of how it's supposed to feel and what it's supposed to look like, and how it should not feel," she said.
But after leaving Pittsburgh, Mick's pain continued. There were days when she could barely finish class or put on her pointe shoes.
Surgery was a last-minute decision after her acceptance into the Eugene Ballet program. Her surgery was July 8. She had to be ready to dance by the second week of August.
"I wanted to be 100 percent for these guys," she said. "I wanted to be in their company. I wanted to get hired. I didn't want to have them see me in that kind of pain and wonder whether I would be good for their company."
Her surgeon told her mother the cyst had wrapped itself around a nerve and a tendon in her foot. In Eugene, Mick has had to rebuild some muscle memory post-surgery while working to improve her technique.
She plans to audition for a spot in the company, to elevate her position from aspirant to professional. She likes the group's close-knit, family vibe. And the choreography, directed by Toni Pimble, is "amazing," Mick said.
At one point, the thought crossed Mick's mind that her physical problems could prevent her from dancing, she said.
"But then again I thought back to everything I've been through in trying to achieve my goal of becoming a professional dancer," she said, "and it just passed over me. I didn't really think, 'I won't be able to do this.' "
---