Sports
USC coach mum on starter against WSU
Thu., Sept. 5, 2013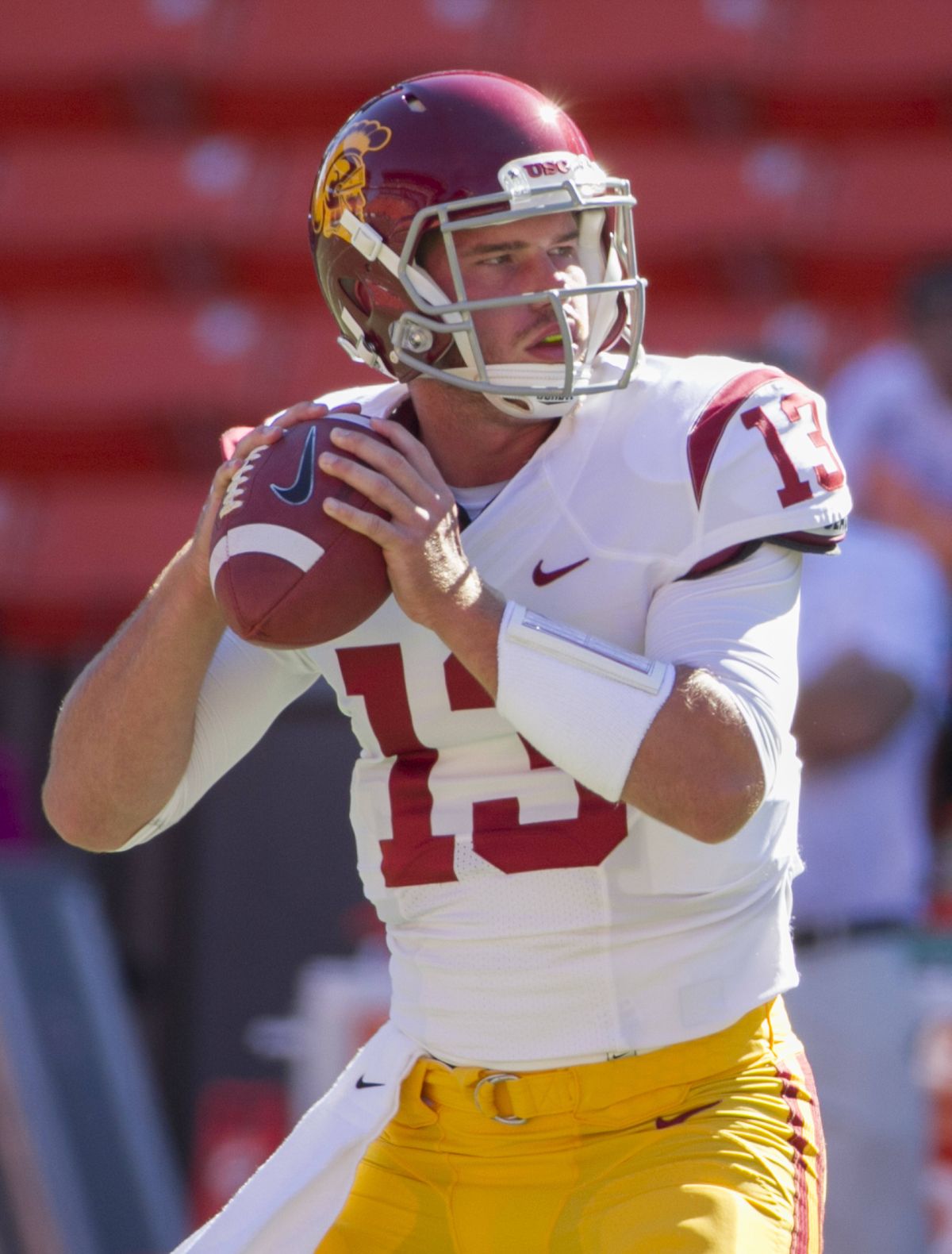 USC QB Max Wittek played in second half of opener. (Associated Press)
PULLMAN – Lane Kiffin isn't quite taking his ball and going home. But the USC coach isn't saying which of his quarterbacks will have the ball when the Trojans play at home Saturday against Washington State, though he has already made the decision.
Kiffin's game of neener-neener may prove fruitless in the end, as many indications from Los Angeles point to Cody Kessler as the team's starting quarterback. But reports also indicate that the rotation at that position may be similar to the one used in USC's opener at Hawaii, where Kessler started and Wittek took over in the third quarter.
The results were mixed. Kessler threw the ball more, completing 10 of 19 pass attempts for 95 yards, a touchdown and an interception. Wittek didn't have as many opportunities to show off his arm, as he attempted just 10 passes and completed only 5 of them.
So, into Week 2 the Trojans go, still a bit unsettled at the most important position on the field – though one player doesn't appear to be hiding Kiffin's intentions particularly well.
According to the Los Angeles Times, star USC receiver Marqise Lee let slip that "Cody was in there for most of the time" during Tuesday's practice before quickly tossing out a line about Wittek, too.
No matter. The Cougars don't seem to care who plays. As defensive coordinator Mike Breske said, the Trojans are going to run lead plays, toss plays and stretch plays no matter who happens to be handing them the ball.
"We saw passes, but both have got strong arms," Breske said. "The quick game was I think the theme for Hawaii, but they did take their shots deep."
Asked Tuesday if either quarterback plays a different style than the other, Kiffin said: "I think they've become more similar over time, because they've worked on the weaknesses in their game. So there's not much difference when those guys are in there."
Of course, Kiffin doesn't much care to discuss the quarterback drama, noting that after USC's 30-13 win over Hawaii, there weren't enough questions about "these brand new freshmen in there making plays" on both sides of the ball.
"The questions always want to be about something negative," Kiffin said. "It is what it is. Our job is to win the game, do the best that we can with the amount of players that we have, and just answer all the questions and get to the next game and let you guys write whatever you want."
WSU hopes folks will be writing about a stronger performance against the run than the 297 yards the Cougars allowed Auburn on the ground last week.
"I expect them to try and run the ball," said sophomore linebacker Darryl Monroe, emphasizing the word "try." "That's what I would expect them to try and do, just from watching film. But we'll see how successful they'll be this Saturday."
USC hopes running back Silas Redd will be able to play, though his status is still a question mark. He didn't make the trip to Hawaii last week while he recovered from a left knee injury. He told the AP on Tuesday that he's optimistic about returning.
Tre Madden, a sophomore, carried the load last week in Redd's absence with 18 carries for 109 yards, and freshman Justin Davis rushed for 74 yards and a TD.
"We've got to have great eyes, great pad level and be good tacklers," Breske said. "We've got to do a good job against the run game, hold on against the pass game."
CBs sidelined
WSU cornerbacks Nolan Washington and Anthony Carpenter have yet to participate in practice this week, making more likely the possibility that freshman corner Daquawn Brown will make his first career start.
Local journalism is essential.
Give directly to The Spokesman-Review's Northwest Passages community forums series -- which helps to offset the costs of several reporter and editor positions at the newspaper -- by using the easy options below. Gifts processed in this system are not tax deductible, but are predominately used to help meet the local financial requirements needed to receive national matching-grant funds.
Subscribe to the sports newsletter
Get the day's top sports headlines and breaking news delivered to your inbox by subscribing here.
---