News > Features
Near 85, Harold Balazs follows a new fascination
Artist continues to create fresh works
Sun., Sept. 8, 2013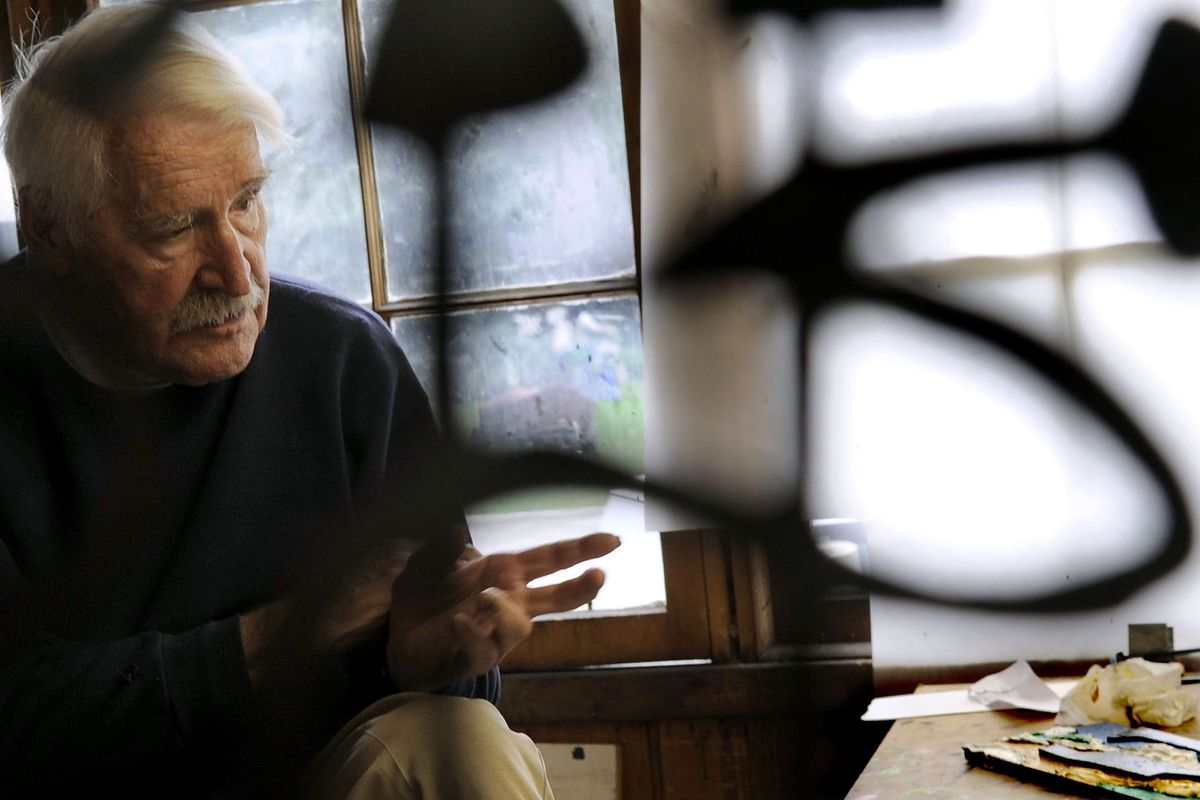 Artist Harold Balazs talks about his upcoming show with painter Mel McCuddin in his studio near his home in Mead. (Kathy Plonka)
It's far too late for Harold Balazs to be an outsider.
As an artist, he knows what he's doing. Other people – lots of them – know what he's done.
"Outsider artist" is a term applied, loosely, to those who don't know what they're doing, technically – those working well outside the mainstream of the art world. Outsider artists haven't been to art school. They don't know any art dealers.
Balazs – whose public art dots Spokane and Coeur d'Alene and whose exhibitions have drawn crowds to museums and galleries – knows he's not fooling anyone. But he's fascinated by the artwork of "outsiders," who might be children and might be mentally ill people living in institutions, and how their minds seem to run, and how their work sometimes is "just so magical."
Also, he said, at this point it's what he can do.
Balazs' joint show with painter Mel McCuddin, opening Friday at The Art Spirit Gallery in Coeur d'Alene, will hint at this new direction: Most of his contributions are vividly colored paintings, made at his kitchen table, of geometric shapes reflective of some of the abstract sculptures for which he's known in the Inland Northwest. The lines are confident, said Steve Gibbs, who owns The Art Spirit. But, because the artist's hand is shaky, they have a rough edge. Gibbs likes the effect.
Balazs is running with it.
Lucky to be middle-aged until he was 82, Balazs said, he has recently been assailed with old age. Tremors in his hands and feet. Moments when he's lost his balance. His doctor has assured him he doesn't have Alzheimer's disease, but he has something similar that costs him his words, especially nouns, midsentence.
Outsider artists also are called primitive artists or naïve artists. Outsider artists have good ideas, Balazs said. They just lack refined skills.
"They just never let craftsmanship and perfection get in the way of what they're doing," he said. "That's a nice way to be."
Longtime friends
The show opening Friday will be Balazs and McCuddin's third show together at the gallery, which has represented both men since it opened in 1997. Its title draws attention to their longevity: "Harold Balazs: Alive at 85 & Mel McCuddin: Lately 80!" Gibbs said Balazs – whose 85th birthday is next Sunday – told him last summer he thought he lacked the energy for another show. But he's regained at least some of it, getting back to work to produce the paintings.
While Balazs will show his kitchen-table paintings, McCuddin will show about four dozen new oil paintings, often luminous human and animal figures he creates starting with a layer of abstract "underpainting."
The artists have been friends for a long time. Neither can say how long. Mostly, they talk about hunting, fishing and world affairs, McCuddin said. Art comes up occasionally.
"I feel like an amateur around him, because he knows how to do so much stuff," McCuddin said. "I'm a painter, and I know how to paint, but I don't know how to do much else. He does sculpture and prints and anything you want to know about the physical side of it – he knows how to hang things and how to put things together. He's really just a barrelful of knowledge."
Even still, McCuddin said: "He's getting kind of old and doesn't get around as good as he used to, but his mind's still going 100 miles an hour – like a 21-year-old mind in an 85-year-old body."
While Balazs' work for the Art Spirit show is already in Coeur d'Alene, more, smaller pieces are stacked on his workbench in his barn-turned-studio, across a broad lawn from the home he and his wife, Rosemary, share in Mead. He's preparing for his next show, scheduled in October at the Tinman Gallery in Spokane, also with McCuddin.
These pieces, Balazs said, are more like work by primitive, or outsider, artists.
The lines, again, are bold but shaky. Borrowing from a famous six-word story by Ernest Hemingway (according to literary legend), Balazs' pieces have six-word titles, drawn in tall, wobbly letters on the backs:
"A Polar Beast in Auto Lites."
"The Up and Downs of Waves."
"Local Recluse in his Formal Wear."
"Hungry is all Scavengers Can Be."
Some pieces contain references to the known world, such as animal or human figures – the recluse seems to be wearing a fancy hat – and some are shapes.
"Everybody knows I know what I'm doing," Balazs said. "But now, because of what's happened to me, I really can't do that. So now I'm trying to have a different … style or genre to my work that frees me up."
Public spaces, public places
It's the latest turn in a career built out of exploration and adaptation. It's been a career that started, and mostly stayed, in and near Spokane.
"Harold says, 'You bloom where you're planted,' " said Sue Flammia, a Coeur d'Alene attorney who helped found the annual Art on the Green festival on the North Idaho College campus some 45 years ago. "And that's what he has done."
Balazs was born in Ohio in 1928 and grew up in a farming town called Westlake. After his family moved to Spokane in the 1940s, he earned a fine arts degree at Washington State College, graduating in 1951. He took to the streets of Spokane, selling enameled jewelry.
It didn't take long for his work to attract the attention of architects working in the city, especially those who embraced a midcentury modern aesthetic starting in the 1950s, and they frequently incorporated his work in their designs.
Most residents probably know Balazs for his often large-scale, publicly commissioned projects.
His stainless steel Centennial Sculpture, completed in 1982, floats in the Spokane River between the Washington and Stevens street bridges. Between the river and the INB Performing Arts Center, an officially untitled sculpture completed in 1974, known locally as "Lantern," has tempted passers-by to scale its 32-foot height. Children jump in the spray of the Rotary Fountain at Riverfront Park, dedicated in 2005.
Other pieces – walls of carved bricks, walls of carved wood, murals, sculptures – appear at churches and banks and elsewhere in Spokane and throughout the state, including in Seattle, Renton and Pullman. Many pieces appear in Alaska, including collaborative works with Palouse artist Ken Spiering, and others stand in Oregon and Montana. There's a Balazs sculpture in his birthplace of Westlake, Ohio, and another in Pennsylvania.
The artist has a talent for enlivening public spaces, said Ben Mitchell, a former curator at the Northwest Museum of Arts and Culture.
"He's no damn snob," said Mitchell, who curated the MAC's 2010 exhibit of Balazs' work. "He's a wonderful, gregarious, comfortable and generous man, and I think that gives him a commonness in the best sense of the world, an everyman-ness, and his instinct is not one of snobbery and elitism. As a populist – again, using that word in the most positive sense – he brings that sensibility to play when he works in public space."
Comfort in any media
While the big pieces in high-traffic spots may be the best known, those who know Balazs' work also talk about its variety.
"He would work in any media," Flammia said. "He was fearless about that. He would figure things out."
Scott Patnode curated a 1998 show at Gonzaga University's Jundt Art Museum to mark Balazs' 70th birthday. It was the first exhibition of the artist's noncommissioned work and included drawings, computer graphics, sculpture, screen prints and wood, enamel, foam and bronze sculptures.
"The artist continued to bring works into the gallery until I stopped him," said Patnode, who retired in 2012 as the art museum's director and curator.
McCuddin said he expects Friday's opening to be a "madhouse." If some in attendance are artists, chances are good that Balazs has ventured out to support them, too. He is known as a supporter of other artists, passionate about making art but also about sharing what he's learned.
Allen Dodge, a Coeur d'Alene artist, worked with Balazs on a sculpture erected on the NIC campus in 2007 in honor of Sue Flammia's late husband, artist Patrick Flammia, who'd died in 2006. Dodge said it was a life-changing experience.
The sculpture is called "Reflections." It's three waves made of stainless steel. Every day for weeks, Dodge joined Balazs in his studio to work on the piece.
"Every moment, he was talking about something else to try or something else to do – a new approach," Dodge said. "Or a book he had just finished. Or something he had finished 30 years ago."
After that sculpture project, Dodge started doing his own work in steel sculpture. Also inspired by Balazs, his wife, artist Mary Dee Dodge, started working in enamel.
The summer he spent working alongside Balazs, Dodge said, "was just one of those lucky times in life."
Looking ahead, looking back
Balazs said he and Rosemary never thought seriously about leaving the Spokane area. They made their home on 7 acres in Mead, where they raised their children and gardens and where things Balazs made populate the property – one of the wooden boats he crafted by hand, a ketch, with a mast in front and one in the back; a hut where grandchildren spent nights; a rambling tower he built because he wanted to learn how.
But Balazs thinks about leaving their home, trading it for something more manageable. A skylight in his barn sprung a leak, and he can't jump up and fix it. He's stopped driving, because his foot forgot the difference between the gas and the brake. Something's getting into the garden, despite a fence; he suspects the wild turkeys that flap into the branches of a fruit tree nearby.
Balazs said his interest in nonrepresentative art started when he was a child, when his mother took him and some classmates to the Cleveland Museum of Art.
Later, he read the Quran and learned that Islamic art doesn't include depictions of people, essentially because " 'God expects more of you than trying to replicate the environment or the world you know.' Even though I don't believe in God, I thought that was a pretty nice idea."
But over his career, even much of his abstract work still bore some reference to things in the world, Balazs said. At this point, inspired by outsiders, he's doing his best to completely abandon that.
As for his home, the thought of moving – even just of emptying his work space, of sorting through all that work that never made it out … he'd like to find a way to stay.
"I don't know what I really want to do," he said, sitting in front of his workbench, piled with art supplies, "except this."
Local journalism is essential.
Give directly to The Spokesman-Review's Northwest Passages community forums series -- which helps to offset the costs of several reporter and editor positions at the newspaper -- by using the easy options below. Gifts processed in this system are not tax deductible, but are predominately used to help meet the local financial requirements needed to receive national matching-grant funds.
Subscribe now to get breaking news alerts in your email inbox
Get breaking news delivered to your inbox as it happens.
---