News > Features
Drug marketers don't always deliver a healthy message
Mon., Sept. 30, 2013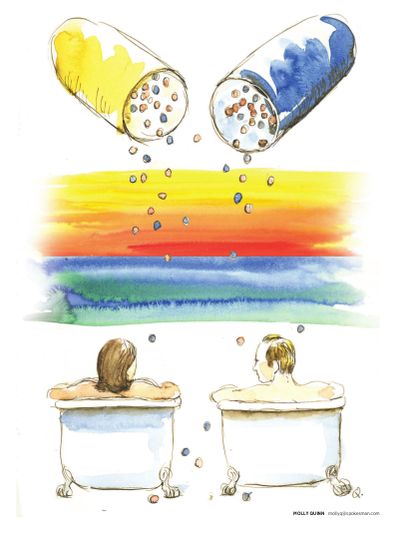 Suffering? Getting old? The pharmaceutical industry wants to help. Every night on TV, photogenic actors frolic with photogenic grandchildren, or lounge in bathtubs gazing into the setting sun, telling emotion-laden tales of 30-second Madison Avenue cures: E.D.? Low T? R.A.? COPD? Dry eye? Sneezy? Wheezy? Queasy? There's a drug for that.
And all the consumer needs to do – all together, now – is "Talk to your doctor."
But there are a few things the ads don't mention: Low-cost alternatives to the high-cost drugs featured in the ads. Lifestyle changes that could make drugs unnecessary. Damaging side effects that may not be discovered until a drug has been on the market for a while.
Less obvious is the fact that when consumers do show up to talk to their doctors, the drug industry got there first. Drug manufacturers ghost-write articles in medical journals, touting their products. They help sponsor continuing-education seminars for physicians. They advertise in medical journals. They send sales representatives to medical offices, offering samples, gifts, financial incentives.
So what's a consumer to do? What's a doctor to do?
Matt Hollon, a physician and faculty member who teaches at the University of Washington School of Medicine in Spokane, gives lectures to his peers on the subject of drug advertising, and he has written about it in the Journal of the American Medical Association.
In an interview, Hollon was quick to qualify his warnings, with a recognition that many of today's prescription medicines offer huge benefits – improving quality of life, keeping people out of hospitals, reducing the need for certain surgeries, preventing strokes, knocking down cancer and more.
He acknowledged that drug advertising itself can be beneficial, if it prompts people to recognize they might have a problem and seek help for it.
However, Hollon said, "we're not talking about breakfast cereal. We're talking about drugs that have the potential to be both life-saving and life-harming."
There is a reason for the industry's huge outlays on drug advertising, and the reason is not the same as the goal that consumers and physicians have when they meet for an appointment.
The purpose of the advertising, Hollon said, is to "move a large population to take a medication" – regardless of whether that drug is needed or is the most appropriate choice for a particular patient. The industry, he said, will say it expects physicians to serve as a "safety stop." But that's where it gets fascinating, Hollon said. The drug industry's advertising strategy focuses on physicians as well.
"They do marketing methods to move both (patients and physicians) in step, in sync, to newer, expensive, untested medications," he said.
And "the truly scary part," Hollon said, is that "the same message is in ghostwritten articles in medical journals."
In 2009, the New York Times published a story describing the practice. Ghostwriting, by sources such as drug manufacturers and medical device makers, occurred in 10.9 percent of articles in the New England Journal of Medicine; 7.9 percent of articles in JAMA, the Journal of the American Medical Association; and 7.6 percent of articles in the Lancet, the Times reported.
Does the industry's marketing strategy work? For a 2005 article he wrote in JAMA, Hollon cited an advertising campaign for Merck's anti-inflammatory drug Rofecoxib, marketed as Vioxx.
The campaign was bigger than the advertising for either Pepsi or Budweiser, and sales of the drug quadrupled. But the drug sometimes was "inappropriate" for the patients who received it and came with serious side effects: heart attacks and strokes. It led, Hollon wrote, to "as many as 140,000 adverse cardiovascular events."
Translation: People died.
Research has found that nearly 80 percent of physicians believe drug advertising "encourages patients to seek treatments they do not need," Hollon wrote.
Hollon is hardly alone in his concerns. With the sole exception of New Zealand, other western countries prohibit direct-to-consumer drug advertising. Between 1997 and 1999, a relaxation of federal rules opened the floodgates to televised drug ads in the United States.
Another prominent critic of the drug industry's practices is Otis Brawley, an oncologist, epidemiologist and chief medical officer of the American Cancer Society. In his 2012 book, " How We Do Harm," Brawley cites examples of drugs and medical-industry marketing practices that, in his view, injured patients.
In 2003, he wrote, the marketers at Johnson & Johnson invented a condition they called "cancer fatigue" and carried out an aggressive advertising campaign for their drug Procrit, to treat it. Procrit was touted to stimulate blood hemoglobin and reduce the need for transfusions, in patients undergoing chemotherapy. Sales soared, for Procrit as well as a competing drug, Amgen's Aranesp. Physicians received rebates for prescribing Aranesp, Brawley wrote.
But there was a problem, according to Brawley: These drugs sometimes made tumors grow faster. At an FDA hearing on the issue, Brawley made headlines when he demanded, "What data do you have to assure me that this is not Miracle-Gro for cancer?"
Where were the federal government's watchdogs when this was going on? "In the Bush administration," Brawley wrote, "former pharmaceutical-company lawyers were running the enforcement arm of the FDA."
Most drug advertising, Hollon said, focuses on a small number of new, expensive products that offer symptomatic relief of chronic conditions, such as indigestion, allergies and erectile dysfunction.
But what does "new" mean, in the world of drugs?
"Truly revolutionary therapies in medicine come along infrequently," Hollon said. "Often, what newer drugs bring is a different formulation of an existing drug."
Nexium, for example, takes a beating in Brawley's book. In the 1990s, AstraZeneca's Prilosec was one of the industry's most profitable drugs. But when it went generic, the price fell. So AstraZeneca tweaked the underlying chemical, omeprazole, and rebranded it as a new drug with a high price to keep the profits rolling in: Nexium, which remains among the most heavily advertised drugs on television today.
Brawley wrote that he tried to convince a patient to use the medically identical and cheaper Prilosec, but she believed Nexium was newer and therefore better. Besides, her insurance would pay for it – though she also complained that her insurance was expensive. "She seemed to not connect" the cost of drugs with the cost of insurance, Brawley wrote.
Another meaning for "new," in the world of drugs, is the "medicalization" of normal life experiences, Hollon said. Fatigue during chemotherapy, for example. Or dry eyes. Yes, there are medical conditions that can cause eyes to be dry; but these conditions, Hollon said, are somewhat uncommon. "So if you take the normal human experience of irritated eyes and turn it into a disease," he said, does that mean the sufferer needs a prescription drug?
Hollon said he does not mind when patients provoked by an advertisement come in to discuss a concern. This creates an opportunity for a conversation, and for the "sophisticated decision making" that physicians – not Madison Avenue marketers – are trained to carry out for each patient.
"I'm not saying they're bad," Hollon said of the drug industry. Manufacturers have "created a lot of important products that have been beneficial. But all drugs come with harm. The challenge is to balance the benefits with the harm."
In his article for JAMA, Hollon recommended that FDA impose a moratorium on drug advertising for the first three years after a product is released to the market. Why?
"Because the safety of a new drug cannot be known with certainty until it has been on the market for several years, and since drug withdrawals occur more than two-thirds of the time within three years of release."
The idea attracted some attention but went nowhere in Congress, where the drug industry has a long record of lobbying to protect its profits.
Given the pharmaceutical industry's practices, advocates such as Hollon and Brawley argue for an ethical separation between physicians and drug marketers. They promote awareness of the industry's techniques and a careful focus on medical outcomes research: According to scientific data, how well does a drug work and for what situations? What are the risks? What are the alternatives? How well was the research designed? What was glossed over in the research? The physician's goal, they contend, is to look out for patient's medical well-being, as opposed to the well-being of the pharmaceutical industry's bottom line.
"One of the most overlooked problems in the U.S. health care system is avarice," Hollon said. "Greed. Everybody in the system has been guilty of it."
Local journalism is essential.
Give directly to The Spokesman-Review's Northwest Passages community forums series -- which helps to offset the costs of several reporter and editor positions at the newspaper -- by using the easy options below. Gifts processed in this system are not tax deductible, but are predominately used to help meet the local financial requirements needed to receive national matching-grant funds.
Subscribe to the Coronavirus newsletter
Get the day's latest Coronavirus news delivered to your inbox by subscribing to our newsletter.
---