A&E > Entertainment
Seattle comedian Jeff Dye stands tall
His career took off after competing in sixth season of NBC's "Last Comic Standing"
Fri., April 25, 2014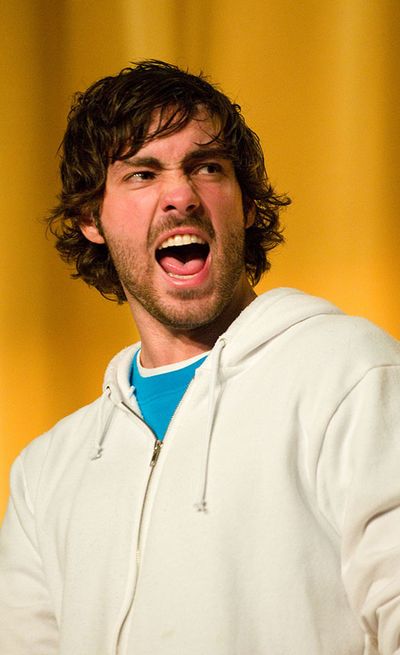 A lot of people are born funny, but Seattle comedian Jeff Dye was born to be a stand-up comedian.
"Comedy is the only thing I've ever been good at," Dye said in a recent phone interview. "I wasn't the smart kid, I wasn't the athlete, but I was always good at making people laugh and goofing off."
After years of being told he was funny enough to be a comedian, Dye first tried stand-up when he was 22 at Giggles Comedy Club in Seattle's University District. He still remembers the exact date – Aug. 1, 2005, memorialized in a picture on his wall – and that his first set of jokes was terrible. "I was the worst, so bad and unfunny it was unbearable," he said. "But even when I was bad at it, I knew it was what I wanted to do."
Dye was so determined to get better that he started studying how-to books, and he even moved closer to Giggles so he could hone his craft. "They had open mics twice a week, and if you brought enough people they'd let you up on stage," he said. "So I'd bring a ton of people every single week, and they'd let me up.
"I was so obsessed with it, I'd write new material for each week and I'd be hanging out at that club even when I wasn't supposed to be there. I marinated myself in the culture of that comedy club."
Three years later, Dye auditioned for the NBC reality competition show "Last Comic Standing," and he was selected to compete in its sixth season. (He ended up taking third place overall.)
"After my first day on NBC, the first time they showed my face and did a little package on me … my life has never been the same," Dye said. "A lot of people, especially comics, talk trash about 'Last Comic Standing,' but it changed my life. I've never had to worry about money or work since then, so that show was a real blessing for me."
Although he initially recoiled at the idea of more television work, Dye has been a regular presence on TV since "Last Comic Standing": He was showcased on an episode of "Comedy Central Presents," has appeared on such MTV shows as "Girl Code" and "Money from Strangers" and was a regular personality on ABC's "Extreme Makeover: Home Edition."
"The transition (from stage to screen) was a lot smoother than I thought," Dye said. "I was under the impression that I didn't want to do TV, unless I was doing stand-up on TV. Now every day I'm thinking, 'How can I get on TV?' "
Although his current focus is landing more acting work – he's in the process of pitching series ideas to various networks and hopes to eventually transition into film – Dye said he'll always be a comedian first and a TV personality second.
"But I don't think they have to be exclusive of each other," he said. "Stand-up is my first love. It put food in my mouth and a roof over my head, so I'm always loyal to that."
Local journalism is essential.
Give directly to The Spokesman-Review's Northwest Passages community forums series -- which helps to offset the costs of several reporter and editor positions at the newspaper -- by using the easy options below. Gifts processed in this system are not tax deductible, but are predominately used to help meet the local financial requirements needed to receive national matching-grant funds.
Subscribe to the Spokane7 email newsletter
Get the day's top entertainment headlines delivered to your inbox every morning.
---