A&E > Entertainment
At Ruins, a fresh new start
Restaurant focuses on 'fine food,' inventive cocktails, cozy atmosphere
Fri., Aug. 1, 2014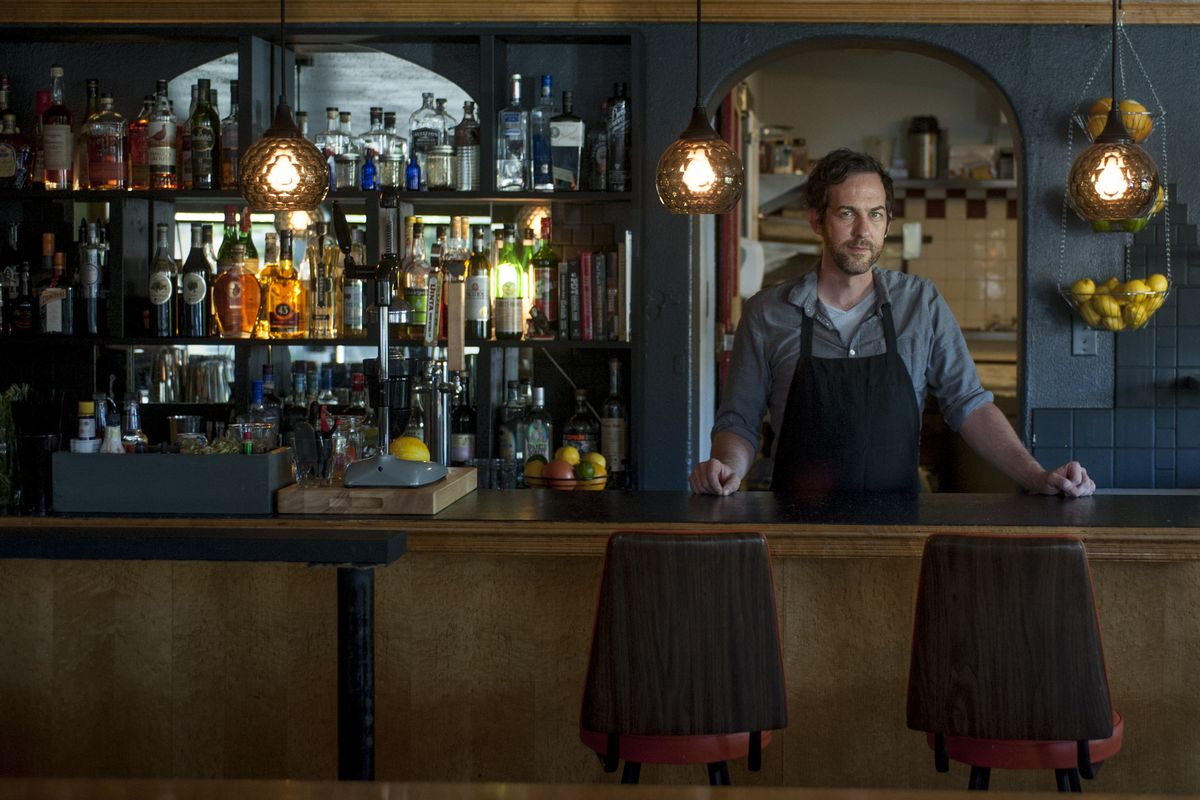 Owner Tony Brown opened his new restaurant, Ruins, on July 23. Brown also owns nearby sandwich cafe Stella's. (Tyler Tjomsland)
The menu changed twice in one week, and that was before the turquoise doors to the new eatery and craft cocktail lounge even officially opened.
The first round of salads, sides and small plates was Asian-inspired. The second was Southern: creamed corn, hush puppies, succotash.
Next week, expect something different – "whatever's inspiring me at the moment," said Tony Brown, the chef-owner. "I get bored, so I like to switch it up."
Variation will be the norm at Ruins, where the vibe is distinctly urban vintage and Brown will serve food until midnight, keeping the kitchen open until close.
"It's not fine dining, but it's fine food," Brown said. "I think it's the way food should be. I like small plates. I'm a grazer; I eat a little throughout the day."
The second incarnation of Ruins' food menu featured andouille sausage, seared Idaho trout, barbecued tofu, Walla Walla sweet onion pakoras, roasted Brussels sprouts and sautéed kale. For dessert, there was a peanut butter ice cream sandwich. Prices ran from $3 for a side of creamed corn to $8 for red-wine-braised pork shoulder with risotto and shiso gremolata. Salads – like a beet, lentil, cherry, tarragon and chevre combo – were $5.50.
Beverages run from $2 for a can of Rainier beer to $12 for specialty cocktails like the Fleur du Mal – scotch, crème de violette and housemade lavender bitters. Wine, well drinks and draft beer are $5.
"We want a comfortable place where you don't feel like you have to wear a tie," Brown said. "We don't want it to be stuffy and unapproachable."
Brown, who was born in Oregon and moved around a lot as a kid, moved to Spokane at 15, left at 18 and returned at 27. During his decade away, he lived in Seattle and Portland and worked at the now-closed French- and Thai-inspired Vong on Chicago's North Side.
When he came back to Spokane, he spent almost eight years at Mizuna and a year at Luna before opening courthouse-neighborhood lunch spot Stella's 2 1/2 years ago. Ruins opened July 23. His business partners for both ventures are his parents, Marti and Steve Brown.
His mom has been running the sandwich shop while he's been working to get Ruins off the ground. Renovation largely took place "weekend warrior"-style throughout the past five months. Brown completed much of the work himself, with help from some of his Stella's employees.
He replaced light fixtures, painted walls – blue, gray and "sagey green" – and in the entry way added a silvery ceiling reminiscent of the embossed tin tiles popular during the Victorian era. A large art deco mirror adorns a wall in the dining room, where customers sit at low booths. At the bar, there are orange high-backed bar stools with a distinctive 1970s feel and the counter from the old Top Notch Café, which Brown found in storage and re-installed.
A restaurant since it was built in the 1930s, the building is located just north of the Monroe Street Bridge, two blocks up and one block over from the Spokane County Courthouse. A turquoise door makes the otherwise rather nondescript brown-painted corner building.
"I've always loved this space," Brown said. "I used to come here when it was the Top Notch. It's been a neighborhood landmark."
He hopes Ruins, named after a Japanese psychedelic noise rock band and the state of affairs in which he found the place, becomes not only a neighborhood bar and a destination for foodies and craft cocktail enthusiasts.
"We cater to individual tastes," said bar manager Crystal Bertholic. "So even though we have a menu we definitely push the dealer's choice option and trusting your bartender. You tell us your mood, and we'll make you a drink that fits it."
Bertholic previously worked at the now-defunct Prago as well as Chaps, Viking Bar and Grill, and – most recently – Bon Bon, the lounge at the Garland Theatre known for its craft cocktails. Four of Ruins' five staff members are former Bon Bon employees. And, according to Ruins' Facebook page, they're all "obsessed with details."
Bertholic's go-to spirits of the moment are Fernet Branca, Cynar, Campari, gin and whiskey. "Right now," she said, "I'm nerding out on making bitters. I'm always inspired by bitter anything."
Bertholic's lavender bitters are already available at the bar, and housemade orange, curry, coffee, lemongrass and ginger are in the works. "And I really want to do rhubarb," she said.
Meantime, she recommends the Rosemary's Sister – Green Chartreuse, flamed rosemary, muddled tomato, tequila, lime, simple syrup and mezcal – which could become the bar's signature cocktail. Created by her sister and fellow bartender Suzie Bertholic, it's savory and refreshing and, "It's got some smoke to it."
The small space – Ruins seats 36 – doesn't take reservations. There's no parking lot, but there is plenty of street parking. Most of it's metered until 7 p.m. "So, bring quarters, obviously," Brown said.
And expect to hear 1970s and '80s post-punk and noise rock from the likes of Siouxsie and the Banshees, Lou Reed, Sonic Youth and Wreckless Eric while you drink and dine.
Plates are intentionally small. Get one from each category – salads, sides, small plates and desserts – and you have a full meal. If you're not that hungry or just want a lighter meal, order one or two items.
Whatever you do, don't call them tapas.
"I don't like that word," said Brown, who shops for ingredients at the West Central Marketplace and downtown Spokane farmers markets.
Eventually, he wants to open Ruins for Sunday brunch. First, he needs to hire another cook. These days, he is the only one in the kitchen.
Brown has other plans, too, like hosting intimate wine dinners and cocktail tastings. And he's excited about the possibilities: "I feel like opening this place is going back to where I was before. Sandwiches are great, but it's nice to have a full kitchen and be able to do this type of food again."
Local journalism is essential.
Give directly to The Spokesman-Review's Northwest Passages community forums series -- which helps to offset the costs of several reporter and editor positions at the newspaper -- by using the easy options below. Gifts processed in this system are not tax deductible, but are predominately used to help meet the local financial requirements needed to receive national matching-grant funds.
Subscribe to the Spokane7 email newsletter
Get the day's top entertainment headlines delivered to your inbox every morning.
---