Sports
WSU depth chart coming into shape following scrimmage
Sun., Aug. 10, 2014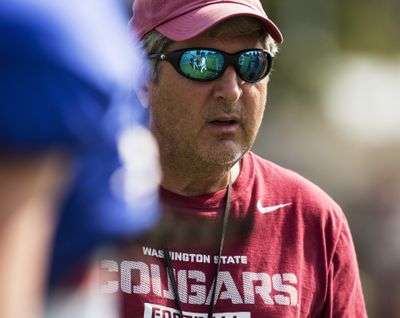 LEWISTON – The depth chart has changed more than the roster since Washington State's 2014 spring football practices ended.
The Cougars scrimmaged for 62 plays on Saturday and coaches said that the starters and backups reflected how the snaps would shake out if a game were held today, providing hints at answers to questions about who has parlayed a good fall camp into a starting spot and which freshmen may see the field.
So, if the Cougars took the field against Rutgers tomorrow you'd see redshirt freshman Darius Lemora lining up at safety next to Taylor Taliulu.
Tracy Clark, a senior who made no tackles last season and has just nine in his career, would start at cornerback opposite Daquawn Brown, although freshman Pat Porter from Alabama would see plenty of time as a backup.
"We're pretty competitive at a lot of positions," coach Mike Leach said after practice. "
That competition is evident at receiver and running back when Gabe Marks and Marcus Mason – last year's leaders in receiving and all-purpose yards, respectively – scrimmaged with the third string on Saturday. Jamal Morrow and Gerard Wicks have demanded reps with their play at running back after redshirting last season, while senior Theron West is currently No. 1 on the depth chart.
Marks sat out the spring with an undisclosed injury and is still trying to reclaim his Z receiver position, but Isiah Myers and Kristoff Williams aren't making it easy for him.
"I think Myers is playing really well and so is Kristoff," Leach said. "And then the other thing is they got really good work this summer and I think they're playing really well. That's been a competitive position but Myers has been really hot lately."
Williams led all receivers with 36 receiving yards on three catches. While Mason did not get a carry in the scrimmage, he did have four catches for 26 yards.
Marks made a pair of catches against an underclassmen defense, but his helmet came off after a hard hit by freshman linebacker Chandler Leniu and he did not return to the field.
The scrimmage was also the first true test of whether the players who looked good enough in drills to see the field could show that talent in a game situation.
The Cougars were in full pads for just the second day of fall camp, and it was the first time the tackles were live.
"There's nothing like hitting someone else who's not your teammate," linebacker Darryl Monroe said. "But it still feels good because you know you've got those players who all look good in just jerseys and whatnot but when the pads come on, that's when you get like the closest to in-game feel and you can just get the right examples and stuff and know what you really need to correct."
The scrimmage affirmed that the defensive line is a strength of the team, accounting for three sacks while holding the running backs to 10 yards on nine carries.
"It's key, it's just like offense," said defensive coordinator Mike Breske after practice. "Everything starts with the offensive line and it's the same on the dark side, everything starts on the defensive line."
In addition to giving a glimpse of how the team currently looks, a few plays were devoted to showing what the Cougars will look like in the future.
Leniu's hit on Marks came just one play after he intercepted quarterback Connor Ennis on the first play of the series. On the following play he ran across the field to tackle Mason, stopping what could have been a big gain.
Perhaps no young player showed more than quarterback Peyton Bender, who entered the first 11-on-11 setting of his collegiate career and completed his first six passes, including two for touchdowns.
Local journalism is essential.
Give directly to The Spokesman-Review's Northwest Passages community forums series -- which helps to offset the costs of several reporter and editor positions at the newspaper -- by using the easy options below. Gifts processed in this system are not tax deductible, but are predominately used to help meet the local financial requirements needed to receive national matching-grant funds.
Subscribe to the sports newsletter
Get the day's top sports headlines and breaking news delivered to your inbox by subscribing here.
---