A&E > Entertainment
Indaba has global start, local finish
Indaba Coffee now roasting beans sourced from around the world
Fri., Aug. 15, 2014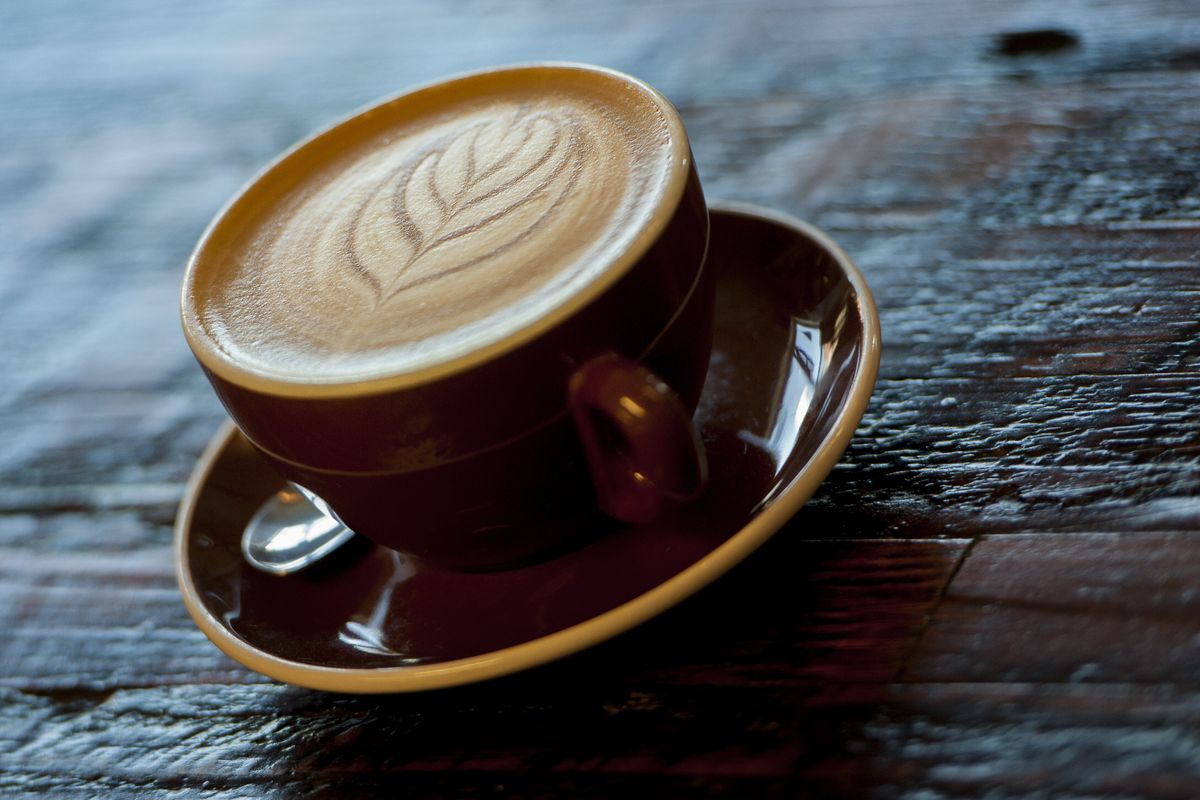 Indaba's lattes and other drinks now feature coffee roasted in-house.
Indaba Coffee Bar is now Indaba Coffee Bar and Roastery.
The boutique coffee shop in Spokane's West Central neighborhood began roasting its own beans earlier this year and has recently hired its first full-time coffee roaster.
Michael Glaze, the former waffle and ice cream maker at The Scoop on Spokane's South Hill, has been serving as an apprentice since early spring, getting a feel for the machine before starting work in June. He goes full time this month.
It won't be unusual for customers to buy lattes made by the same man who roasted the beans. Glaze will work as a barista as well as the roaster.
"I've wanted to get into specialty coffee for a long time," he said. "I moved to Spokane in 2009" – from Wisconsin, for school: Moody Bible Institute – "and Indaba became a good place for me to come."
Glaze didn't just hang out and drink coffee. He began attending barista functions, volunteering at his campus coffee shop and roasting his own beans at home.
Indaba appealed to him because of its philosophy.
"It's the caring about people," Glaze said. "It's not just business. It's not just product. It's all incorporated."
A section of the shop, just inside the front door, off to the right, has been cordoned off for the new small-batch roaster, which handles two pounds of coffee at a time.
Owner Bobby Enslow bought the roaster, a Proaster that cost about $15,000, in February. Sometime in March, Indaba transitioned to exclusively serving its own house-roasted coffee. Previously, Indaba rotated through coffee from other independent, boutique roasters, most of them local. Now, it offers six different single-origin coffees of its own, including a newly launched black label program spotlighting its higher-end roasts. Beans come from Costa Rica, Ethiopia, Kenya, Colombia, Rwanda.
The idea, Enslow said, it to make an impact globally as well as locally.
When Indaba opened in 2009, "I wanted to create a community space," he said. "This was before Kendall Yards. There was nothing in West Central in terms of a third space. You have your work space. You have your home space. And you have your third space, where it's neutral" – and the focus is on facilitating social, community and creative interaction. "This neighborhood needs something where people can connect with each other and help spur community."
This is his neighborhood.
Enslow graduated from North Central High School in 2002. After graduating from college in 2008 – he has an undergraduate degree in finance and master's degree in business administration from Washington State University – he wanted to give back to the place where he grew up. The idea for Indaba, he said, came from his pastor at The Porch, a Christian and Missionary Alliance church a few blocks down Broadway from the coffee shop.
While Indaba is a for-profit business, it partners with community organizations – like Second Harvest food bank, the youth career and employment center Next Generation Zone and Project Hope, a community engagement and job training program for neighborhood youth – to fund meals for those in need and offer internships and job training for young people. For each retail or wholesale bag of its coffee sold – its half-pound bags retail for $8 to $16 – Indaba donates to Second Harvest. Enslow said so far that averages about 100 meals per month.
As for global impact, he said he's committed to direct trade, which means paying 50 to 100 percent above fair trade prices and making more of a difference in the lives of coffee farmers around the world.
"It's a dream to visit the farms," Enslow said.
Meanwhile, this fall, he plans to restart Saturday cuppings, which allow people – coffee professionals as well as customers – to learn about and evaluate different roasts. The ritual includes weighing, grinding, smelling, steeping, spooning – or breaking the crust of grounds that gathers at the surface of the cup – and slurping, not sipping, the coffee.
"Coffee is actually 100 times more complex than wine," Enslow said, during a recent private cupping at the shop. "When you're adding hot water – see how it's kind of blooming? – that's an indication it's fresh coffee. You slurp it like a kid would slurp soup. The louder and more annoying the better it is."
He demonstrates, first, with a slurp of Ethiopia Kifle Station. "Floral, citrus, maybe a little chocolate, lemongrass, tea," he surmises.
Next up is Aricha Natural, also from Ethiopia. "Dark chocolate, soil, earthy. I get a little bit of rhubarb," Enslow said.
"I was going with cranberry," Glaze said.
And, Enslow said, "This is just the smell."
When it comes time to taste, his palate detects lemon and blueberry.
The popular Montaña del Diamante from Costa Rica offers the more traditional coffee flavors of toffee and caramel.
Take it to go in Indaba's signature Lemon Vanilla Latte, which features fresh lemon peel, lemon vanilla syrup and a double shot of espresso.
Indaba also offers a subscription service, which operates much like a wine club. Customers can sign up to receive one to four pounds of coffee per month for $30 to $384 for three, six or 12 months.
Indaba is open from 7 a.m.to 5 p.m. daily at 1425 W. Broadway Ave. Call (509) 443-3566. On the Web: indabacoffee.com.
Local journalism is essential.
Give directly to The Spokesman-Review's Northwest Passages community forums series -- which helps to offset the costs of several reporter and editor positions at the newspaper -- by using the easy options below. Gifts processed in this system are not tax deductible, but are predominately used to help meet the local financial requirements needed to receive national matching-grant funds.
Subscribe to the Spokane7 email newsletter
Get the day's top entertainment headlines delivered to your inbox every morning.
---