News > Features
Tiny house trend leaves stuff behind
Sun., Aug. 24, 2014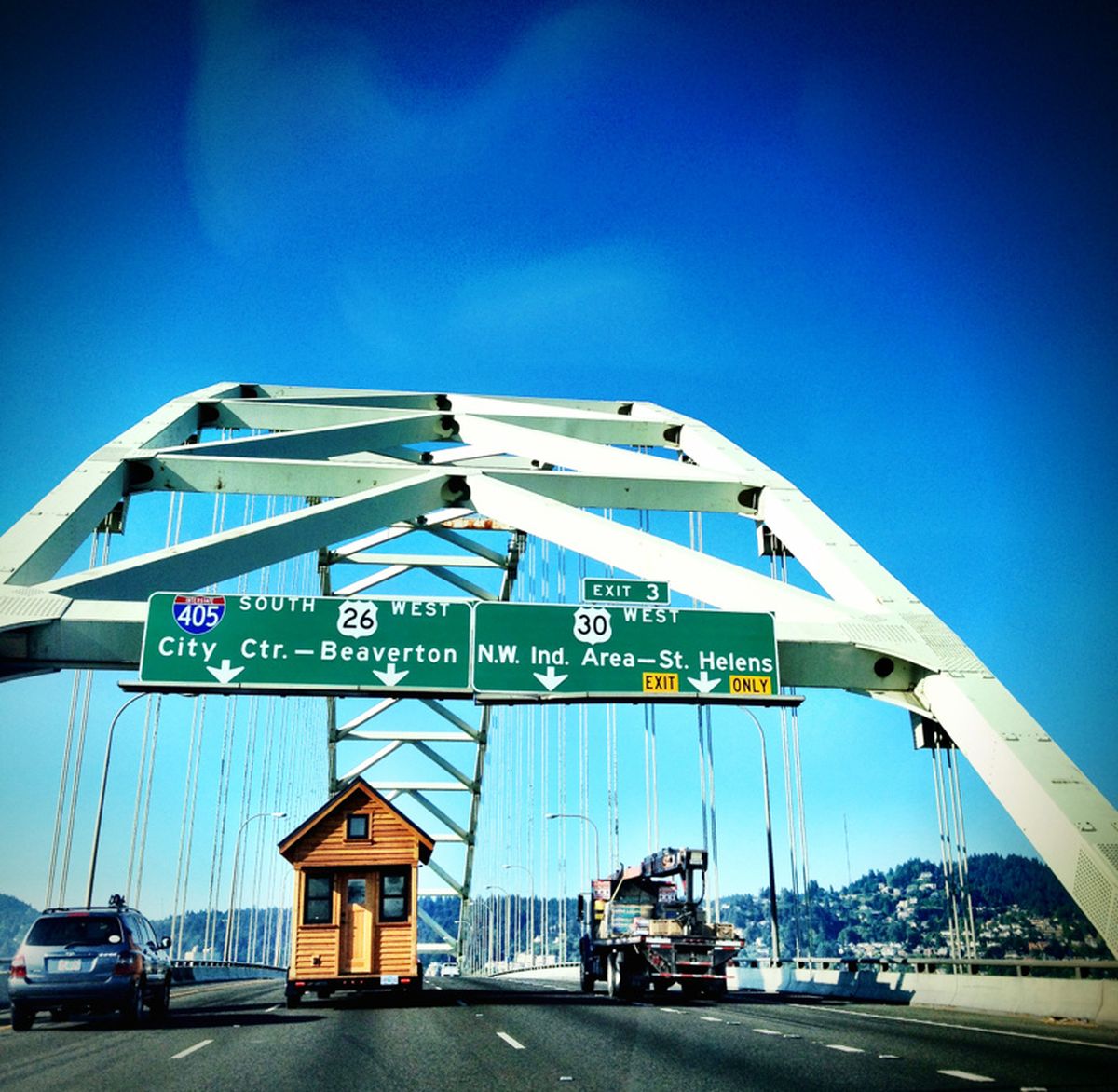 Tammy Strobel's tiny house was built on an 8-by-16-foot trailer for about $33,000. (Photos courtesy of Tammy Strobel)
More than 150 people gathered at Auntie's Bookstore in Spokane recently to hear from minimalists Josh Millburn and Ryan Nicodemus, who talked about a lifestyle free of control from material things.
The two are part of a growing community, locally and nationally, of people who are choosing to live smaller – they're in tiny homes or apartments, they've pared their belongings to only essential possessions, or both.
Millburn and Nicodemus have written multiple books about their lifestyle, and they've appeared on national TV and in The New York Times, USA Today and Forbes.
"Everything I own adds value in some way. It brings joy or serves a purpose," Nicodemus said in Spokane. The two were touring to support their new book, "Everything That Remains."
Their message, said Nicodemus, is, "love people and use things, because the opposite never works."
Raised in Ohio, the Minimalists, as they are called, said they climbed atop the corporate ladder before realizing they were not happy in their three-story homes filled with clutter. Now they live in Missoula in small apartments with only the possessions they feel they need.
"It's not about deprivation," said Nicodemus. "If you went into my apartment, you wouldn't say, 'This guy is a minimalist.' You'd say, 'Wow, this guy is pretty tidy.' "
It's not about the money. They still spend money on meals, concerts and drinks, they said. But they prefer to invest in people instead of things, like hiring a full-time publicist.
"We certainly don't have stockpiles of money in the bank by any stretch, but if we ever got to the point where I'm like 'Wow, I'm just sitting on all this money,' then I would probably find ways to invest in more people or ways to invest in spreading this message," Nicodemus said.
A minimalist lifestyle manifests itself differently for every person. One incarnation is the tiny-house movement, which has become popular in cities around the country including Portland and Seattle.
Millburn and Nicodemus met one woman on their most recent tour, Tammy Strobel, who lives in a 128-square-foot house, they said.
"She had everything she needed. But everything she had there was gorgeous and high quality," Millburn said.
Strobel shares her tiny house in Northern California with her husband and two cats. She and her husband could not afford to buy an expensive home, so they hired builders to construct a tiny home that has everything they need. It's mobile, so they often are on the move and rent land to live on.
Minimalism and the tiny house movement are not the same, although they are linked. Nicodemus said there are elements of minimalism in tiny houses.
"When someone chooses to live in a tiny home, that is an example of them living deliberately. It's an example of them really going through detail by detail, what they want their lives to look like."
Millburn said minimalism is living in a way appropriate for one's needs. A tiny home is a way to force that appropriateness.
So far, tiny houses have not gained popularity in Spokane like they have elsewhere in the Pacific Northwest. But one Spokane resident, Cecile Charles, wants to give it a try.
In Charles' case, the appropriateness that comes with choosing what possessions to keep has been forced upon her. She and her husband had to leave their previous residence after what she calls "a series of unfortunate events." The couple is gleaning materials to build a tiny house with a budget of $1,000.
Charles owns an antique shop called The Heart of Spokane; her husband, Michael Charles, is a janitor coordinator at The Spokesman-Review. Currently they're living in a trailer on their 20-acre property in the Tumtum area north of Spokane.
But Charles has been fascinated with the tiny house movement for years, and decided this was an opportunity to build one on her land.
Charles uses Craigslist, Spokane Freecycle and word-of-mouth to obtain materials for her tiny house. She has a list of 20,000 items she needs, and so far is about one-third of the way toward her goal.
In some cities, like-minded individuals have formed tiny house villages, sometimes to help the homeless.
Elaine Walker is the president of the Tiny House Community, which is an alliance and resource for tiny house enthusiasts. Walker said the idea of having tiny houses for homeless people is not uncommon. In Portland, a community of tiny houses called the Dignity Village supports 60 homeless residents, and in Eugene, the Opportunity Village provided temporary shelter with tiny houses for up to 45 adults.
Charles said she'd like to consider building more tiny homes on her property for rent, perhaps earmarked for homeless veterans in Spokane.
"I think what a lot of people need to realize is: If they're homeless or if they don't have money, that doesn't mean they can't have a house," Charles said.
Nicodemus and Millburn take that even further. They said there are different recipes for minimalism, but it all comes down to not letting a home or the things they have define them.
"Instead of cramming a life into a house, I'm able to set up my home around my life," Millburn said.
Local journalism is essential.
Give directly to The Spokesman-Review's Northwest Passages community forums series -- which helps to offset the costs of several reporter and editor positions at the newspaper -- by using the easy options below. Gifts processed in this system are not tax deductible, but are predominately used to help meet the local financial requirements needed to receive national matching-grant funds.
Subscribe now to get breaking news alerts in your email inbox
Get breaking news delivered to your inbox as it happens.
---