News > Features
Tips to surviving the holidays without gaining too much weight
Sun., Dec. 14, 2014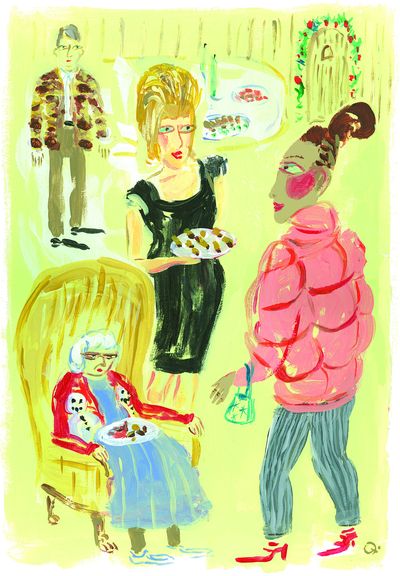 Nobody gains 20 pounds all at once. Extra weight creeps up on us over time.
Especially around this time, said Lisa Randall, a dietitian and diabetes educator at the INHS Community Wellness Center.
The season of weight gain starts with Halloween (candy), then moves to Thanksgiving (feasts) and continues through the holidays to New Year's (parties, cookie platters, cheese plates, more feasts).
"Our obesity crisis is based on a 5-pound weight gain per year, and most people do that over the holidays," Randall said. "… People think they take it off after January. They don't really ever. By the time the next year comes around, they put on another 5 pounds."
The season presents such a challenge for people trying to lose weight that educators encourage them instead just to try not to gain it.
Here are some tips from Randall and others for enjoying the food parts of the holidays without sabotaging your weight.
None of them involves abandoning customs – just tweaking them.
"Traditions are based on food. People gather around food," said Natalie Tauzin, a dietitian at the Spokane Regional Health District. And holiday gatherings are among "the few times that people actually sit down and tell stories and … look each other in the eye and have conversations."
• Arrive at parties fashionably hydrated. Before leaving home, eat a snack of fruits and vegetables and drink water or tea – so you don't arrive thirsty and down an alcoholic beverage immediately upon arrival. The latter would deliver "a ton of calories, and you're going to get kind of loopy and then eat with abandon," Tauzin said.
• Avoid making exceptions for special occasions – because they all tend to be "special occasions." If we indulge in cake, candy, cookies and pie every time an event strikes us as special, "then we can expect to gain weight," Randall said.
• Hold on to your favorite recipes. Just eat less of what you cook. "Have the cheesecake, but just have a bite," Randall said. "Don't have the cheesecake and the apple pie and a piece of pumpkin pie."
• And really, really enjoy that bite, advised Rayshal Spalding, a culinary school graduate and University of Idaho nutrition student who taught a healthy holiday cooking class this month at Gritman Medical Center in Moscow.
"Take the time to please all of your senses. Look at it and smell, and take small bites and savor that," Spalding said. Love fudge? "Have a piece of it, and eat it slowly."
• Or slim down those favorites. Gotta have gravy? Before serving it, refrigerate it – then skim off the fat that solidifies at the top. By one estimate, Tauzin said, that removes 56 grams of fat from 1 cup of gravy.
• Lighten your spuds. "Everyone loves mashed potatoes," Tauzin said, and for good reason. They're generally loaded with butter, cream and cheese. Cut the fat by switching from cream to whole milk, then to low-fat milk: "You can take it down with each holiday, or you can go for the gusto and go with skim milk."
Alternatively, replace some cream with broth or the water used to boil the potatoes. To boost flavor, add garlic or a little Parmesan cheese. A little of those lends a lot of flavor.
• Go crust-free in the dessert round. Most of the fat in a pie is hiding in the crust, Tauzin said. Serve custard or another crustless dessert. Add a dab of whipped topping for sweetness and looks.
• Exchanging an equal amount of unsweetened applesauce for oil and eggs in baked goods cuts calories and fat and works well in quick breads, such as apple bread. (Use a quarter cup of applesauce per egg.) Careful, though: Applesauce ramps up the sugar and carbohydrate content, Spalding said.
• Sprinkle powdered sugar on a cupcake or cookie rather than frosting. It looks festive, it's sweeter and it "cuts way down on the fat," Tauzin said.
• Beware: Many home cooks snack as they work, Spalding said. "By the time they sit down to eat, they've already consumed the amount of calories that they should be having for the entire day," she said. "And then they sit down and have another meal." Consider keeping fresh vegetables or fruit to snack on instead.
• Don't skip meals. "We all know you end up thinking, 'Oh, now I've got two meals worth of meals I can eat,' " Tauzin said. Instead, hungry and irritable, people tend to go for the quickest energy source available – cookies, chocolate – and end up eating in excess.
• To cut stress, prioritize what's critical. Tauzin said women especially seem to struggle to finish holiday projects they deem crucial – sending cards, choosing gifts, cooking special dishes.
• And make time for physical activity, Tauzin added: "something where you're nurturing yourself," whether it's a walk or meditation. "Unless you can manage your own stress, you're going to go out of control with your eating."
• Create traditions that don't involve food. "For the holidays where I grew up," Tauzin said, "we'd go out after the meal and walk around town looking at Christmas lights."
Local journalism is essential.
Give directly to The Spokesman-Review's Northwest Passages community forums series -- which helps to offset the costs of several reporter and editor positions at the newspaper -- by using the easy options below. Gifts processed in this system are not tax deductible, but are predominately used to help meet the local financial requirements needed to receive national matching-grant funds.
Subscribe to the Coronavirus newsletter
Get the day's latest Coronavirus news delivered to your inbox by subscribing to our newsletter.
---