News > Features
Spotlight: Gonzaga lecture series lands laureate Goldsmith
Sun., Feb. 9, 2014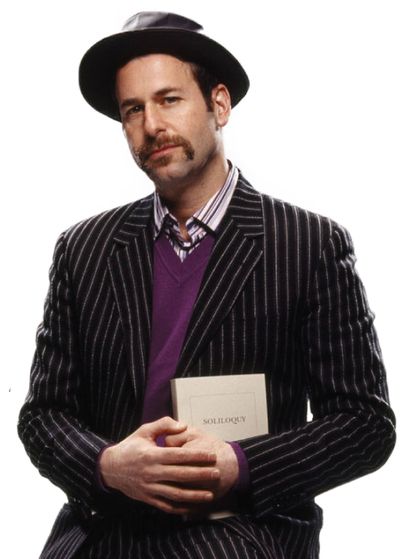 Kenneth Goldsmith has read poetry at the White House and jousted with Stephen Colbert. He's the first-ever poet laureate of the Museum of Modern Art in New York, and has presented poetry at the Whitney Museum of American Art. He's written books and developed UbuWeb, a online archive dedicated to digital presentations of avant-garde and outsider art.
Now, he can add "visited Spokane" to his list of credentials.
Goldsmith will be in town Monday for Gonzaga University's Visiting Scholars Series. He'll make two free public lectures, one at 1:10 p.m. in Room 110 of the Jundt Art Center, on UbuWeb, and the other at 7 p.m. in the Wolff Auditorium of Jepson Hall. That talk is titled, "I Look to Theory Only When I Realize That Somebody Had Dedicated Their Entire Life to a Question I Have Only Fleetingly Considered." He'll read from his latest book of poetry, "Seven American Deaths and Disasters."
In "Seven American Deaths," Goldsmith crafted prose poetry from the historic radio and television broadcasts announcing the deaths of John F. Kennedy, Robert F. Kennedy, John Lennon and Michael Jackson, and the coverage of the Challenger space shuttle explosion, mass shootings at Columbine High School in Colorado and the Sept. 11, 2001, terrorist attacks.
As he said on "The Colbert Report" last summer, he didn't write the book. He compiled and transcribed the content. A disc jockey in Dallas slowly realizes that a shooting in downtown on Nov. 22, 1963, was a monumental event. Morning drive shock jocks take to the airwaves as airplanes crashed into the Twin Towers on Sept. 11, 2001.
"Every transcription has the mark of its own era on it," Goldsmith told Colbert. "These guys who are broadcasting this are not prepared in any way for this to happen. And suddenly they are improvising. They are riding by the seat of their pants and they're making it up as they go along. And this happens again and again and again."
UbuWeb, meanwhile, is the place to explore some of the world's best avant garde art – for free. Listen to music by Brian Eno and John Cage, delve into poetry by surrealist photographer Man Ray, read articles about Andy Warhol, view a documentary about Salvador Dalí or hear an excerpt of Spalding Gray's "Sex and Death to the Age 14." The William S. Burroughs section, for instance, includes recordings the late writer made with R.E.M. ("Star Me Kitten"), Kurt Cobain ("The 'Priest' They Called Him"), Ministry ("Quick Fix"), and Laurie Anderson ("Sharkey's Night").
Goldsmith's presentations are sponsored by the GU English and Art departments, the College of Arts and Sciences, the Faculty Speakers Committee and the Academic Vice President's Office. Check out Goldsmith on "The Colbert Report" at www.colbertnation.com; search for "Kenneth Goldsmith."
Love is in the air
Friday is Valentine's Day, and the Spokane Symphony is planning a weekend program of romance.
Watch the classic 1942 romance "Casablanca" on the big screen while the orchestra plays along with Max Steiner's Oscar-nominated score.
Steiner, by the way, was an Austrian who studied with Johannes Brahms and Gustav Mahler. He wrote music for more than 300 films, and won Oscars for his work on "The Informer" (1935), "Now, Voyager" (1942) and "Since You Went Away" (1944). He also composed the scores to "King Kong" and "Gone With the Wind."
The concert will be at 8 p.m. Saturday at the Martin Woldson Theater at the Fox. Morihiko Nakahara will conduct. Tickets begin at $26 and are available through the Fox box office, 1001 W. Sprague Ave., or online at spokanesymphony.org.
Local journalism is essential.
Give directly to The Spokesman-Review's Northwest Passages community forums series -- which helps to offset the costs of several reporter and editor positions at the newspaper -- by using the easy options below. Gifts processed in this system are not tax deductible, but are predominately used to help meet the local financial requirements needed to receive national matching-grant funds.
Subscribe to the Coronavirus newsletter
Get the day's latest Coronavirus news delivered to your inbox by subscribing to our newsletter.
---