News > Features
Social calendar
Sun., Feb. 9, 2014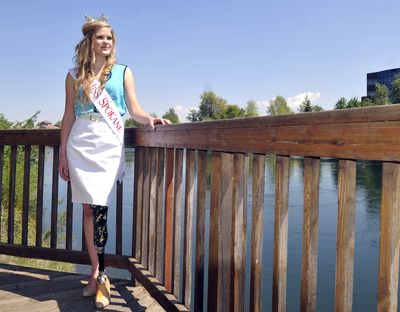 Spokane Tribal College Dinner and Art Action - An evening of exhibition dancers, visual artists, live music, live and silent auctions and fine dining. Proceeds go to the Spokane Tribal College. Sunday, 5 p.m., Lincoln Center, 1316 N. Lincoln St. $30. (509) 218-7278.
"My Funny Valentine" - A JACC Theatre Troupe Fundraiser. An evening taking a comical (and musical) look at love in all its stages, from first sight to marriage, featuring 10 local vocalists. Wine and dessert available for purchase along with raffles. Purchase tickets at http://tinyurl.com/lg24wcl. Thursday, 7:30 p.m., Jacklin Arts and Cultural Center, 405 N. William St., Post Falls. $10/person, $18/couple, $75/table of eight. (208) 457-8950.
"Interlude" - A Valentine's Day dinner celebration of art by Carrie Vielle, food and music by composer John Eldwood. Friday, 6-8 p.m., Bank Left Gallery, Bistro, 100 S. Bridge St., Palouse. $35. (509) 878-8425.
Valentines Dessert Ball - Northwest Christian School Jazz Band presents this event featuring the big band Tuxedo Junction. Friday, 7 p.m., Service Station, 9315 N. Nevada St. $30/person, $50/couple. (509) 951-2870.
102nd Anniversary Miss Spokane Scholarship Pageant - Featuring the 2014 Miss and Teen contestants, 2013 titleholders, emcee Dave Sposito and special guest Miss Spokane 1994 Ann Marie Danimus. To be crowned this evening: Miss Spokane 2013, Miss Inland Empire 2013, Miss Spokane's Outstanding Teen 2013 and Miss Inland Empire's Outstanding Teen 2013.Tickets may be purchased from any contestant, committee member, by contacting the Miss Spokane Scholarship Organization @ miss_spokane_ed@live.com or by phone. Feb. 16, Bing Crosby Theater, 901 W. Sprague Ave. $25, includes commemorative program book, $10/reception. (509) 850-6192.
T.I.D.E.S. Tea - A fundraiser for Teamwork In Dance Education Support. Includes a three-course tea, silent auction, tea table and entertainment provided by Dance Center of Spokane Competition Team. Feb. 16, 1-4 p.m., East Central Community Center, 500 S. Stone St. $15/adults; $10/children 5-10; 4 and younger free. (509) 448-2464.
Spokane Go Red for Women Luncheon - This luncheon supports efforts to save lives from heart disease, the No.1 killer of women, by sharing knowledge about heart disease prevention and raising money for research and community programs related to women's heart health. Featuring keynote speaker Ali Vincent, Season 5 winner of "The Biggest Loser." Two sessions offered from 10:15 a.m.-11:20 p.m., silent auction from 10-11:55 a.m. and a heart-healthy lunch from noon-1 p.m. Feb. 19, 10 a.m.-1 p.m., Spokane Convention Center, 334 W. Spokane Falls Blvd. $125. (509) 279-7000.
"Changes" Benefit Concert - Seventh annual concert to benefit Spokane Valley Partners' Food Bank. Characters from "Les Miserables," "Cinderella," "Grease," "The Wizard of Oz" and "Frozen" will take the stage. Katie Steiner of Q6 News returns as the emcee. Dessert available after the show. Feb. 21, 7 p.m., St. Joseph Church - Otis Orchards, 4521 N. Arden Road, Otis Orchards. In advance: $10/adults, $5/age 11 and younger; at the door: $12/adults, $7/age 11 and younger. (509) 926-7133.
Piping for Princes - Fundraising performance of Albeni Falls Pipes and Drums of North Idaho. Scottish and Irish tunes, Highland dancing, Highland drumming, clogging, singing and introduction to what this group is all about. Money raised will be to purchase Prince Charlies (uniforms) for memorial events. Feb. 22, 7 p.m., Salvation Army Kroc Center, 1765 W. Golf Course Road, Coeur d'Alene. $15/adults, $12/youth to age 13 and seniors. (208) 772-0833.
The Symphony and Civic Together: "Les Miserables" - The Spokane Symphony, Spokane Civic Theatre, and Martin Woldson Theater at The Fox present this fundraiser for all three organizations. Featuring Civic's original cast accompanied by the Spokane Symphony orchestra. Two performances, March 1 at 7:30 p.m. and March 2 at 2 p.m. Martin Woldson Theater at The Fox, 1001 W. Sprague Ave. $40-$125. (509) 624-1200.
Academy Awards Screening Fundraiser - Benefits Coeur d'Alene Summer Theatre. Stroll down the red carpet in your favorite formal attire, as your favorite movie character or simply in your comfy casual clothing. View the live screening of the Oscars on a 30-foot screen and in HD surround sound. Coeur d'Alene Summer Theater's new artistic director Jadd Davis will be the emcee for this fun-filled evening. It will include live performances with music from famous movies. You can also partake in our film trivia contest. Fill out a show ballot and win an Oscar of your own. Beer, wine and food will be available for purchase as you enjoy Hollywood's most glamorous evening. Doors open at 5 p.m. March 2, Bing Crosby Theater, 901 W. Sprague Ave. $15. (800) 325-SEAT.
16th Annnual Spokane AIDS Network Oscar Gala - Celebrate Hollywood's biggest night at this black-tie affair and support the Spokane AIDS Network, with the live Academy Award telecast, three-course dinner, live and silent auctions featuring local and one-of-a-kind Hollywood items. Benefits SAN's direct client services and prevention programs. March 2, 5 p.m., Northern Quest Resort & Casino, 100 N. Hayford Road, Airway Heights. $125. (509) 455-8993.
Christian Center School Auction and Dinner - 31st annual event and the theme is "Faith More Precious Than Gold." Auction begins at 5 p.m. and dinner at 6:30 p.m. Silent auction, live auction and raffles throughout the evening. RSVP by Feb. 27 for choice of entree. March 7, 5 p.m., Coeur d'Alene Inn, Best Western, 506 W. Appleway Ave., Coeur d'Alene. Advance: $20/person, $140/table of eight; after Feb. 21: $25/person, $180/table of eight. (800) 251-7829.
Wine, Stein and Dine - Sample wine, microbrew and food from more than 85 area wineries, microbreweries and restaurants. Silent auction, wine tree raffle, live entertainment and complimentary wine glass or beer stein. Annual premier benefit for the Post Falls Education Foundation providing teaching grants for innovative classroom education for all grades in the Post Falls School District. Tickets available at Panhandle State Bank branches, Trading Company, Super 1 Foods and Enoteca Fine Wine & Beer, all in Post Falls, and the Post Falls Chamber of Commerce. March 8, 7 p.m., Greyhound Park and Events Center, 5100 W. Riverbend Road, Post Falls. $45/advance, $60/door, includes all food and drinks. (208) 661-1538.
Divino Fashion Runway Show - Opens with Canines on the Catwalks. Proceeds from the show will go to SpokAnimal CARE Shop, drink, and enjoy entertainment along with exquisite fashions and the most adorable dogs you have ever seen. March 21, 6 p.m., Service Station, 9315 N. Nevada St. $30/advance, $35/door; students $15/advance, $18/door, free/age 5 and younger. (509) 850-0737.
Local journalism is essential.
Give directly to The Spokesman-Review's Northwest Passages community forums series -- which helps to offset the costs of several reporter and editor positions at the newspaper -- by using the easy options below. Gifts processed in this system are not tax deductible, but are predominately used to help meet the local financial requirements needed to receive national matching-grant funds.
Subscribe to the Coronavirus newsletter
Get the day's latest Coronavirus news delivered to your inbox by subscribing to our newsletter.
---