Sports
Harvey eyes prize
Mt. Spokane senior confident he can win State 3A title at 220
Thu., Feb. 20, 2014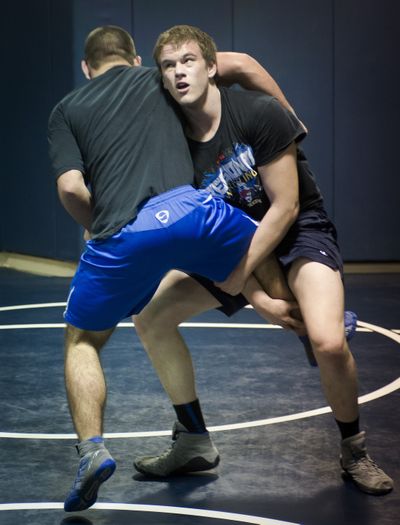 Tom Harvey is one of those wrestlers rich in skills and even richer in determination.
In other words, the Mt. Spokane senior 220-pounder never runs out of fuel.
"He has a big gas tank," his coach, Travis Hughes, said.
Harvey finished second last year at the State 3A tournament, losing 10-4 to a two-time state champ.
"I was definitely satisfied with the season," Harvey said. "I wanted to win, obviously, but I made a few mistakes (in the final). It gave me something to push for this season."
Although Harvey knew he would have to pull an upset to win, he was confident he could do so.
That's one thing Harvey doesn't lack. It's a quiet confidence, not cockiness.
"He's got a confidence that he thinks he's the best," Hughes said.
Harvey also respects his opponents.
"Anybody can beat you at any time," he said. "You can't take anything for granted."
Harvey knows he's been ranked No. 1 all year. But it means nothing to him unless he finishes with his arm raised in his final match and he steps to the top of the awards podium.
"I looked at the (state) bracket just to see who I open against," Harvey said. "The rest doesn't matter until it's over."
Hughes was asked where Harvey has improved since last year.
"When you're second at state you don't see huge improvements," Hughes said.
Harvey said he's done a little tweaking here and there. His strength is on top, where he relentlessly can ride opponents. He doesn't get stuck underneath much. The last time he was pinned was early last season at the Central Kitsap tournament.
"I went for a knee pick and he caught me and threw me," Harvey said. "Earlier in the year I lost to him by two points in the semifinals at Tri-State."
Harvey hasn't changed his approach much from last year, concentrating instead on polishing what he does best.
"I've improved a lot on my feet," he said. "I'm getting more takedowns and I'm blocking takedowns. My strong suit is on the mat. The little things I've done have made a difference."
He's maintained his endurance by running 3 to 5 miles three times each week during the season and lifting weights. He won't do any long runs or extended lifts this week because at this point it won't put any more gas in his tank.
Harvey didn't spend much time on the mat at regionals. He won all three matches by pin.
It doesn't matter to him if he wins by pin or by a convincing margin.
"If a pin presents itself I'm going to take it," he said. "I like breaking guys down and tiring them out."
His preparation this week won't change.
"I haven't won the state title yet," he said. "I'm not slacking off in my preparation."
Harvey takes a 32-2 record to state. His first loss was against the defending State 4A champ (6-2) and his second came in the finals at Tri-State where he dropped a high-scoring match (16-9) to a Montana wrestler.
He started wrestling when he was 4 years old.
"I didn't get serious about it until I was a sophomore," he said.
He was a win away as a sophomore from qualifying for state before making the huge leap last year.
Harvey quit football after his sophomore year to focus on wrestling. At 6-foot-3 he would have been an ornery lineman or linebacker.
"My friends tried to get me to come out the last two years but I really wanted to concentrate on wrestling," he said.
Hughes has no concerns with Harvey.
"He's an easy kid to coach," Hughes said. "He has the mindset that he's the guy to beat."
Harvey also is excited about his team's prospects at state. The Wildcats had their best finish ever last year when they took fifth, one spot out of a trophy.
He and the Wildcats want much more when the tourney begins Friday.
"We have a really good shot at winning," Harvey said. "We're taking the most (nine) we've taken to state. All of us could place if we wrestle to our ability."
Local journalism is essential.
Give directly to The Spokesman-Review's Northwest Passages community forums series -- which helps to offset the costs of several reporter and editor positions at the newspaper -- by using the easy options below. Gifts processed in this system are not tax deductible, but are predominately used to help meet the local financial requirements needed to receive national matching-grant funds.
Subscribe to the sports newsletter
Get the day's top sports headlines and breaking news delivered to your inbox by subscribing here.
---