Memorial for fallen Marine Sgt. Jacob Hess draws hundreds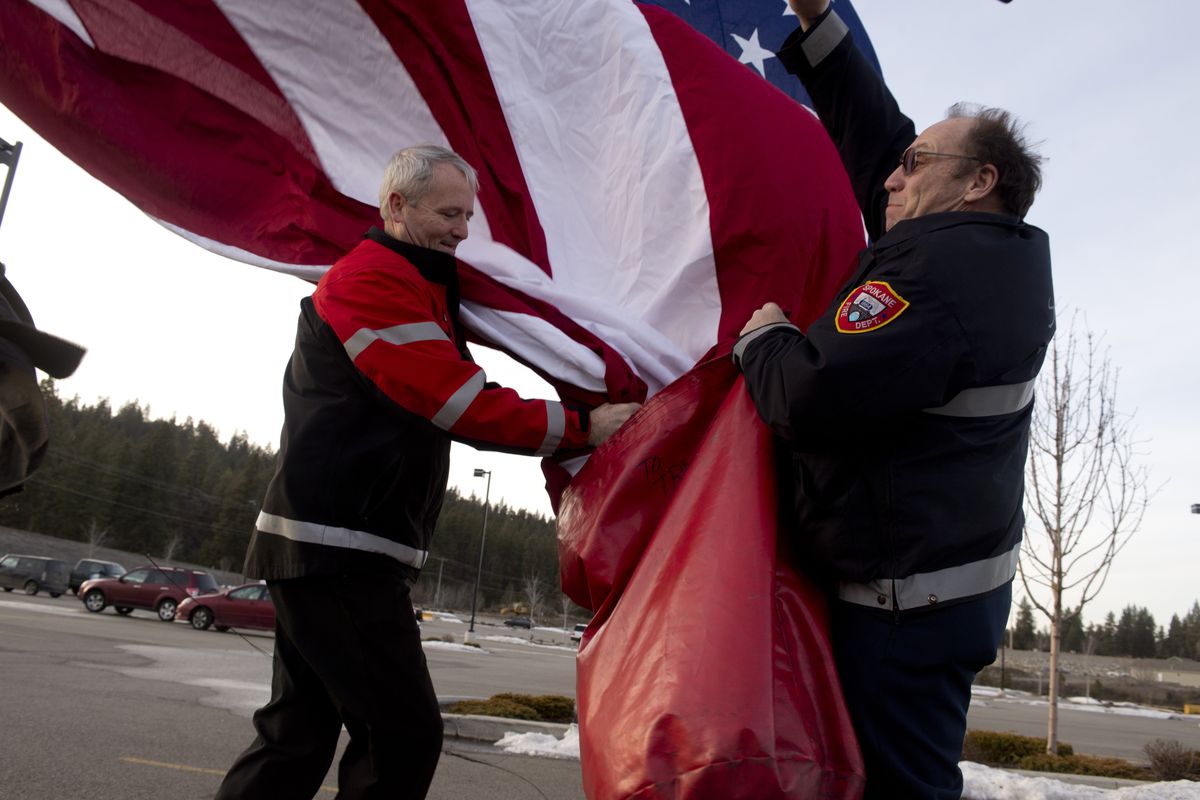 Several hundred people turned out Monday to honor Jacob Michael Hess, a 22-year-old Marine from Spokane who was killed in Afghanistan on Jan. 1.
"Leave here today knowing he's the best I've served with," his supervisor, 1st Sgt. Leon Banta, told those gathered in the Life Center Foursquare Church. "He was the epitome of what a leader in the Marines should be."
Hess was given full military honors, including a 21-gun salute. A Spokane firetruck, ladder extended, flew a large American flag in the parking lot. Among those in attendance was a large contingent of active-duty military as well as veterans.
Hess died while supporting military operations in Helmand province. He was serving in Marine Aviation Logistics Squadron 26, based at Marine Corps Air Station New River, adjacent to Camp Lejeune, N.C.
People who knew him best described his loyalty and devotion to family, friends and country.
Banta told the crowd that Hess was a special Marine who rose quickly in the ranks.
"He was my go-to guy," Banta said. "He was absolutely good at everything."
The average career Marine will take eight to nine years to reach the rank of sergeant. Hess, who joined in 2010, made sergeant in less than three years, out-competing a number of talented candidates, Banta said.
Not only was he smart and efficient, he was also known for his strength and quickness. "If you know Sgt. Hess, he was a physical fitness monster," Banta said.
Born on Feb. 5, 1991, in San Diego, Hess grew up in a military family, moving a number of times for deployments. He had his own passport by age 4. He spent seven years in Okinawa, forging childhood friendships during long days exploring the island's beaches. He considered Okinawa his emotional home.
Prior to his senior year of high school, Hess moved to Spokane with his family and graduated from North Central High School. Soccer and hockey were his favorite sports. He liked to read and had a knack for history. He had been hoping to take a tour of historic battle sites. A photo tribute during the service showed Hess and family and friends engaged in outdoor fun.
He didn't let his skills go to his head; he was humble and quiet, friends and family said.
Hess was a blood, platelet and bone marrow donor, and his family has suggested that those who wish to honor him follow his example.
His soccer coach, Mica Lamb, said Hess' arrival at North Central was like a gift to the soccer program. "The kid was tenacious. He would never give up," Lamb said.
Throughout his school years, he won multiple awards as a most valuable player for different teams. He was inducted into the National Honor Society and had a Congressional Award for citizenship.
Hess married his high school sweetheart, Bridget (Ramirez) Hess.
Father-in-law and Marine Master Sgt. Ismael Ramirez said he was impressed by Hess' devotion to his daughter, and gave Hess permission to marry her when he asked. The couple decided to join the Marines together. They married within a week of their respective boot camp graduations, family members said.
When Bridget Hess' unit came up for deployment, Jacob Hess volunteered for deployment as well.
"He wouldn't send his wife somewhere he wasn't willing to go as well," according to a write-up accompanying his memorial program.
The cause of Hess' death is under investigation. The Marines have said he died supporting military operations. His unit supports the MV-22 Osprey, a twin-engine tilt-rotor helicopter, which is used as a troop and supplies transport.
Hess is survived by his wife, Bridget; mother, Keirsten Lyons; father, Michael Hess; brother, Cameron Hess; grandparents James and Lynn Brink, and Robert and Charlene Hess; and extended family.
---