News > Spokane
Masonic Center being reborn
New owner envisions 'something different'
Thu., July 3, 2014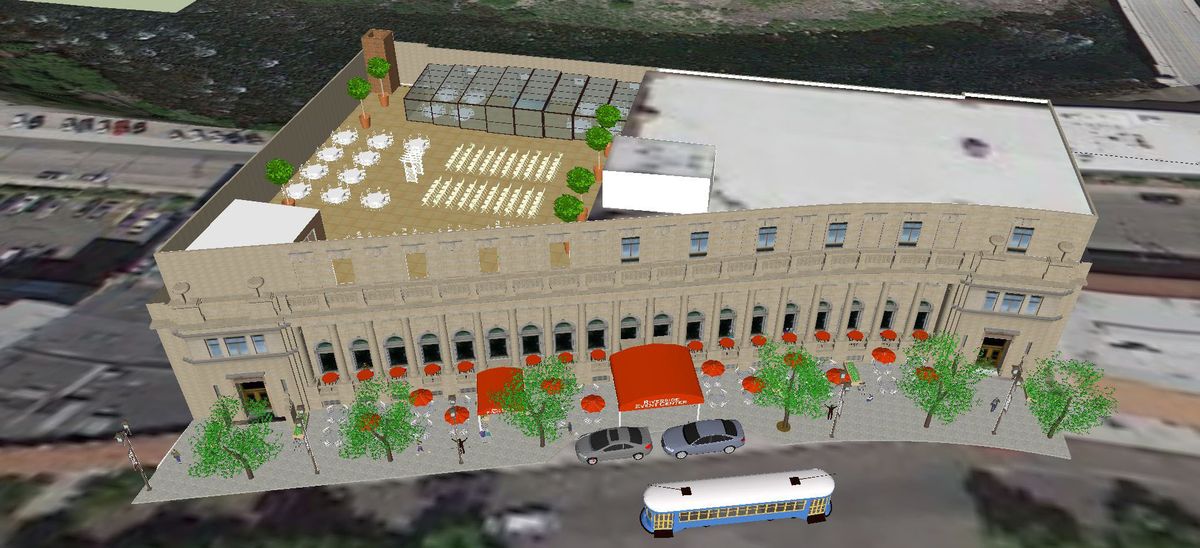 A rendering of the new Riverside Place under development in the former Spokane Masonic Center Building at 1108 W. Riverside Ave.
When Australian businessman Greg Newell told his wife he wanted to buy one of Spokane's most regal landmarks, she thought he was insane.
"She said: 'If you even think about this, it's over,' " Newell said. "So there was some negotiation for a period of time."
Luisita Newell said her husband's passion for the Masonic Center eventually won her over, and they ended up buying the historic building last fall for $1.1 million. Now that his wife has been sold on his enthusiasm to restore vibrancy to the neoclassical building, Newell is hopeful that the newly named Riverside Place will become a meeting spot and event venue the community can enjoy on a daily basis.
"It's something he's always wanted to do," Luisita Newell said, referring to the repurposing of a historic building. "It's hard to say no to your partner's dreams."
The Masonic Temple, as it was originally named, was completed in 1905. U.S. President Theodore Roosevelt visited the temple twice.
The building was occupied by the Masonic order and affiliated fraternal groups until 2013 when they sold it to Newell. It is now used as an event center for weddings, auctions and corporate meetings.
Newell's plans for the 110,000-square-foot historic building include adding two restaurants, two bars, two lounges, a cafe and a supper club to the interior. Changes made to the exterior of the building will be minimal, due to its listing on local and national historical registries. However, he said the city is likely to approve widening of the sidewalk in front of the building.
The first phase of renovation will be on the fourth floor, and Newell hopes it will be finished by next summer. The Commandry room on that floor will become the supper club, which will feature live music along with dinner. Dining space will be leased to other restaurants, though they have not yet begun the search for operators.
Newell envisions patrons barhopping within the building, something he noticed happening frequently while traveling through Europe. The roof will also become accessible, allowing people to enjoy the view of the city. During the winter months there will be glass enclosures to block the chill.
On the interior, many of the Egyptian artwork and Roman columns will be maintained, but Newell aims to infuse more natural light inside.
"This is going to be one of those areas that will certainly thrive," said Kimberley Scott, events manager for Riverside Place.
They hope the repurposing of the building will bring more people to the area to help the surrounding neighborhood flourish, including Kendall Yards across the river. They also want to draw people leaving the convention center.
"This area of town is ready to just start booming," Scott said. "It's just a great way to get this building back to the community."
Newell estimates the renovations will cost $4 million.
A main reason for Newell's purchase was to debut his company's robotic parking system, which would be located on the backside of the building. The parking system is being developed by his equipment management company, Power Handling Inc.
He is using this opportunity to build, test and showcase robotic parking in Spokane. People would drive into the robotic lot, which he said allows for more parking than a standard garage, and robots would move their cars. The person would then use a smartphone app to notify the system when they would return to the garage and the car would be waiting. In theory. The technology is two years away from being available, Newell said.
"It just made sense commercially and strategically," he said.
He is moving forward as quickly as he can to get approvals and begin construction. His company originally was based in Los Angeles. But the cost of having a business in Spokane was so much less than in Los Angeles that he moved here six years ago. For Newell, repurposing the Masonic Center into Riverside Place is part of "having a city that's appealing for people to move to – a city that has a life."
"I want to create something different, something good for Spokane," he said.
Local journalism is essential.
Give directly to The Spokesman-Review's Northwest Passages community forums series -- which helps to offset the costs of several reporter and editor positions at the newspaper -- by using the easy options below. Gifts processed in this system are not tax deductible, but are predominately used to help meet the local financial requirements needed to receive national matching-grant funds.
Subscribe now to get breaking news alerts in your email inbox
Get breaking news delivered to your inbox as it happens.
---