Sports > Seattle Mariners
Mariners can't return to diamond fast enough
Impressive first half of season has Seattle thinking postseason is within reach
Fri., July 18, 2014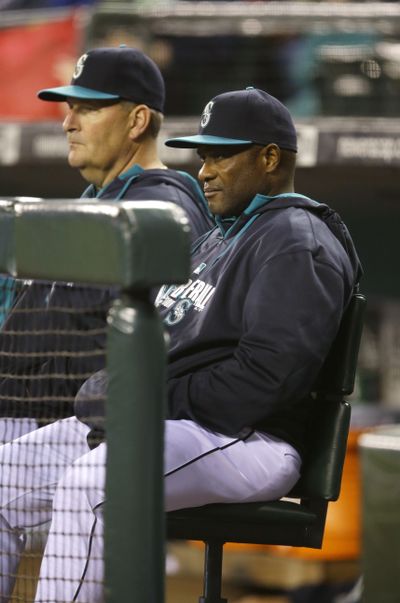 ANAHEIM, Calif. – For much of the last decade, the All-Star break was a needed respite from the losing and the frustration of an already lost baseball season for the Mariners.
But this year, it's different for fans. The break is taking too long. The Mariners can't get back to playing baseball soon enough. Seattle opens a three-game series with the Angels on Friday night in Anaheim.
Why the impatience?
Well, they are winning. They are relevant. They have legitimate postseason aspirations. That hasn't been the case for recent teams this late in the season.
Seattle is 51-44. It's just the fifth time in franchise history that the M's have won 50 games or more before the All-Star break. Their .537 winning percentage is the fifth best in the American League. They lead the race for the second American League wild card by 2 1/2 games over the Royals and Blue Jays.
The success wasn't completely expected. The Mariners figured to be better with the addition of Robinson Cano and the continued development of Kyle Seager and other young players, but this level of winning has exceeded expectations.
The goal of a winning season has been replaced by a berth in the postseason.
"I think this organization has come quite far," said manager Lloyd McClendon. "I think we've accomplished a lot, but in the end we haven't accomplished anything. But I certainly think we're headed in the right direction. I think it's nice for our fans. I certainly think this organization is headed in the right direction."
McClendon wouldn't boast that he expected this kind of success. He was still learning about his team when it left spring training on the final day in March.
"I didn't know what kind of club I had," he said. "And I didn't think I would know until we were 50, 60 games into the season, so no, I didn't think that. I thought our pitching was going to be pretty good. I didn't know about our offense – I still don't know about our offense. But I know our pitching's pretty darn good; our bullpen's been better than I thought it was going to be. So I like where we are."
But where are the Mariners?
Yes, they're winning and they're in the wild-card hunt now. But can it be sustained? Much has been made of the Mariners' positive run differential of plus-57. The number is astonishing considering the team is last in the American League in on-base percentage (.300) and on-base plus slugging percentage (.677), second to last in batting average (.245) and fourth to last in runs scored (3.98). How did they do it? Well, for much of the first half, they were hitting close to .290 with runners in scoring position – a pace that cannot be sustained – and the pitching staff has been one of the best in baseball.
The Mariners' starting rotation ranks second in the A.L. with a 3.52 earned-run average with Felix Hernandez leading all pitchers with a 2.12 ERA and Hisashi Iwakuma (2.98) and Chris Young (3.15) in the top 25.
The bullpen has been even better. The group, anchored by Fernando Rodney, who leads the American League in saves with 27, has a 2.39 ERA, which is the lowest in the majors. The unit has allowed the fewest number of extra-base hits.
The pitching has been good enough to carry Seattle through its offensive droughts. But can that formula carry the Mariners into the postseason?
"If we continue to pitch the way we're pitching, and if we stay healthy from an offensive standpoint, we've got as good a shot as anybody," McClendon said. "Do we have challenges? Absolutely we have challenges. We all know that. I know this: When you can shut down other teams, it makes those challenges a little easier to climb. So far our pitching's been shut-down type of pitching, so we'll see. We'll see."
McClendon is also waiting to see if general manager Jack Zduriencik will give him some help via midseason trades. The Mariners have considered adding Phillies outfielder Marlon Byrd and have also been linked to acquiring Tampa's Bay ace pitcher David Price and utility player Ben Zobrist.
And if they don't?
"I really do think we have enough in that locker room to win," said third baseman Kyle Seager. "We won in the first half. We got enough in there to continue to compete and win."
Local journalism is essential.
Give directly to The Spokesman-Review's Northwest Passages community forums series -- which helps to offset the costs of several reporter and editor positions at the newspaper -- by using the easy options below. Gifts processed in this system are not tax deductible, but are predominately used to help meet the local financial requirements needed to receive national matching-grant funds.
Subscribe to the sports newsletter
Get the day's top sports headlines and breaking news delivered to your inbox by subscribing here.
---
Subscribe and log in to the Spokesman-Review to read and comment on this story