News > Spokane
Winds test fire crews
Zero containment on fast-moving Carlton Complex
Sun., July 20, 2014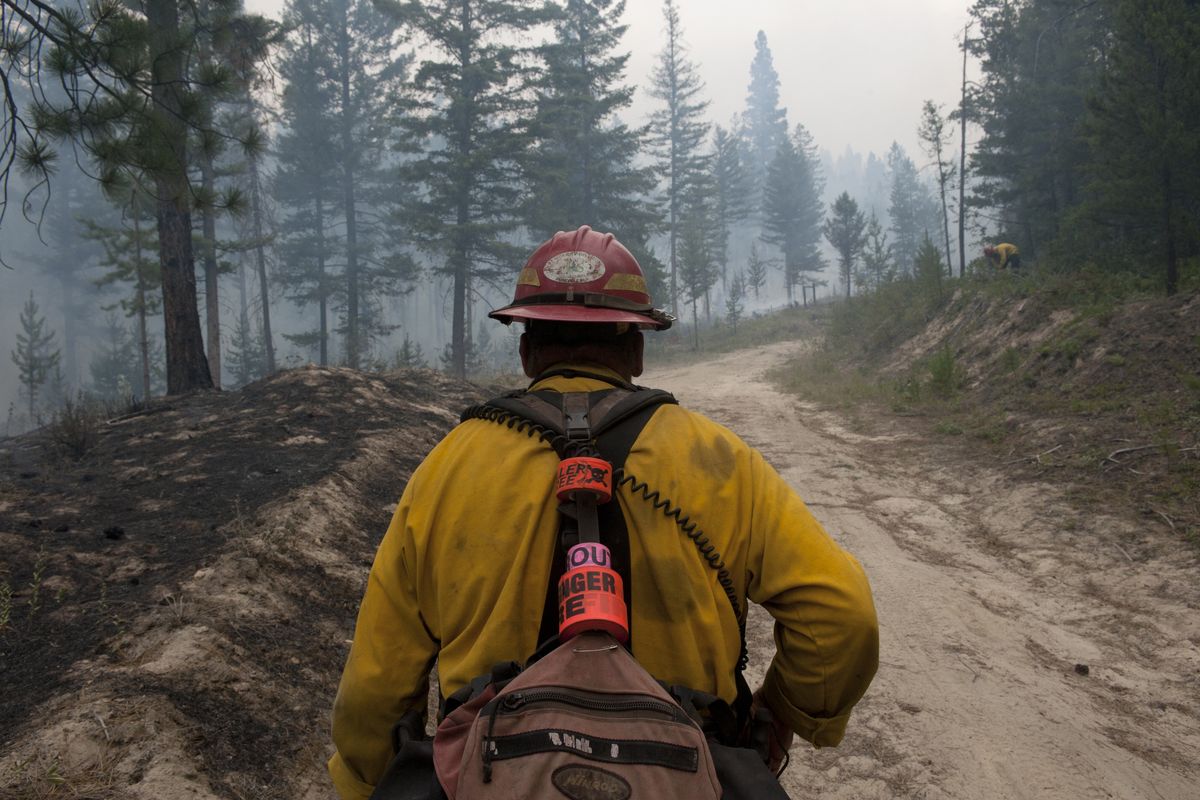 Mike Cade, with Oregon's Woodpecker Fire Crew, heads out to check on his firefighters as they work Saturday near Highway 20 near Twisp, Washington. (Tyler Tjomsland)
BREWSTER, Washington – The blistering, wind-whipped wildfires in north-central Washington raged out of control for a fifth consecutive day, blackening at least 215,000 acres in the Methow Valley and racing northeast toward the communities of Twisp and Winthrop.
Fire crews reported Saturday that about 760 firefighters continued to battle the massive Carlton Complex fire, which has overwhelmed firefighters since it was sparked Monday by lightning strikes. Fire officials estimate about 100 homes have burned so far.
Officials could not release any estimates on the fire's progress by dark Saturday. The most recent updates came at 10 a.m., when officials reported the fire was still zero percent contained.
During the day, helicopters carrying water and retardant, including four Blackhawks provided by the National Guard, assisted efforts at the north end of the fire near Carlton. Along Highway 20, crews cleared brush and sawed down trees ahead of the fire to create a buffer. Some patches of forest in Okanogan National Forest already were torched and blanketed in white ash.
Fires forced the Red Cross shelter in Twisp to move north to Winthrop and both towns were on alert for evacuation.
Air support also helped to suppress the south end of the fires, which raged along Antoine Creek and forced the evacuation of Alta Lake.
Residents of Malott, a town 15 miles north of Brewster, returned after evacuating Friday but were forced to evacuate again when fire torched homes in a canyon nearby.
The Washington state Department of Natural Resources announced Saturday evening that firefighters from New Mexico, Utah and Wyoming are coming to the state to help battle the blazes.
Red Cross shelters have been set up at Chelan High School, at Cornerstone Christian Fellowship Church in Omak, at First Baptist Church in Leavenworth and at the Winthrop Barn Auditorium in Winthrop.
For the second day in a row, the fire command post at Liberty Bell High School in Winthrop had communication problems. Phone and Internet services were down Saturday until about 2 p.m., causing a delay in public updates. Verizon's towers, running on diesel because of the widespread power outages, blacked out after fuel trucks were delayed at road blocks, fire officials said.
Firefighters were camped in tents outside the high school. Fire spokesman Chuck Turley said he heard of no incidents of heat-related illness or other injuries among the crews, and supplies at the camp were sufficient.
"We basically set up a city here," Turley said.
Wildlife will suffer from the blazes, however.
"We're losing thousands of acres of habitat," said Jim Brown, Washington Department of Fish and Wildlife regional manager, noting that the fires are scorching prime mule deer winter range, including portions of the state-managed Methow Wildlife Area. Wildlife biologists say most of the deer are safe at higher elevations, but they likely will suffer when snow forces them to the valley where their cover and browse has been charred.
Employees of Gebbers Farms, a large, family-owned apple and cherry growing operation in Brewster, helped protect the company's orchards, timber land and their homes, company spokesman Bob Grandy said. The company has "committed a lot of resources to help fight these fires," he said, hurriedly hauling water tanks, operating bulldozers and digging fire lines.
"You just do all the things you would normally do in this kind of situation to protect the community," Grandy said. "People here are pretty darn resilient."
Despite the fires, the 2014 cherry crop is in "great shape," he added, and the Gebbers Farms orchards have seen minimal damage.
Also Saturday, the Okanogan County Farm Bureau appealed for donations to provide 10-kilowatt generators to those without power. Jon Weiss, of Gebbers Farms, who was helping coordinate donations, said the bureau had 18 generators committed and would begin handing them out as early as today.
Power, phones, Internet cut off
Burned cables, telephone poles and power lines have cut off all power, phone and Internet services in several Central Washington towns.
Power is out in Pateros, Carlton, Twisp, Winthrop and surrounding areas, according to a news release from the Okanogan County Public Utilities District. The electrical system is "almost a complete loss," the release said, and could take several weeks to repair.
People hooking generators into their homes improperly are endangering repair workers by energizing lines that should be de-energized, the release said. Anyone who wants to hook their home up to a generator is asked to call (509) 422-3310 so it can be done safely.
Phone and Internet services, including 911, are out in Twisp, Winthrop, Mazama, Pateros and the surrounding areas, according to a news release from CenturyLink. Crews are working to fix the problem but services are expected to be out for an extended period of time.
Phone lines still are working in Malott, Omak, Okanogan and Oroville, but they are overloaded, the release said. Many people are getting a fast busy signal when they try to dial. People in those areas are being asked to limit their phone calls to emergencies only.
The Associated Press and Spokesman-Review staff writers Nina Culver and Rich Landers contributed to this report
Local journalism is essential.
Give directly to The Spokesman-Review's Northwest Passages community forums series -- which helps to offset the costs of several reporter and editor positions at the newspaper -- by using the easy options below. Gifts processed in this system are not tax deductible, but are predominately used to help meet the local financial requirements needed to receive national matching-grant funds.
Subscribe now to get breaking news alerts in your email inbox
Get breaking news delivered to your inbox as it happens.
---