A&E > Entertainment
A new kind of cool: The Scoop
South Hill's Scoop churns out housemade ice cream frozen with liquid nitrogen
Fri., July 25, 2014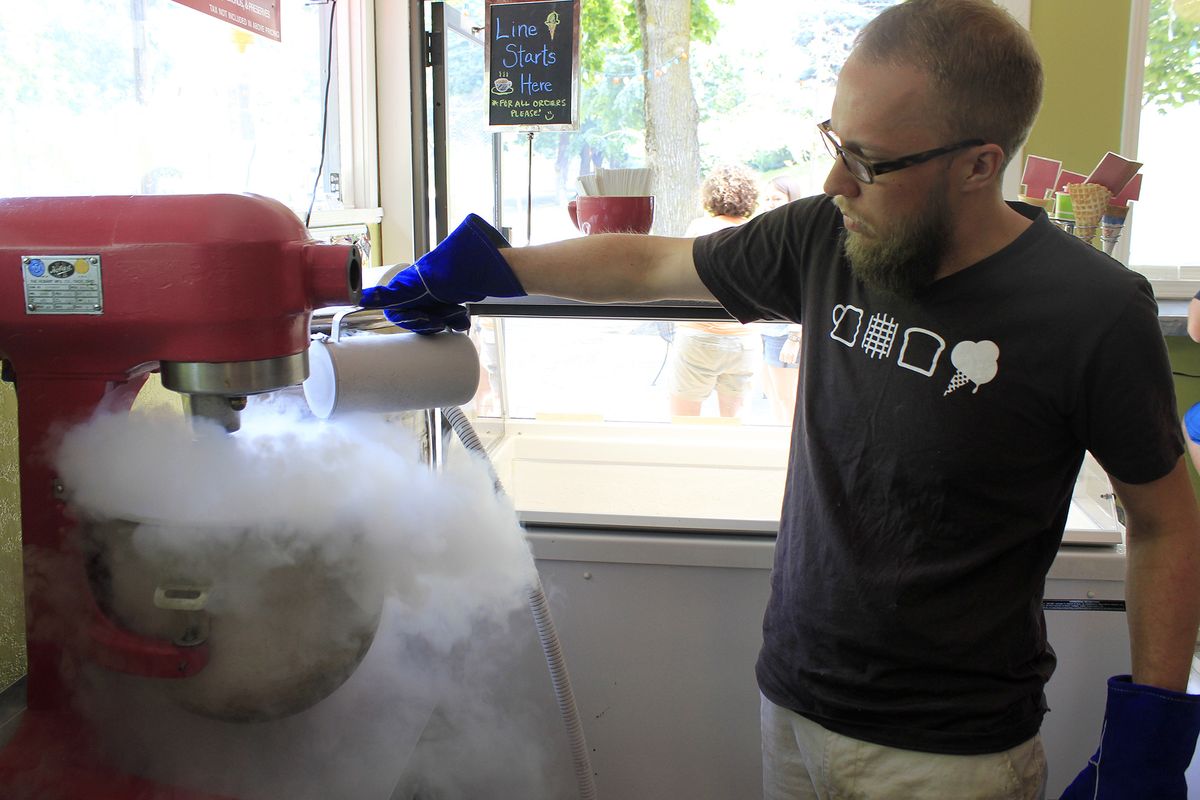 Michael Glaze pours liquid nitrogen into a batch of ice cream at The Scoop on Spokane's South Hill. The corner ice creamery has been experimenting with the super-cool chemical element since early June. (Adriana Janovich)
Call it ice cream-istry.
The Scoop on Spokane's South Hill is making its own frozen dessert, and it's using a super-cool substance in the process: liquid nitrogen.
With a temperature of about minus 321 degrees Fahrenheit, the colorless, odorless, flavorless fluid freezes ice cream much faster than a regular batch freezer, resulting in smaller ice crystals and, Scoop owner Jennifer Davis says, a much creamier texture.
She's been using liquid nitrogen to make ice cream since early June, experimenting with ingredients and asking customers to come up with flavors. During July – National Ice Cream Month – Davis is giving 10 customers a pint of ice cream if she ends up making their suggested flavor.
Lemon blueberry. Peaches and cream. Earl Grey. Caramelized banana. Raspberry cheesecake. Ginger lemonade. Habanero cherry. Dark chocolate orange with candied orange peel.
So far, Nutella, made with only four ingredients – heavy cream, milk, sugar and Nutella – is a top seller. ("People freak out over it," Davis said.) So is sweet cream and coffee, made from Roast House's F-Bomb, a medium-bodied coffee harvested in Chiapas, Mexico, and roasted in Spokane.
Watch the creation of Nutella ice cream, using liquid nitrogen
Part II: Making Nutella ice cream
"We're totally just playing around," said Davis, who has also made mango strawberry, orange vanilla, honey lavender, vegan coconut raspberry, pistachio apricot cream cheese, dark chocolate mint with Oreo cookies, caramel chocolate chip, honey walnut cream cheese – and more.
She's making ice cream from scratch – not using a pre-made base – and is trying to keep it simple. "I'm doing as few as ingredients as possible," Davis said.
That means no preservatives, gums, egg yolks or other stabilizers and emulsifiers to prolong shelf life. Technically, liquid nitrogen isn't an ingredient; the liquefied gas doesn't get eaten. It cools the ice cream mixture, evaporating long before it's served.
Handling it can be dangerous. While liquid nitrogen lends itself to fast and easy ice cream making, it's also the same stuff used to burn off warts in the doctor's office. You don't want to get it in your eyes. It should never be ingested; consumption is potentially lethal.
Still, its culinary use has been on the rise with the popularity of molecular gastronomy, a kind of modernist cuisine that explores physical and chemical transformations in cooking. In addition to making ice cream and flash-freezing foams, herbs, berries and alcohol, it's been used to make dramatic-looking cocktails. These novelty beverages appear to be smoking or boiling over.
Like dry ice, or frozen carbon dioxide, liquid nitrogen creates a fog or vapor when exposed to air, known as the "cauldron effect."
Michael Glaze, the ice cream maker at The Scoop, wears special gloves when working with liquid nitrogen. He doesn't do it for show, but if customers happen to be in the shop when he's mixing a batch behind the counter, the scene seems like something out of "Harry Potter" – or a chemistry lab.
Vapor spills over the rim of the 20-quart mixer as soon as he begins to pour in the super-subzero fluid from a double-walled stainless steel pitcher.
"It's been really fun making the ice cream and then watching the customers eat it and love it," he said. "How simple it is – that was surprising."
Liquid nitrogen resembles water but begins freezing the ice cream mixture upon contact. This allows The Scoop to make small batches quickly, skipping the hourslong step of firming it up in the freezer. Plus, it's easy to break down in between batches; with one mixer, there are only two pieces to wash and sanitize.
"It's instant gratification," said Davis, who was inspired by liquid nitrogen ice creameries like Smitten in San Francisco and à la minute in Orange and Redlands, California, where individual servings are made to order.
But that kind of a set-up involves multiple mixers – and counter space that The Scoop just doesn't have.
Then Davis discovered – and reached out to – the owners of What's the Scoop? in Portland. That shop has been making liquid nitrogen ice cream since it opened two years ago and keeps four regular flavors on hand, rotating other specialty combinations through its cases.
Davis started small, with a 6-quart mixer, and quickly moved up to 20 quarts. She's already considering getting one that's triple that size to keep up with demand and, eventually, fill an entire case.
"People love it," said Davis, who bought The Scoop with her mother in 2011. "It's so consistent and creamy and stable. It's a perfect way for us to dip our toe in (to ice cream making). It's scalable."
These days, The Scoop usually offers two flavors of its housemade nitrogen ice cream, along with 14 from Brain Freeze, the Spokane Valley creamery that recently opened its first retail shop in Kendall Yards.
Davis plans to keep serving ever-popular Brain Freeze flavors. "People want Muddy Cups. People want Cakey Dough. People want Rastachio. So I don't need to reinvent the wheel," she said.
But she hopes to eventually expand her housemade offerings, filling one eight-container case with Brain Freeze flavors and her second one with eight of her flavors, including two regular, coconut-based vegan offerings.
Meanwhile, there are so many combinations she wants to try: olive oil, brown sugar bacon, strawberry shortcake, vegan peach basil, pineapple jalapeno …
"I want to do something with toffee bits and coffee," Davis said. "I would love a buttered popcorn."
Local journalism is essential.
Give directly to The Spokesman-Review's Northwest Passages community forums series -- which helps to offset the costs of several reporter and editor positions at the newspaper -- by using the easy options below. Gifts processed in this system are not tax deductible, but are predominately used to help meet the local financial requirements needed to receive national matching-grant funds.
Subscribe to the Spokane7 email newsletter
Get the day's top entertainment headlines delivered to your inbox every morning.
---