Sports
Passing the torch
Talented class of QBs continues tradition of excellence
Fri., July 25, 2014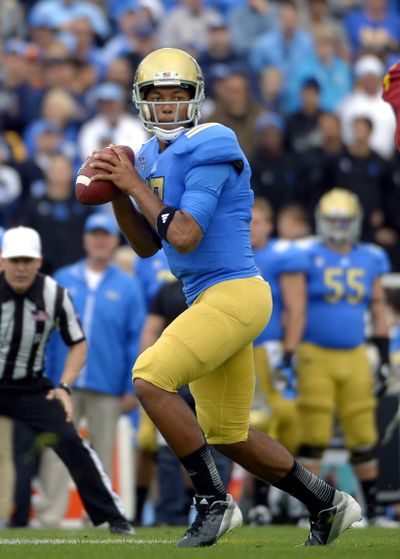 LOS ANGELES – Not every school brought a quarterback to Pac-12 media days, but those that did not were immediately suspect. Over two days in Southern California the league's coaches and a smattering of its best players gushed about the Pac-12's quality and quantity at the most important position in football.
Only Arizona and Washington do not return a starting quarterback from last season, and of the returnees only Colorado's Sefo Liufau and Utah's Travis Wilson weren't chosen to represent their schools at the conference's Hollywood powwow.
Wow.
The forward pass wasn't born on the West Coast, but it grew up here. Offensive innovators from Stanford's Bill Walsh in the 1970s and '80s to Washington State's Mike Leach have devised new ways to turn football into a complex game of catch.
"The neat thing about quarterbacking in our conference is there is a great history there in general," said Oregon State coach Mike Riley, whose Beavers are one of three Pac-12 teams that ranked in the top six nationally in passes attempted per game last season.
"I mean, I love that I have watched this conference since I was a kid and my dad was coaching at Oregon State and so it has been pretty special to watch through the years the number of great quarterbacks that have come through this league," he added.
As such, the conference always has a handful of throwers with big arms and bigger reputations, but even in the land of the long ball 2014 is set up to be an anomaly.
"I don't even think there is a conference that's close, in terms of the quality of the quarterbacks," UCLA coach Jim Mora said. "That's not to say that they are all going to go be great NFL players, but they're great college football players. Every week you get ready to play a Pac-12 quarterback and there is a trait they have that is unique and difficult to defend."
Mora's Bruins will start Brett Hundley under center, a quarterback whose blend of passing and athleticism make him a candidate to win the Heisman Trophy and be picked first in next year's NFL draft, while still playing underdog to Oregon's Marcus Mariota in the perception of the conference's quarterbacks.
One might expect there to be some competitive contempt brewing between the list of accomplished returners, given that there is only so much success to go around. On the contrary, many of the players got to know each other this summer working as counselors at various quarterback camps.
Media day provided another opportunity for the quarterbacks to blur the line between friend and foe, as the attendees were frequently together.
"We want to beat each other on Saturdays, but when you get a chance to know these guys – they are all great players, obviously, and it's fun competing against your friends," said OSU's Sean Mannion. "That's the way I look at it."
Video games
During the dog days of Arizona State's fall camp, when the Arizona temperatures are outrageous even for a desert, the Sun Devils often seek respite from the heat on a cool couch, and fire up EA Sports' NCAA Football video game.
Quarterback Taylor Kelly usually plays his roommate, offensive lineman Jamil Douglas. The ASU teammates were looking forward to a ratings bump in the game following their Pac-12 South championship last season, but will not be able to because EA Sports has announced that it is discontinuing the game as result of Ed O'Bannon's litigation against the NCAA for improperly using players' likenesses without compensation.
"I'm going to miss it, man, especially during camp," Douglas said. "When you get free time that's what everyone does. We play the college football video games."
UCLA's drive
Last year the Pac-12 Networks debuted a show called The Drive, a weekly documentary-style series that chronicled the ASU and California football teams during the 2013 season.
The show returns this year and it will focus on the UCLA Bruins, who will hope to show something similar to Arizona State's successful run to a Pac-12 South championship rather than Cal's 1-11 season.
Coach Jim Mora said he isn't concerned about the extra attention, given the program will have full editorial control over the show.
"I think we're mature enough to handle so-called 'distractions,' " Mora said. "Maybe it's going to be a problem, but I don't think it is."
Local journalism is essential.
Give directly to The Spokesman-Review's Northwest Passages community forums series -- which helps to offset the costs of several reporter and editor positions at the newspaper -- by using the easy options below. Gifts processed in this system are not tax deductible, but are predominately used to help meet the local financial requirements needed to receive national matching-grant funds.
Subscribe to the sports newsletter
Get the day's top sports headlines and breaking news delivered to your inbox by subscribing here.
---