News > Features
Splendor in Seattle
Emerald City boasts attractions for the whole family
Sun., July 27, 2014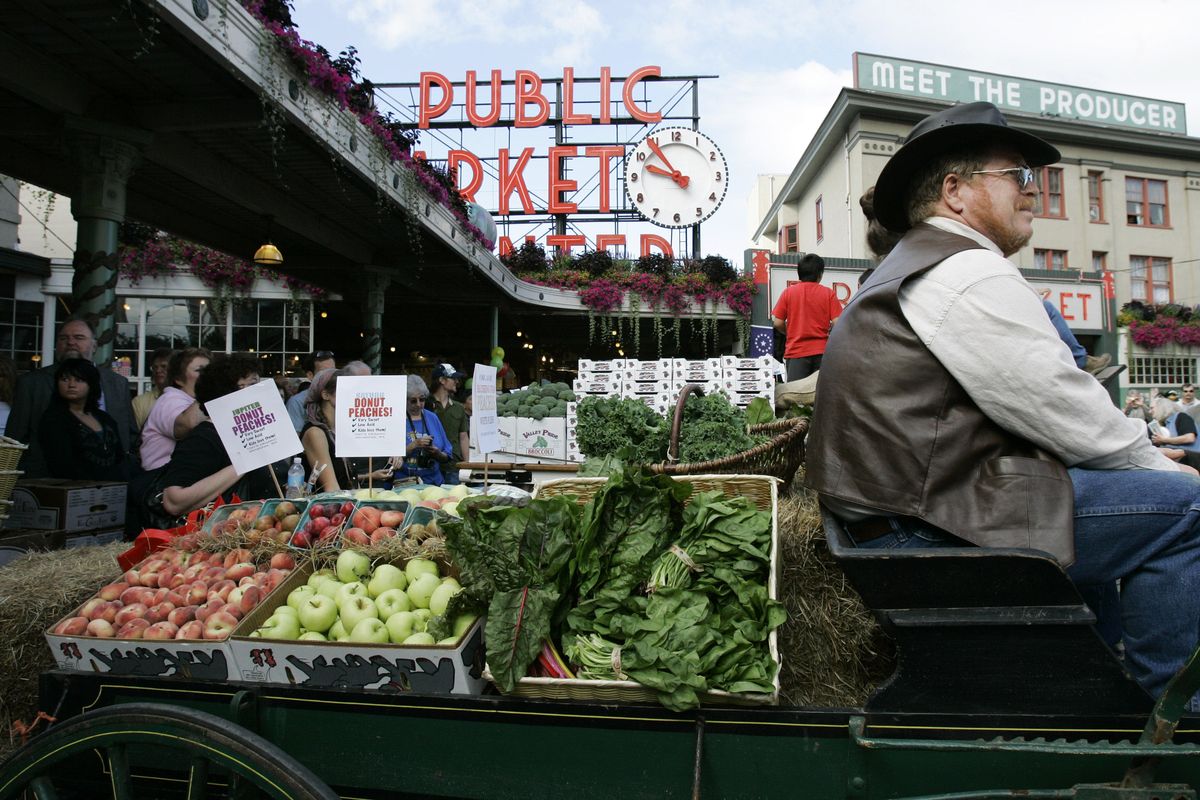 A horse-drawn produce wagon driven by Wayne Buckner of Falls City, Wash., sits at the Pike Place Market in Seattle during the celebration of the 100th anniversary of the public produce market in 2007.
Welcome to "Coasting," a column that's all about traveling to the West Side of our state, and sometimes, places farther afield. But mostly, I'll share spots you can easily drive to in a few hours.
I'm a writer from Spokane (Shadle Park '74, EWU '78) who moved to Seattle a few decades ago. Since then, I've been putting lists of my "coastal" favorites together for my Inland Northwest friends. And now, I'll get a chance to do that for you. I'll keep you posted on what's going on around Puget Sound, from seasonal events and fun spots to sleep, eat and play.
I hope my insights will inspire you to hop in your car or get on a plane and come "Coasting." Yes, I know – we've got a bad rap for traffic and the fact that we live many days dodging raindrops over here. But when the sun comes out, Mount Rainier and the Olympics light up and the skies turn that beautiful blue, it's a fun place to visit. Need a little video to get you in the mood? Check this out: visitseattle.org/Home.aspx #video.
Let's start with my favorite Seattle spot: The Pike Place Market. I live just five minutes from our country's longest continuously running farmer's market that started back in 1907 and stop in often for fresh fish, homegrown produce and fantastic people watching. Here are a few ways to spend a memorable Seattle weekend, without even leaving this historic and recently restored three-block area:
Sleep in the heart of the action
Though there are many downtown hotels near the market, The Inn at the Market is the only one located inside, and it's an exciting place to watch Pike Street come to life each morning. The bright and airy rooms are newly refreshed, with floor to ceiling windows. But possibly the best guest amenity is the fifth floor observation deck, where you can hang out with a bottle of wine from Pike and Western Wine Shop ( www.pikeandwestern.com) and a market-gathered picnic on comfy furniture and enjoy panoramic views any time of day or night. www.innatthemarket.com
Grab some local flowers for your room. No matter the season, the array of fresh blooms is visually stunning. Hmong growers bring them in daily from fields just outside the city – from sweet peas and peonies to giant dahlias and tiger lilies, you can buy a bouquet for as little as $5.
Watch a fish fly
The "Fish Guys" at Pike Place Fish Market ( www.pikeplacefish.com) are as famous as the Space Needle, with all their tossing of seafood about. They're a cheerful bunch of mongers, and, if you ask, they'll let you stand behind the counter and catch a Coho flung at high speed. But in addition to a great shot for your Facebook page, you can buy the freshest sustainable seafood, carefully packed to ship home.
Pretend you're in Paris, Rome … or Barcelona
Start your day early with a yummy warm pan au chocolat and café au lait at Le Panier Very French Bakery, www.lepanier.com and move on to a late lunch of moules mariniere (steamed mussels) at Maximilien, ww.maximilienrestaurant.com Place Pigalle, www.placepigalle- seattle.com or Café Campagne, http://cafecampagne.com, all just steps outside your door. The water views at Maximilien and Pigalle are outstanding and Cafe Campagne now serves daily Dejeuner (breakfast) until 10:45a.m. For a delicious Italian dinner in a very cozy room, don't miss Il Bistro. The Linguine de Mare and seafood Cioppino hasn't changed in 30 years … and that's a good thing. http://ilbistro.net
If inventively prepared Pacific Northwest seafood and scrumptious desserts are on your mind, head straight to Steelhead Diner, a casual and fun spot for families. www.steelheaddiner.com
Stop at Paris Grocery ( www.parisgroceryseattle.com) and neighboring Spanish Table, ( www.spanishtable.com) where you'll find beautiful imported ingredients, cookbooks and hundreds of well-priced wines. Spanish paella pans for 2-200 or 40 authentic French cheeses? These guys will fix you right up. For freshly made pasta by the pound, a slice of pizza and endless Italian charcuterie, stop at the market staple, DeLaurenti Specialty Food & Wine. (www.delaurenti.com)
Shop until you drop
In addition to the wide array of craftspeople, here's a handful of market retail shops you shouldn't miss: Fini ( www.ilovefini.com), Watson & Kennedy Fine Living ( www.watsonkennedy.com), the original Sur La Table ( www.surlatable.com), Bella Umbrella ( www.bellaumbrella.com), So Much Yarn ( www.somuchyarn.com), Metzker Maps ( www.metskers.com), Market Spice ( www.marketspice.com), Isadoras Fine Antique Jewelry ( http://isadoras.com), Pirkko ( www.pirkko.com) and First & Pike News.
Blow your kids' minds
Casually offer them a stick of chewing gum, then take them for a surprise walk by the famous "Gum Wall." It's pretty weird, but I promise you'll get some great photos. Afterward, walk upstairs to the new Pike Place Urban Rooftop Garden, where they'll be encouraged to write on everything with colorful chalk. http://www.seattleurbanfarm co.com/pike-place-urban-garden/
On your way there
Two more things you may want to check out this summer: On your way to Seattle, stop at the second annual Music on The Green Concert Series at Salish Lodge & Spa, for a concert and gourmet picnic right next to the rushing Snoqualmie Falls. (Thursdays, through Aug. 14.) For more information and to purchase tickets, visit www.salishlodge.com/ musiconthegreen.
Another great family activity happens Aug. 25-Sept. 2, Labor Day weekend in Kirkland, when the historic Tall Ships travel from Bremerton to battle it out at Carillon Point. Public tours and sailings will be offered each day. For tour times and ticket prices, go to www.thewoodmark.com.
Local journalism is essential.
Give directly to The Spokesman-Review's Northwest Passages community forums series -- which helps to offset the costs of several reporter and editor positions at the newspaper -- by using the easy options below. Gifts processed in this system are not tax deductible, but are predominately used to help meet the local financial requirements needed to receive national matching-grant funds.
Subscribe now to get breaking news alerts in your email inbox
Get breaking news delivered to your inbox as it happens.
---