Sports
Small schools, big roles
Region stars count on Smith, Moser against GSL in 21st Blair
Tue., June 3, 2014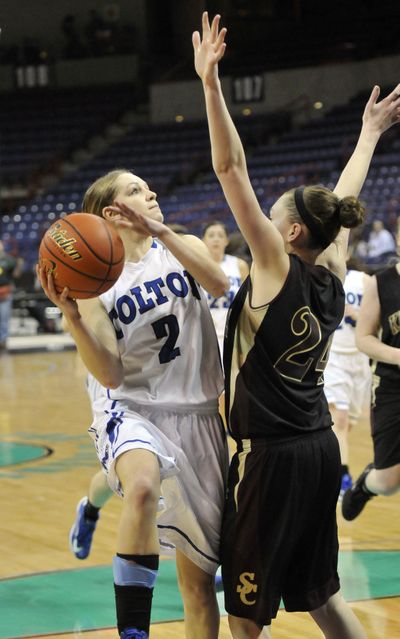 Every year, the Jack Blair Memorial girls basketball game features players with resumes chock full of athletic and academic feats.
Spokane Stars director Ron Adams founded the game for two reasons: First, it was to honor the late Central Valley girls coach he had worked with, and two, it was to showcase the richness of girls talent in the area.
The 21st edition, featuring the best players from the Greater Spokane League and region, is no different. At the head of the class are two players from small towns hoping to lead the Region team to a rare win over the Metro, otherwise known as the GSL all-star team.
Chandler Smith from 1A Brewster is arguably the best player in the state regardless of classification. And no player in the game tonight has had as much success at the state level as Jenna Moser of Colton. She helped lead the Wildcats to a sixth straight 1B state championship this winter.
Smith was named the Blair most valuable player last year when she scored 15 points to lead Region to just its second win in the series.
"I want to play every chance I get," Smith said. "It was so fun last year. It should be a pretty good game again."
The 6-foot Smith is headed to the University of Nebraska, where she's slated to play at point guard. She chose the Midwest school over Gonzaga, Baylor, Arizona State and Oregon State.
One of the deciding factors in Smith's decision was what she plans to study in college. The school offers an agriculture program.
Every morning, Smith has chores to do on her parents' cattle ranch, located about 13 miles north of Brewster.
"I feed the horses or something. Every day it's different," Smith said.
Smith is a basketball junkie. Space won't allow listing all of her accolades. She was named to the Seattle Times' all-state team, which included players from all classifications. She was the 1A player of the year by the Associated Press, a McDonald's All-American nominee, a Top 20 Adidas player nominee and was named MVP of the Washington/Oregon all-star game in which she scored 18 points.
She led Brewster to a state title two years ago. This past season, Brewster lost in the regional round of state. She averaged 25 points, nine rebounds and 7.2 assists.
Smith has remained in basketball form since the season ended. She and her younger brother, Cade, a sophomore, meet boys assistant basketball coach Jordan Starr every morning at school at 5:20. They work on skill development until 6:30. Then they stay for Starr's weightlifting/conditioning class from 6:30-7:30.
"I think I'm coming into the game in good shape," she said.
And she thinks she's polished up some things in her game just in the last 3½ months.
"I've been working really hard," she said. "Hopefully, I've been growing as a player. I've been working a lot on my ball handling and shooting and trying to get stronger."
Smith and Moser share an academic feat. Both carry 4.0 grade-point averages and are valedictorians – Smith the best of a class of 63 and Moser atop a class of 17.
Moser has been a three-sport standout at Colton, which is located about 12 miles south of Pullman.
A shortstop in softball, she just led the Wildcats to a sixth straight state 1Btitle. She also was a four-year starter in volleyball.
In basketball, though, she was just a two-year starter although she played starter-like minutes as a freshman and sophomore.
"She has her sister to blame for not being a four-year starter," coach Clark Vining said.
She's the third of four sisters to play in Vining's powerhouse program. She's the first player from Colton to play in the Blair game.
"I'm excited to play against some of the best players in Washington," Moser said. "The GSL has some great players. I'm honored to have been selected."
Moser, too, has a list of feats long enough to fill a couple of sheets of paper. She was named the 1B state player of the year by multiple sources and she was the state tournament MVP the last two years.
A 5-5 guard, this is most likely her last basketball game. She's planning on attending Washington, where she wants to major in architecture. She's talked with the Huskies' coaches about walking on but won't make a decision until she arrives in the fall.
Moser has played in a lot of summer tournaments but never on a club team. She was a homegrown athlete.
"If I decide not to walk on I'll definitely miss basketball," she said. "It was a family atmosphere at Colton. It's a close-knit group. I'll miss coach Vining and all my teammates."
Vining is co-coaching the Region with Dale Poffenroth of Coeur d'Alene.
Moser, who averaged 22 points, 8.6 rebounds, six steals and fives assists in her final season, hadn't picked up a basketball until the Region team held a recent practice.
"I'm a little out of shape," she said, laughing. "You don't exactly run as much in softball as you do in basketball."
For at least one game, though, Moser will get a taste of what it's like to play against some of the best players in Washington and Idaho.
She relishes the opportunity.
Local journalism is essential.
Give directly to The Spokesman-Review's Northwest Passages community forums series -- which helps to offset the costs of several reporter and editor positions at the newspaper -- by using the easy options below. Gifts processed in this system are not tax deductible, but are predominately used to help meet the local financial requirements needed to receive national matching-grant funds.
Subscribe to the sports newsletter
Get the day's top sports headlines and breaking news delivered to your inbox by subscribing here.
---
Subscribe and log in to the Spokesman-Review to read and comment on this story