Sports
Spurs' Tim Duncan harbors secret wish to play point guard
Sun., June 8, 2014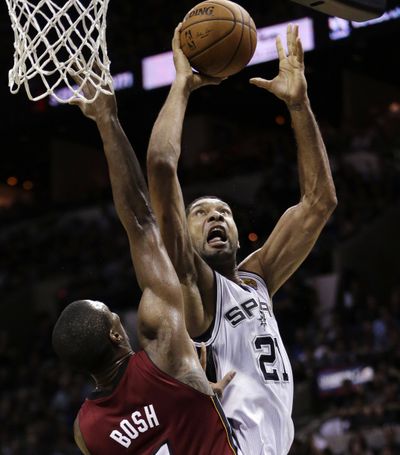 SAN ANTONIO – The San Antonio Spurs are on an unprecedented postseason roll that not even a boatload of turnovers in Game 1 of the NBA Finals could stop.
They probably ruined power forward Tim Duncan's hopes of a career change. Duncan wants to be a point guard, coach Gregg Popovich revealed Saturday, a wish that won't be granted. But Duncan would settle for another title, and the Spurs would be halfway there by beating Miami tonight in Game 2.
The Spurs have won eight straight postseason home games by 15 or more points, an NBA record, but know as well as anyone that a one-game lead means nothing against the Heat.
"That's why I think we can't be satisfied," said point guard Tony Parker, who isn't worried about losing his job to Duncan. "Because we was in the same situation and we know they can win here, and so we just have to go out there and play our game and try to win this one. I think it's a big game for the series."
LeBron James expects to be fully ready for the Heat, who also dropped the opener last year in the finals against the Spurs, and in 2012 to Oklahoma City. Miami is 5-0 in series with James when dropping the opener, rebounding to win Game 2 every time.
A 2-0 deficit would bring loads of attention to what's already one of the most scrutinized players and teams in sports.
"I'm sure the series would be over from the outside," Heat guard Dwyane Wade said, laughing. "Our focus is on how we can win ballgames and understand in the series it's the first one to four. … We understand the journey. We understand the path and what it takes to get there."
The Heat were in position to win Game 1 before James departed with cramps. The Spurs committed 23 turnovers that not only led to 28 Miami points but also prevented them from getting the ball more often to Duncan, who shot 9 of 10 from the field.
Popovich said Duncan never demands more shots, even when he is in a good rhythm like he was Thursday.
"No, the only thing Timmy has ever demanded is he wants to play the point and he thinks I've held him back," Popovich said. "True story. He thinks he's a point guard."
"After my five turnovers the other night, I think I took a step back from that," Duncan said. "I don't think that I'm going to be able to step up and fill that role for a little while."
Local journalism is essential.
Give directly to The Spokesman-Review's Northwest Passages community forums series -- which helps to offset the costs of several reporter and editor positions at the newspaper -- by using the easy options below. Gifts processed in this system are not tax deductible, but are predominately used to help meet the local financial requirements needed to receive national matching-grant funds.
Subscribe to the sports newsletter
Get the day's top sports headlines and breaking news delivered to your inbox by subscribing here.
---
Subscribe and log in to the Spokesman-Review to read and comment on this story