A&E > Entertainment
Cheers to the canine crowd
Malted Mutt treats made with spent grain
Fri., June 13, 2014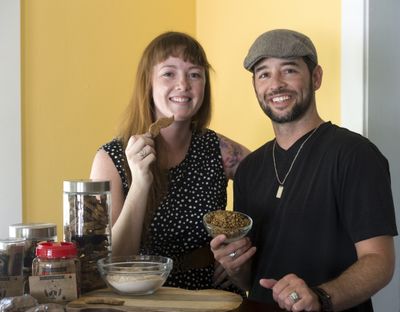 Leftover grain from brewing often ends up in the stomachs of farm animals. But Pete Franz and Katie Wilds Wardall are steering some toward the mouth of man's best friend (besides beer, anyway).
The Spokane couple, both beer and dog lovers, have launched a line of Malted Mutt canine treats, in varieties ranging from Apple Carrot Spice to Pumpkin to Peanut Butter Banana.
"We approach it like a brewery – let's come up with another flavor," said Franz, a bartender at Waddell's Neighborhood Pub & Grille.
It all started in February when he and Wardall went to her brother's wedding in the San Diego area. Several breweries there were selling souvenir pint glasses full of dog treats made with spent brewing grains.
"I said, 'I don't think anybody's doing that in Spokane,' "Wardall said. "We were home a day and a half and started making treats."
At the beginning of the brewing process, in what's called "mashing," malted barley and other grains are steeped in hot water to remove their sugars. The spent grains typically go to farmers for animal feed.
Malted Mutt has been getting its grain from River City Brewing, English Setter Brewing and now Waddell's Brewpub, 5 gallons at a time. While that's a drop in the bucket for a bigger brewery – River City disposes of up to a ton per brew – it's enough for 25 to 30 batches of treats, at 200 treats per batch.
Since the sort of grain they get varies depending on the style of beer brewed, they match darker grains with heartier recipes, like stout paired with peanut butter and molasses.
If they can't use the grain right away, they freeze it to preserve moisture. "We tried drying it and milling it into flour, but we didn't like the texture," Franz said. "We kind of like that rough, grainy texture. Using it fresh maintains that, and there's more malt flavor."
Yes, he knows that for a fact: "I've tried every (variety) that's come out. They're really no different than biscotti, just minus the sugar."
Along with a picture of Wardall's Australian shepherd/spaniel mix, Ziggy, labels (made from recycled paper bags) show the brewery the grain came from and the type of beer, other ingredients (organic and local whenever possible), nutritional analysis and the music playing when the batch was made (Madonna, Prince, Peter Frampton, et al.).
While the treats come in several shapes, there's always at least one mustache – Malted Mutt's signature shape – in each package. People have sent pictures of their dogs "wearing" those, and a photo contest may be in the works.
The treats are available in various package sizes online and at Rocket Market and Alissa's Ooh La Latte in Spokane and Camp K-9 in Post Falls, as well as River City, English Setter and Waddell's Brewpub.
Franz and Wardall plan to contact other breweries, but have been busy keeping up with dog shows around the area. For those, they raffle gift baskets of treats, toys and other goodies, which also can be ordered.
In the works are more gluten-free offerings (some are available now using rice flour), medicinal treats (for example, with glucosamine for joint health) and seasonal shapes (bunnies for Easter, zombies for Halloween).
And they're intrigued by the nonalcoholic, beef-flavored "Dog Beer" being made down under in Australia. Bottoms up, Ziggy.
Freshly tapped
• River City recently restyled its regular India pale ale as a sessionable Afternoon IPA. Now there's a big brother: Riverkeeper IPA (7 percent alcohol by volume, 65 International Bitterness Units), golden/amber with earthy, spicy hop notes.
A portion of sales supports the Spokane Riverkeeper environmental program (see riverkeeperipa.org for details). The recipe will change from year to year.
• The new Crescendo series release from Twelve String is an ISA, or India session ale (5.4, 61), that gets plenty of passionfruit and peach aroma and flavor from Australian Galaxy hops. Look for a wheat beer made with honey malt next week.
• On for the summer at the Steam Plant is a rather dry yet juicy Blood Orange Ale (5.6, 28) made with both puree and some peel for a balancing bitterness.
• Slate Creek in Coeur d'Alene is pouring a seasonal High Water Hoppy Wheat (5.3, 41) that showcases the citrusy-orange character of Amarillo hops.
• In conjunction with the town's annual Flag Day celebration Saturday, Zythum Brewing in Fairfield is releasing a strong Combine Hefeweizen (9.4, 75) made entirely with malted grains and hops produced by area growers.
Zythum recently tripled its still-small brew kettle capacity to 30 gallons, allowing it to offer six house beers at a time. For summer, Sunday hours have been added to the previous Friday-Saturday.
Save the date
• Hopped Up in Spokane Valley is celebrating its first anniversary Saturday starting at 2 p.m. with live music, drawings for door prizes and the Tacos El Guero food truck from 4 p.m. on. Beerwise, look for a reformulated Gidget's stout, a new batch of double dry-hopped Mad Hopper IPA and various ice cream beer floats.
• The fourth annual Brews Cruise bicycle tour to benefit the nonprofit environmental group The Lands Council starts June 22 at 11:30 a.m. at Ramblin' Road. The route continues to Perry Street Brewing, Saranac Public House and back, with drink specials and food trucks. Cost is $20 for Lands Council members, $25 for nonmembers; see brewscruise2014. brownpapertickets.com .
Best of the fests
• Four area breweries took home medals last weekend in the North American Beer Awards competition at the Mountain Brewers Beer Fest in Idaho Falls: Kootenai River (Bonners Ferry), gold, McGreagor Scottish Ale and Rye Pale Ale, bronze, Osprey Pilsner; Laughing Dog (Sandpoint), gold, Anubis Imperial Coffee Porter, bronze, De Achtste Hond (The Eighth Dog) sour; Selkirk Abbey (Post Falls), gold, St. Joseph imperial saison; and Paradise Creek (Pullman), gold, Hoe's Daddy Dunkelweizen.
• Iron Goat, No-Li, Orlison, Ramblin' Road, Twelve String, Paradise Creek, Clarkston's Riverport Brewing and Waitsburg's Laht Neppur are representing Eastern Washington in this year's Washington Brewers Festival, through Sunday at Marymoor Park in Redmond. If you happen to be in the neighborhood, admission is $25 at the door.
Send beer news, comments and questions to senior correspondent Rick Bonino at boninobeer@ comcast.net.
Local journalism is essential.
Give directly to The Spokesman-Review's Northwest Passages community forums series -- which helps to offset the costs of several reporter and editor positions at the newspaper -- by using the easy options below. Gifts processed in this system are not tax deductible, but are predominately used to help meet the local financial requirements needed to receive national matching-grant funds.
Subscribe to the Spokane7 email newsletter
Get the day's top entertainment headlines delivered to your inbox every morning.
---