A&E > Entertainment
'Cement Suitcase' captures local flavor
Washington wine country sets scene for 'Cement Suitcase'
Fri., March 14, 2014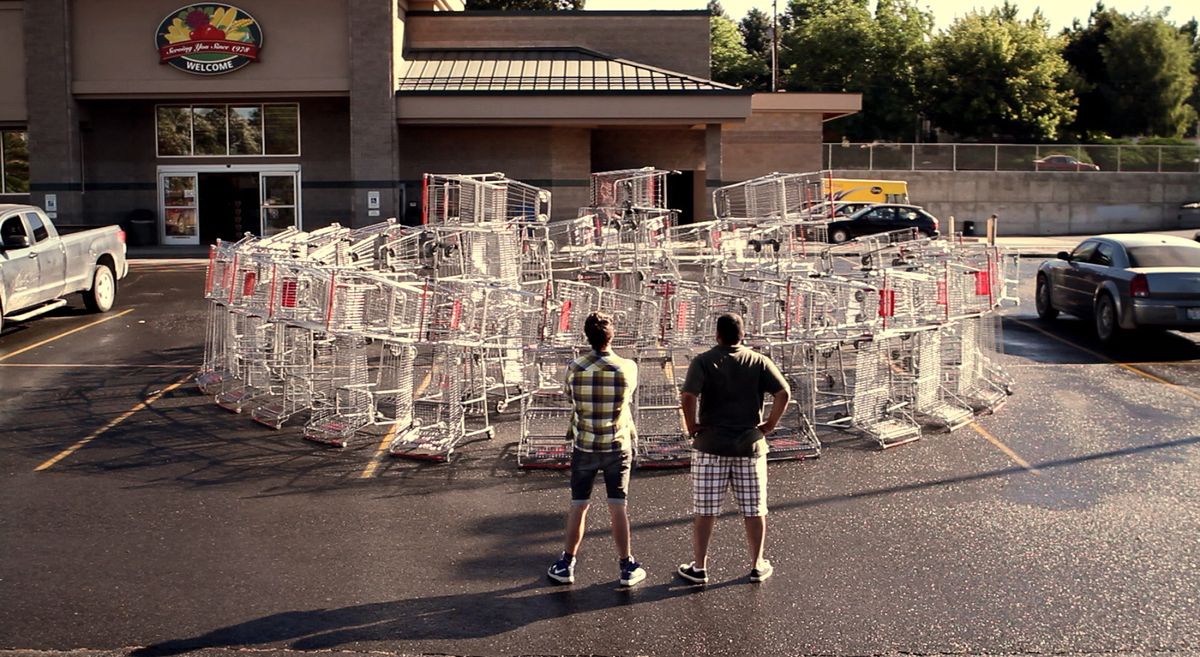 "Cement Suitcase" was filmed and set in and around the Yakima Valley.
Rick Castañeda is calling his feature film debut an "anti-romantic comedy."
"Cement Suitcase," which will have a single Spokane screening on March 20 at AMC River Park Square 20, is the story of a charismatic wine salesman, still reeling from his mother's death and an imminent real estate foreclosure, coming to terms with his crumbling relationship.
That combination of humor, heartbreak and merlot might be reminiscent of the 2004 comedy "Sideways," but the movie's Central Washington setting makes it distinctive: You might recognize the dinosaur statues that populate Granger, the roadside Teapot Dome in Zillah and the grounds of Prosser's Airfield Estates, all of which appear in "Cement Suitcase" and almost become characters in the film.
"I specifically didn't want to shoot a movie in L.A., because how many movies have palm trees in them?" Castañeda said. "Not a lot of movies are set in Eastern Washington, and I knew that if I made a movie there, it wouldn't look like any other movie."
When he set out to make the film, Castañeda, a University of Southern California graduate who grew up in Granger and now resides in L.A., was immediately aware of his budgetary limitations. "I knew I didn't have a lot of money, so I drew up a list of all the places and people and resources that I thought I could get," he said. "I decided to set it in a winery because I wanted to learn more about wine, and because the wine in Washington state has been blossoming. I knew that was something that would get everybody excited about watching the film."
Beyond the Washington winery angle, Castañeda wanted the movie to be a vehicle for his frequent collaborator Dwayne Bartholomew. From there, he said he just started writing.
"I had no idea how it was going to end," he said. "I had no idea when I started out that it was going to be about infidelity. But you come up with a character, put him in a situation and see how he gets himself out of it."
Bartholomew plays a guy named Franklin, whose quirky selling methods – he encourages customers to create alter egos while they drink, for instance, and hosts impromptu wine tasting game shows – have made him the star employee at the Airfield winery. Outside of work, though, Franklin has problems. His mother has just passed away, he's strapped for cash, he's desperately searching for a roommate, and he's discovered that his long-term girlfriend Charlene (Kristina Guerrero, a Sunnyside, Wash., native and current "E! News" correspondent) is cheating on him.
And the situation only gets stickier: Not only can Franklin not admit that he knows about Charlene's affair, but he ends up accidentally befriending the guy she's been sneaking around with.
"Cement Suitcase" was shot in just two weeks in the Yakima Valley during the summer of 2011, and Castañeda, filming on a shoestring, recruited volunteers from area community colleges to help on the set. In early 2012, his production company Psychic Bunny raised $18,920 on Kickstarter to fund the film's editing and distribution, and it has since played at several film festivals.
"We've shown the film in a lot of places, from Florida to California," Castañeda said, "and even though people may not be familiar with (Central Washington), everybody gets it. They're like, 'Man, this is such a quirky place.' Everybody understands the film it seems, no matter where they're from."
But a lot of Castañeda's gratitude is aimed toward his hometown, where the crew was met with an outpouring of encouragement and assistance. "I think in Los Angeles it would have cost us $2,000 a day to try and film in a winery," he said. "They just loved having us there. I didn't expect that level of support. It was really, really amazing."
Local journalism is essential.
Give directly to The Spokesman-Review's Northwest Passages community forums series -- which helps to offset the costs of several reporter and editor positions at the newspaper -- by using the easy options below. Gifts processed in this system are not tax deductible, but are predominately used to help meet the local financial requirements needed to receive national matching-grant funds.
Subscribe to the Spokane7 email newsletter
Get the day's top entertainment headlines delivered to your inbox every morning.
---