A&E > Entertainment
'Love Letters' has lasting draw
Travolta, Bannon performing longtime favorite as fundraiser
Fri., May 23, 2014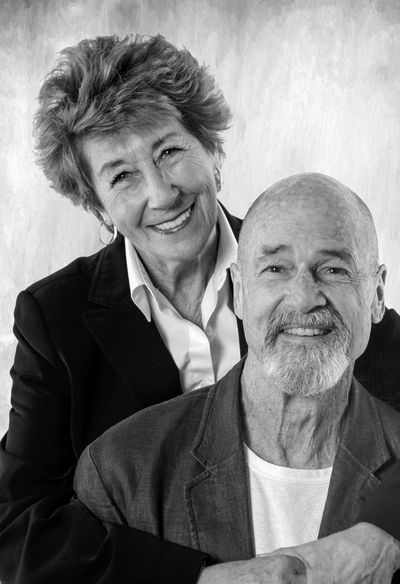 Jack Bannon and Ellen Travolta have appeared on stage together in "Love Lotters," A.R. Gurney's beloved two-character play, close to a couple dozen times.
For Bannon, the play's appeal lies in how it harkens back to a simpler time.
"It's a sweet play. It's about a friendship," he said. "It's before computers and iPads, when people actually wrote letters and talked to each other rather than looking at the palm of our hand."
The play centers on Andrew and Melissa, friends since childhood who continue to correspond even as their lives go in different directions. It's the simplicity of the story that keeps bringing Bannon and Travolta back to it.
"It's what A.R. Gurney wrote," Bannon said. "You just read what he wrote and get out of the way."
Beginning Thursday, the Coeur d'Alene acting couple will revisit Melissa and Andrew at Lake City Playhouse, with four shows to benefit the community theater and the Coeur d'Alene Public Library Foundation.
"Love Letters" is something they've enjoyed doing together to raise funds for various programs they support. Interplayers Theatre, Coeur d'Alene Summer Theatre and, most recently, the University of Idaho's Hartung Theatre are among the organizations that have benefitted from the couple's "Love Letters" performances.
"We can do this piece for an organization and it seems to get good audience and response and it makes them some money," she said. "It's our way of giving back to the community."
For Travolta, the play is a perfect fit for benefit productions.
"It's something we can do readily," she said. "We don't have to do three weeks of rehearsal. … We work on it, but we can do that at home. There's no costumes, no set."
Bannon said once he was so taken by how people have responded to "Love Letters" that he felt compelled to write Gurney.
"It was a tremendous audience response to this man's work. It was sweet," Bannon said. "So I wrote him just to let him know, about a month later I got a note back from him."
Gurney's response? He expressed pleasure that his New England-set play – his "Buffalo parochialism" – crossed "the Mississippi and landed in Idaho."
So why do audiences continue to turn out to see "Love Letters"?
"It's a very funny, poignant piece," Travolta said. "It has all the nuances of a lovely piece with something that everyone can relate to."
One would think that after doing a play as often as they have, they would have it memorized. Not at all. In fact, Bannon said he's resisted memorizing his role.
"You don't want to do that. You'd ruin the piece. You have to read it," he said. "We saw it once where the entire play was memorized and it didn't work. It's letters. It's called 'Love Letters.' "
While Travolta and Bannon are veterans of the region's stages, this week will mark a first, at least for Travolta: She's never acted on the Lake City Playhouse stage. Bannon, for his part, did a reading there once, with former CST director Roger Welch, of "Tuesdays with Morrie." Both, however, have seen plenty of plays at the community theater.
"It's a nice space," Travolta said. "They do an amazing job."
Local journalism is essential.
Give directly to The Spokesman-Review's Northwest Passages community forums series -- which helps to offset the costs of several reporter and editor positions at the newspaper -- by using the easy options below. Gifts processed in this system are not tax deductible, but are predominately used to help meet the local financial requirements needed to receive national matching-grant funds.
Subscribe to the Spokane7 email newsletter
Get the day's top entertainment headlines delivered to your inbox every morning.
---
Subscribe and log in to the Spokesman-Review to read and comment on this story