Sports > Outdoors
2,700 miles later: Speed-hiking queen of the PCT
Setting a 60-day Pacific Crest Trail speed-hiking record is all the proof "Anish" needs to believe in herself
Sun., May 25, 2014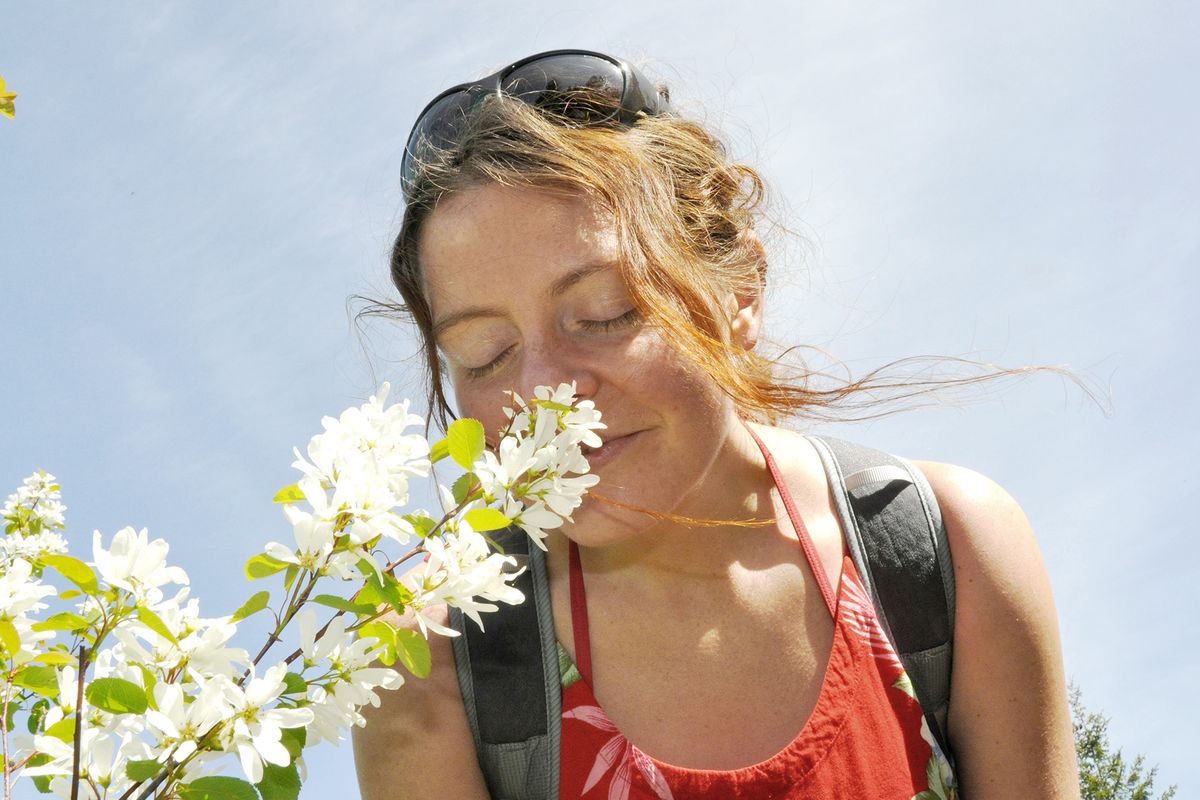 Heather "Anish" Anderson smells the flowers on a 2014 North Idaho hike, a pleasure she forfeited during her speed-record trek on the Pacific Crest Trail. (Rich Landers)
"I 'm not a particularly fast walker,"  Heather Anderson said – much to the relief of  her interviewer – as she hiked a North Idaho trail last week.
"The difference between me and the thru-hikers who have a fast pace is that I walked 3 mph all day and into every night, averaging 5 hours of sleep, without a rest day."
For two months!
That's how Anderson, 32, beat the unsupported backpacking speed record on the Pacific Crest Trail by four days. Starting June 8, 2013, at the U.S-Mexico border, the Bellingham hiker averaged nearly 44 miles a day gobbling up nearly 2,700 miles along the PCT to arrive at the Canada border in 60 days, 17 hours and 12 minutes.
"Once I realized this was not a backpacking trip – that it was all about pain and suffering – it was easier to cope," she said.
Anderson, who works at the food co-op in Mount Vernon, has no current plans to set another record of any kind. She says she's content running 30- to 100-mile ultra-marathons and disappearing into the wilderness regularly to climb peaks and hash out obscene mileages with friends.
She's already proved herself to herself – hiking through obesity, fear of the dark, self-doubt, a marriage and the triple crown of the USA's long-distance trails.
She started from scratch 12 years ago.
"Never in my dreams did I imagine setting a record of any kind, much less an athletic record," she said, noting that she grew up in a relatively inactive Michigan family. "I weighed 200 pounds when I graduated from high school."
Her epiphany came that summer after she landed a job at Grand Canyon National Park.
"I fell in love with the trails," she said. "I had never hiked before."
In college she majored in religious studies and minored in creative writing. "I wanted to be a Christian missionary," she said. "I had my sights on Mongolia until I realized I was no good at proselytizing."
Meantime, her introduction to hiking had been taking root and was ready to blossom into another sort of mission.
"The day after I graduated from college in 2003, my friends dropped me off in Georgia at the beginning of the Appalachian Trail," she said. "I said goodbye and took off on my own for four months hiking to Maine. Most people prepare for something like the AT, but I had never backpacked overnight.
"At the first resupply opportunity, I had to go shopping. I had to shiver under a space blanket for a week to realize I needed a sleeping bag."
Her empty cache of backpacking experience started filling as she shared the miles with experienced thru-hikers. She took on the trail name Anish, (pronounced "ah-NISH") to honor her Great Lakes heritage and her full-blooded Anishinaabeg grandmother.
"The big eye-opener wasn't just learning that I could do long-distance hiking, but that I was pretty good at it," she said.
That hike – and shedding 70 pounds that year – was her new beginning.
On the AT, she learned about the Pacific Crest Trail. In 2004, she hiked it with a partner in a normal time of about four months.
"On that trip, I crossed paths with David Horton, who was on his way to setting a supported PCT speed record," she said. "I'd never even thought about such a thing. I began to wonder if I could do it."
Hooked on the freedom of trails, she completed long-distance hiking's Triple Crown by bagging the 3,000-mile Continental Divide Trail in 2006.
Her hiking and climbing treks gained speed and distance. A few ultramarathons quenched her lust for mileage.
"Some people put up with hiking so they can get to a good place to camp," she said. "I was becoming one of the people who put up with camping as a means of hiking farther and farther into the wilderness."
By 2013, the girl who had never dreamed of an athletic achievement became the first woman to take a serious stab at the PCT speed record.
"I had the advantage of having done the PCT on a normal trip, enjoying the social part of it and learning the route," she said. "It was the driest year in California since 1977. That meant snow-free hiking through the High Sierra."
She planned for months using spreadsheets to map out the mileages she would need to make, including side trips for the resupply boxes she'd package and mail before she left.
While she would later avoid snow in the Sierras by opting for a late June 8 start, she paid a price during the initial 40- to 50-mile days in the California desert, packing up to six liters of water as temperatures soared. After running out of water and relying on a source that turned out to be a mud hole, she wandered two more hours in 115 degrees to find another. "Too close," she said. "That almost did me in."
Confidence that she could keep up the record pace was elusive until she scaled the last of five major passes ranging to 13,200 feet in the Sierra Nevada Range in two 40-mile days.
"At 1,000 miles I realized I could do it," she said. "But it was going to hurt."
Huge blisters formed on her heels in the desert and never had a chance to heal. "They were tangerine-size beauties," she said. "Didn't clear up for two months after the hike."
Before she was out of California, she was passing thru-hikers who'd started in April. Some hiked with her for awhile, but only one man, trail name Lint, kept up more than two days.
On his Facebook page, Lint posted, "Anish took me on my first 49-mile day on trail, followed by a 50-miler. It was inspiring to be crushing miles with her!"
But after the third day, he hiked off-trail to resupply and they parted.
"I got a text from him," Anish recalled. "He said he was sitting in a bar having a beer and it felt a lot better than hiking with me."
Most hikers offered encouragement, but speed hikers can expect negative vibes. Anish has been criticized for making a race out of backpacking, a sport most people associate with enjoying the scenery, smelling the roses and communing with nature.
"Actually, I was getting heaping helpings of almost everything a backpacker seeks except sitting around in camp," she said, pointing to her iPhone and a single photo that included about three dozen mountain goats in the Goat Rocks Wilderness.
"I was up and walking during every sunrise when wildlife is most active and I was on the trail enjoying every sunset when wildlife is out again. Then I'd put on my headlamp and keep going."
Night hiking was one of the fears she had to overcome. "I've always been a scaredy-cat," she said. "But I couldn't reach my goal without continuing after dark. There simply weren't enough daylight hours.
"Night hiking grew on me. After I got over the initial shock of walking by four rattlesnakes and stepping over a tarantula in the desert, I realized night hiking was cooler, peaceful and I used more senses. The sounds and smells were different."
Courage she never knew she had emerged one night in Oregon. "It was 11 p.m. and I was trying to get in another couple miles when I lifted my head and the light shined on the eyes of a cougar," she said. "It was right there, way too close. I reacted purely out of instinct. I barked. It was a very tough, don't-mess-with-me bark.
"That cougar was outta there."
Anish is quick to counter people who say she was walking too fast to see the scenery on the Pacific Crest Trail. "I'd never seen a cougar in my life or on any of my four-month-long backpacking trips, but I saw four cougars during the speed trip," she said.
By Oregon, her body was in peak trail condition, pared down like her pack of any unessential weight. She was a calories-in, miles-out, trail-terminating monster in a sun dress.
"The alarm on my watch would chime every hour to remind me to reach into my pack for 200- to 300-calorie snacks I'd eat on the go," she said.
Nevertheless, her plan to hike 50-mile days and blow through Oregon in nine days pushed her limits. She had trouble carrying enough food to eat. She bought extra food at stores, inhaled Oreos smothered in congealed coconut oil, and sucked down a bag of tuna at night for protein. She'd elevate her legs on a pack at night to reduce the swelling in her feet, but she wasn't getting enough hours in the sack for her body to recover.
"I was falling asleep on the trail, thinking this was ridiculous to be this tired and be barely halfway," she said. "The challenge was becoming as much mental as it was physical."
She got a boost by discovering she'd become famous. "I came across a Boy Scout troop," she recalled. They asked if I was Anish. When I said yes, they were like the paparazzi.
"I checked in and found out I had 3,000 Facebook followers. Word was spreading that I was on a record pace."
Caffeine gave her a boost she needed to hike the last tough 500 miles through Washington's Cascades. "The key was hiking to midnight or later, and I had to stay awake," she said.
Lonesomeness ate at her psyche, but being alone had its advantages.
"I cried a lot, especially in the mornings or when a resupply didn't work out right and I'd lose hours and think my goal was out of reach," she said. "I'd have my little pity-fests, and then get over it.
"Sometimes I sang. It was good to be alone for that. I'm a terrible singer.
"People always ask me if I was afraid, being a woman alone in the wilderness. No. Wilderness might be the safest place a woman can be alone.
"I've learned that I need wilderness to be whole. I take strength from it.
"And like I told my mom, don't worry. When I'm on a trail like the PCT, I'm with family."
Local journalism is essential.
Give directly to The Spokesman-Review's Northwest Passages community forums series -- which helps to offset the costs of several reporter and editor positions at the newspaper -- by using the easy options below. Gifts processed in this system are not tax deductible, but are predominately used to help meet the local financial requirements needed to receive national matching-grant funds.
Subscribe to the sports newsletter
Get the day's top sports headlines and breaking news delivered to your inbox by subscribing here.
---