News > Features
The Dish: Flavorful developments
Kendall Yards adds ice cream, tapas, pizza
Fri., May 30, 2014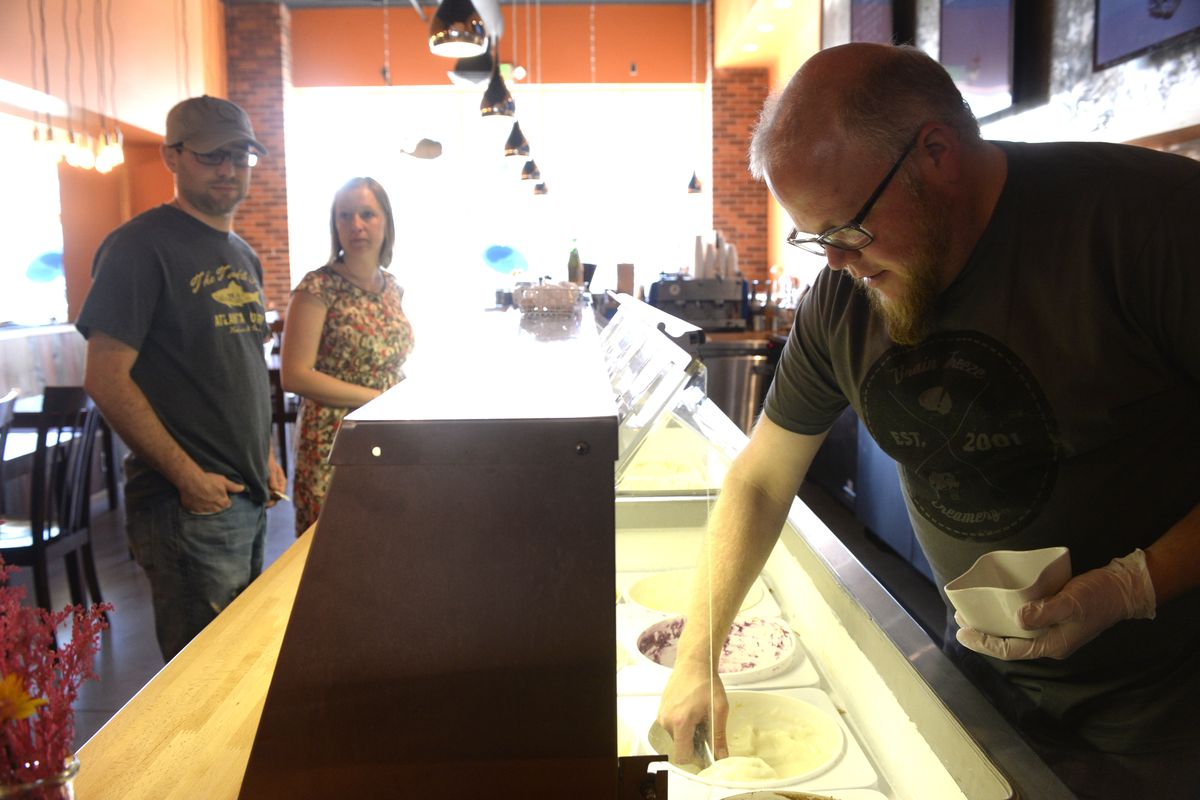 Ben Bradley scoops up sorbet for customers at Brain Freeze Creamery in Kendall Yards. The creamery, which has supplied ice cream to The Scoop and various restaurants around the area, has opened its first retail establishment in Kendall Yards. (Jesse Tinsley)
Dining options are multiplying in Kendall Yards, the development just north of the Spokane River and west of the Monroe Street Bridge.
Three new eateries have opened – or are slated to open soon – joining Central Food, the restaurant that has anchored the up-and-coming neighborhood's food scene since 2012.
With views of the river and city lights, the location offers a neighborhood atmosphere with easy accessibility to the action in the heart of Spokane.
Here's a look at the latest additions.
Brain Freeze Creamery
There's no pink and white here.
Vintage-looking light bulbs dangle above blue-cushioned benches lining orange-colored walls. Menus appear on TV screens mounted against sheet metal above an espresso bar and ice cream cases. The look is modern with a hint of the industrial.
"We wanted it to be warm and inviting. We did not want standard ice cream shop décor," owner Tom Purdum said.
Spokane's micro creamery opened its own storefront in mid-May, offering two dozen of its nearly 100 flavors, like Maple Bacon and Muddy Cups (brownie batter ice cream with miniature peanut butter cups).
Single-scoop sugar cones cost $4.75. Make it a waffle cone for another dollar.
Purdum, who owns the creamery with his wife, Julie, can't pick a favorite. "They're really like my children," he said, noting, "There are so many good flavors. That's the worse part of the job: quality control."
The Purdums, both 42, had been thinking about opening an ice cream shop since buying Brain Freeze in 2011. But they focused first on expanding their manufacturing capabilities. Within the year, they moved into a larger production facility in Spokane Valley, then added a bakeshop, doubling their space for a second time.
Founded in 2001, Brain Freeze makes ice cream in custom flavors and small batches of 4 to 6 gallons at a time.
They make the brownies, cookie dough, doughnuts and other baked treats that go into their interesting combinations.
The creamery makes vegan varieties and sorbets. And the Purdums are planning to start making gelato soon. But their regular ice cream isn't low-fat. In fact, it's 19 percent butterfat, Tom Purdum said.
He's already considering increasing production space again in the next couple of years. And he's also looking into expanding into the grocery store market.
Meantime, he's settling into the new store, which opened May 12 and seats 28 people. It features two dozen flavors, including two vegan options and two sorbets. The shop also sells sandwiches, baked goods, espresso beverages made with locally roasted Anvil coffee, and jars of Brain Freeze Coffee Barbecue Sauce, which covers chicken wings at Jones Radiator, a downtown bar the Purdums also own.
Ben Bradley, 41, who worked at The Lantern as a bartender and server for the past year and as a barista at Atticus for four years before that, is managing the shop, which employs six people.
Brain Freeze ice cream remains available at local restaurants and retailers, like The Scoop, The Shop and Bruttles.
As far as ice cream flavors go, Palouse Crunch – with honey cinnamon ice cream, cinnamon-glazed almonds and red lentils – is one of the creamery's top sellers. And, of course, there's Coffee and Doughnuts, featuring Anvil espresso and chunks of housemade doughnuts.
"It tastes just like you dipped a glazed doughnut in a cup of coffee," Tom Purdum said, noting he loves his business. "Ice cream makes people happy."
Brain Freeze, located at 1238 W. Summit Parkway, is open 7 a.m. to 9 p.m. Sunday through Wednesday and 7 a.m. to 10 p.m. Thursday through Saturday. Call (509) 838-7822. On the Web: www.facebook.com/ brainfreezecreamery.
Wandering Table
Adam Hegsted's newest eatery, an American-style tapas place serving lunch, dinner and late-night bites, opened last week.
Its eclectic menu features wood-fired fun and experimental foods – such as Chicken-Fried Garbanzo Beans, Spaghetti-Stuffed Meatballs and Serrano Pepper Chips – fashioned from ingredients mostly sourced within 500 miles. Exceptions will be made for specialty items like olive oil from Spain and prosciutto from Italy.
"The idea is pretty modern. You're still going to taste tradition, but it will be presented in a little bit of a different way," said chef and owner Hegsted, 34. "All plates are shared, and we're going to recommend two per person. You'll be able to taste a couple of different things instead of being stuck with one entrée."
Menu items include Stinging Nettle Flatbread with Shaved Red Onion, Parmigiano Reggiano, Hazelnuts and Fir Tips; General Tso Sweetbreads with Chile Soy Sauce and Steamed Rice; and Bocce, which is wood-fired bread stuffed with goat cheese, served with pickled chilies and red pepper sauce.
Vegetarian options include Cold Smoked Tofu and Shaved Beets with Pear, Blackberry, Almonds, Curado Cheese and Local Honey.
For dessert, there's Olive Oil Gelato, Roasted Dates with Bacon Ice Cream and Maple Salt, Cinnamon Roll Bread Pudding with Cream Cheese Ice Cream and Cinnamon Caramel, and Peanut Butter Beignets with Sourdough Ice Cream, Fresh Raspberries and Whipped Peanut Butter.
"It's like peanut butter and jelly but different," said Hegsted, noting he plans to change the menu eight to 10 times per year.
"We'll have a lot of familiar American flavors, but they'll be together in a fun way," he said. "It's not stuffy. It's approachable. It's for everybody, not just foodies."
There's a special Chef's Taste feature, in which customers can pick their price – from $15 to $100 or beyond – and have the chef prepare items that aren't on the menu yet.
"You get to try the best stuff we have," Hegsted said. "You get to try stuff before anyone else. We will give you the best value for that amount of money."
The décor is done in burnt amber and charcoal with copper-colored light fixtures, a wood ceiling and a finished concrete floor. Hanging distressed windows, reclaimed from an old house in Coeur d'Alene, separate the bar area from the dining room, partially lined with subway tile. Charcuterie will be displayed in a glass case built into a wall in the bar. The semi-open kitchen features a smoker, wood-fired grill and wood-fired oven, both of which will use applewood.
"The idea is when you walk in you can see the fire going in the oven and smell the smoke smell," Hegsted said.
The restaurant seats 88 people. It has four beers as well as house wine on tap, and offers classic, handcrafted cocktails with modern twists, like a barrel-aged Manhattan, nitrogen-muddled Mojito and Old-Fashioned made with housemade orange bitters and brûléed orange.
Wandering Table takes its name from the nomadic, monthly, 12-course dinners Hegsted has been hosting throughout the Pacific Northwest since 2010. The popular dinners have been on hiatus since Hegsted has been gearing up for his restaurant openings.
He's hoping to restart the "wandering" dinners this summer along with winemaker's and chef's dinners at Yards Bruncheon, a diner-style breakfast and lunch spot which opened next door to Wandering Table in February. Both got help from a $34,000 Kickstarter campaign.
Hegsted also owns Eat Good, a quick-service breakfast and lunch café located off Molter Road at 24001 E. Mission Ave., Suite 190, in Liberty Lake.
Wandering Table opens daily at 11:30 a.m., closing around 11 p.m. weeknights and 1 a.m. on Friday and Saturday. It's located at 1242 W. Summit Parkway in Spokane's Kendall Yards. On the Web: www.thewanderingtable.com and www.facebook.com/ TheWanderingTable. Call: (509) 768-2178.
Veraci Pizza Spokane
This mobile pizza cart is getting a more permanent location.
After five years of pulling its wood-fired pizza oven to local farmers markets, festivals and private parties, Veraci Pizza Spokane expects to open its first restaurant by the end of July or early August.
Construction is in full swing at the site, across the street from Wandering Table and Yards Bruncheon.
Plans call for a back patio and dining room overlooking the river and a front counter for picking up to-go orders as well as pizza by the slice. The kitchen, located in the middle of the space, will offer an expanded menu, including salads, appetizers and desserts as well as more than a dozen kinds of pizza.
Top-sellers include Earth Pie, with garlic olive oil, spinach, tomatoes, mushrooms and feta; Spicy Tony, with pepperoni, sausage, provolone, mushrooms and spicy red sauce; and Chicken Pesto, with grilled chicken, tomatoes, fresh mozzarella and pesto.
"We're confident going into it that we have a customer base already and people know us and the product," said Laura Carey, 36, who owns Veraci Pizza Spokane with her husband, Seth Carey, 34.
They met in 2008 after Seth moved here from Seattle, where he attended massage school and worked for two years at the original Veraci. It celebrates its 10th anniversary this year.
Seth started his cart in 2009 as a sister company to the Seattle business, marrying Laura a year later.
"We kinda dated around the pizza cart," she said.
Off-season, Seth worked construction and as a barista and bartender, operating the cart from mid-spring to late fall.
"The more I did it, the more people asked, 'Where's your location?' " he said.
"People were calling in the winter: 'Where can I get your pizza?' " she said.
The couple – she's the vice president/chief financial officer; he's president, chef and manager – have been thinking about opening a year-round location for about three years. They chose Kendall Yards for its neighborhood atmosphere and central location.
The modern interior will be done in light gray and grass-green with maple wood and black-and-white accents. Inside will seat about 65. Some 35 people will fit on the patio.
When the opening gets closer, the Careys will be looking to hire 20 to 25 employees.
Meantime, Seth is building restaurant tables in his garage. He's completed 20 so far.
And Veraci will continue to frequent farmers markets, fests and other events – even after the restaurant opens.
"We've been it from the ground up, and we're really proud of where we've come," Seth said.
Hours are slated to be 11 a.m. to close (likely 9 p.m. Sunday through Wednesday and 10 or 11 p.m. on Thursday, Friday and Saturday). Call (509) 389-0029. On the Web: www.veracipizza.com/spokane.
Local journalism is essential.
Give directly to The Spokesman-Review's Northwest Passages community forums series -- which helps to offset the costs of several reporter and editor positions at the newspaper -- by using the easy options below. Gifts processed in this system are not tax deductible, but are predominately used to help meet the local financial requirements needed to receive national matching-grant funds.
Subscribe now to get breaking news alerts in your email inbox
Get breaking news delivered to your inbox as it happens.
---