Sports
Heisman hopeful?
Huskies coach says Thompson is one of country's best
Tue., Nov. 4, 2014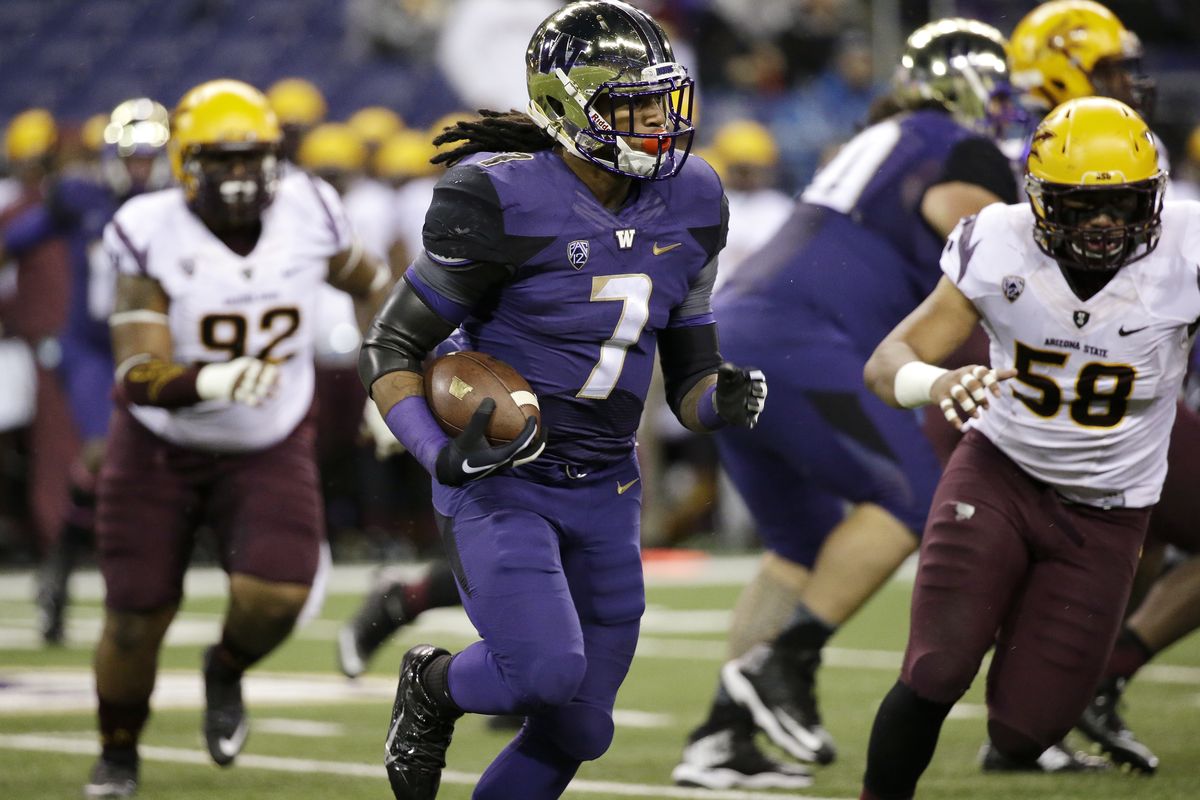 Shaq Thompson's ability to cover a lot of ground in a hurry has made the starting linebacker a two-way threat for the Huskies. (Associated Press)
SEATTLE – Shaq Thompson's performance in Washington's rebound win last weekend was so good that he is expected to get a third straight start at running back when the Huskies host No. 18 UCLA on Saturday.
It sounds as if Thompson might see some time on the other side of the ball, too. Washington coach Chris Petersen said Thompson would play some on defense after being strictly an offensive player the past two weeks.
Thompson ran for 174 yards and a touchdown in a 38-23 victory at Colorado. It was an important victory for the Huskies (6-3, 2-3 Pac-12) after dropping their previous two games. Washington still needs one more victory to reach bowl eligibility because of its 13-game schedule.
And it's raised Thompson's national profile with conversation of him being on the fringes of Heisman Trophy consideration. Petersen is willing to make the case for his junior standout.
"I don't get a chance to watch everybody around the country. But I do see a lot. And I haven't seen a better football player out there than that guy," he said. "A better, flat-out football player – in your words, 'best football player' in college football. There might be somebody who's the same, all those type of things, but a football player? I know there are some good ones out there, but what this guy does in terms of special teams and offense and defense and all those things, I haven't seen a better one."
Thompson may not be needed as much on offense this week with running backs Lavon Coleman and Dwayne Washington expected to be available after both sat out the past two games. Thompson was moved from linebacker to the offensive side out of necessity because of injuries, but now there is less of a need.
Still, it's hard to take the ball out of Thompson's hands. He averages 7.9 yards per carry and is already Washington's second-leading rusher for the season despite going without a rushing attempt in four of nine games. Coleman has 61 more carries than Thompson, but only 82 more yards on the ground.
"I think Shaq's a defensive guy at heart, but I'm not really sure of that. I think he's played over there a long time, so that's where he feels his home is. He's played with a lot of those guys for a lot of years so he likes to be out there," Petersen said. "I know he likes carrying the ball and doing that as well. He's a good player, so however we can get him on the field as much as we can we want to do."
Four of Thompson's touchdowns this season have come from the defensive side.
Local journalism is essential.
Give directly to The Spokesman-Review's Northwest Passages community forums series -- which helps to offset the costs of several reporter and editor positions at the newspaper -- by using the easy options below. Gifts processed in this system are not tax deductible, but are predominately used to help meet the local financial requirements needed to receive national matching-grant funds.
Subscribe to the sports newsletter
Get the day's top sports headlines and breaking news delivered to your inbox by subscribing here.
---