Ex-WSU defensive back Jordan Simone clicks with Arizona State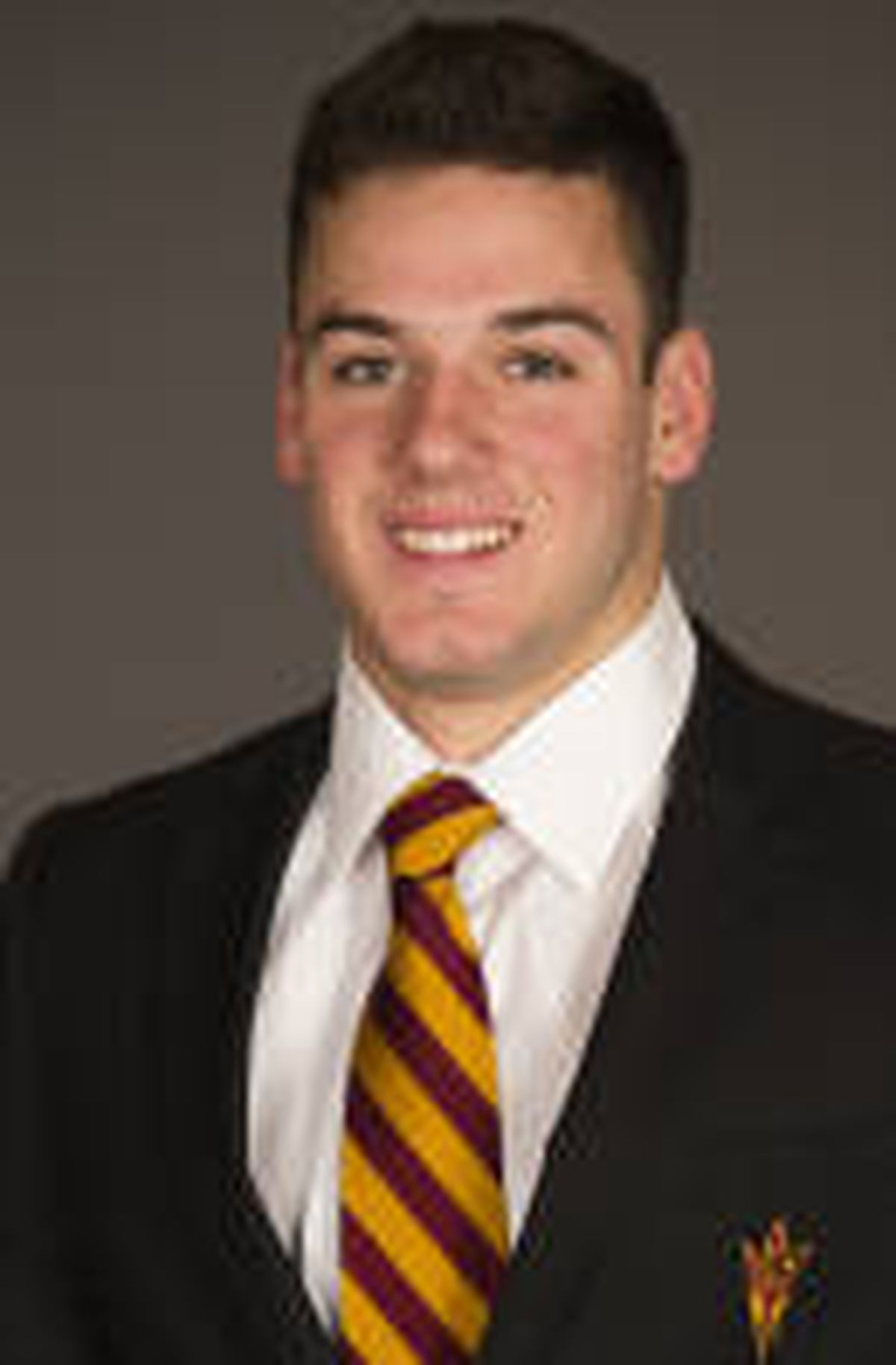 PULLMAN – For a year Jordan Simone stood in the stands watching the Sun Devils play like any regular student, trying to convince those around him that, yes, he actually was a member of the team.
Nobody needs any convincing now that he plays for Arizona State. That is, if they don't already recognize the potential all-conference safety.
Simone, a junior, was surprised with a scholarship during a team meeting before the season, along with four other Sun Devils walk-ons. The team videotaped the event, including a touching moment when Simone uses his new scholarship papers to shield his face from the camera as he breaks down while telling his mom the good news.
It was certainly an emotional moment for a player who had quit football two years earlier.
In 2011 Jordan Simone followed his highly recruited older brother, Gino, to Washington State as a defensive back, impressing the coaches, particularly defensive coordinator Chris Ball, and was one of WSU's best special teams players as a freshman.
Because of his play, the coaches at WSU planned to put Simone on scholarship the following season.
But head coach Paul Wulff and his staff were fired before that could happen. Simone didn't click with the new defensive coaches, to the point where he didn't want to play football anymore.
"When you put into the program what these kids do, if you don't believe in a guy that you're playing for it's hard for you to give everything you've got," said his dad, Ronnie Simone, who also played football at ASU. "So he just decided he wasn't going to play football."
Wulff, then helping coach the San Francisco 49ers, called the family to say that he didn't think Simone should give up on the sport. Ball contacted him often to encourage him to put the pads back on.
"So he went and talked to Coach Ball and they treated him really well when he got there and (ASU) coach (Todd) Graham was really enthusiastic about him coming on board," Ronnie Simone said. "It just seemed like a really good fit for him and he was ready to go do his thing and it's worked out pretty good for him."
Simone has easily paid back ASU's investment, earning a starting spot at free safety and emerging as one of the best players on a defense that Graham has rebuilt into a fearsome unit despite losing nine talented starters from last year's group.
"The guy is just – you watch (Graham) on the sidelines," Ronnie Simone said. "He's a bull of energy and enthusiasm and I think it's a lot for the kids to handle on a day-in and day-out basis, but what I think has happened is it has become their personality."
Simone is No. 4 in the conference in solo tackles and ASU boasts the Pac-12's No. 5 scoring defense. Prior to last week's loss at Oregon State, the Sun Devils were a Top-10 team and an emerging playoff contender.
Simone's play was a big reason why.
"Yep," Graham told the Arizona Republic. "I think he's played as good as we've had a safety play since I've been here. He has played exceptional."
He's certainly one of the guys, living with star running back D.J. Foster, impressive backup quarterback Mike Bercovici and freshman receiver Ellis Jefferson.
It's unclear whether Simone will be available to play on Saturday against WSU. He injured his shoulder during ASU's loss at Oregon State last weekend and was not available to speak after not attending practice on Wednesday for an issue unrelated to his injury.
"I hope that he can play," his dad said. "I know this game's been on the calendar for him all year."
---